My Week in the Horse Capital of the World: Ocala, Florida
A fun-filled week of polo, trail riding, BBQ's and beyond makes for a memorable vacation in Ocala, Florida.
By Tiffany Burns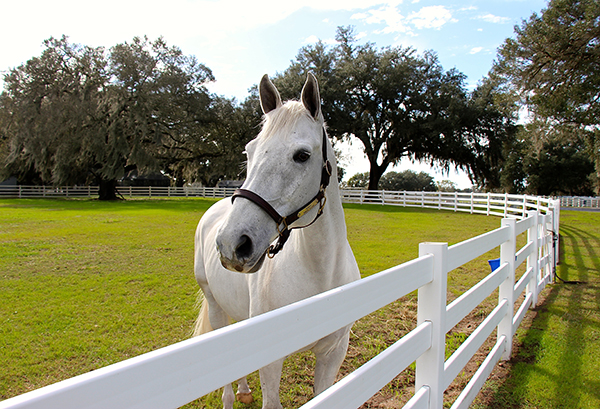 Pretty white horse in a paddock at BG Ranch in Ocala.
90 miles north of Walt Disney World, landlocked central Florida was not where I expected to find a luxury equestrian resort. Yet the farms surrounding the small city of Ocala, with their terrain similar to Kentucky bluegrass country, have lent it the nickname "Horse Capital of the World."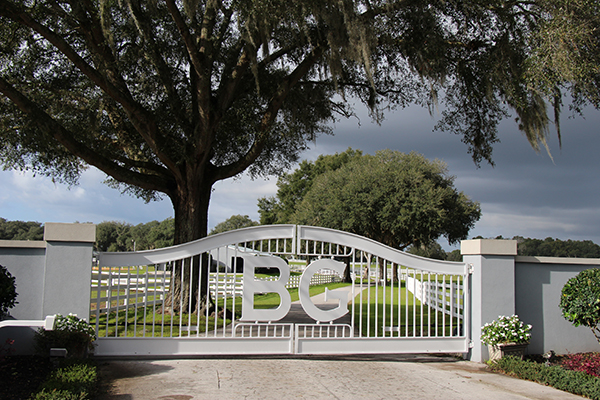 The entrance to BG Ocala Ranch.
I decided to stay at BG Ocala Ranch, and during my week there, I felt like a kid at horse camp. Except with better food, wine and linens.
The BG Ocala Ranch great house and fire pit.
The ranch used to be the private vacation home of a jet-setting entrepreneur. The 10,000 square foot great house has eight bedrooms with en suites, a games room and a private pool -- even a chef, if you so desire. But there are varying levels of accommodation at the ranch, including a three-bedroom farmhouse and several smaller cottages. Not to mention a train that circles the property, a climbing wall, waterslide and merry-go-round.


Tiffany and Geovanni, polo player and trail guide.
But the best thing, from that horse camp point of view, is the location. See that tree line behind us? BG Ocala Ranch is right next door to the Florida Horse Park, an amazing 500 acres the state government has devoted to the love of almost every riding discipline, including high-caliber hunter jumper events, polo and rodeo. Competitions and clinics are held either in designated fields or in the massive 80,000 square foot covered arena. The park is a major access point to hundreds of miles of trails in the Cross Florida Greenway.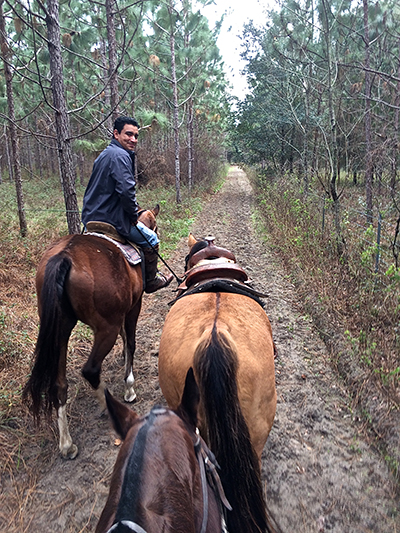 Between the ears with Geovanni on a wide trail.
Every day, a group of us went straight from the BG barn to the trails. Many paths are so wide, I was able to comfortably canter side by side with other riders, even though it was my first time in the area. No rocks or roots to worry about.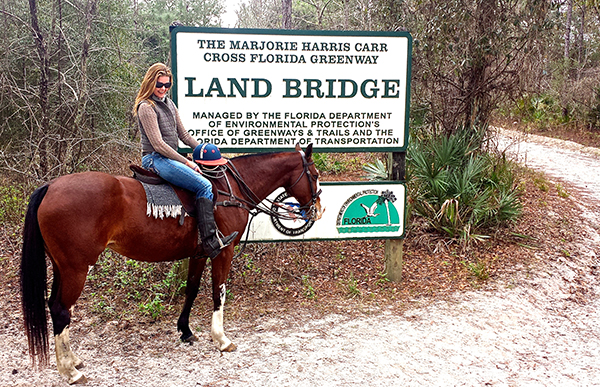 The author exploring on horseback.
Officially titled the healthy mouthful of Marjorie Harris Carr Cross Florida Greenway, the trails co-exist comfortably with Interstate 75. Wondering what a Land Bridge is?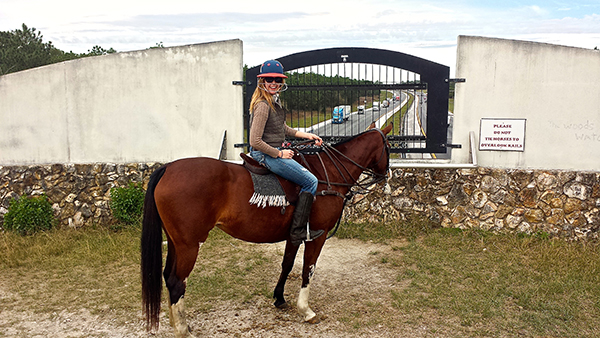 Riding over I-75.
It's a highway overpass built especially for horses! Or mountain bikes, if wheels are more your thing. It reminded me of the wildlife overpasses on the road to Banff, Alberta -- but people don't get to take in the traffic from those. Meanwhile, a Florida panther or two have been known to utilize the Land Bridge.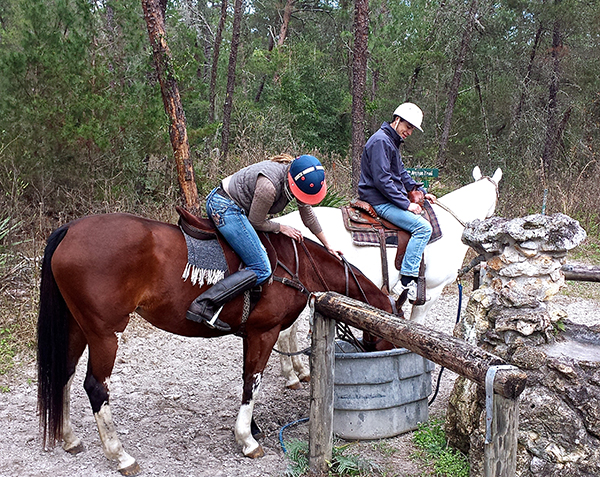 Tiffany's horse takes a drink.
At one end of the bridge, there's even a fresh water option for thirsty steeds.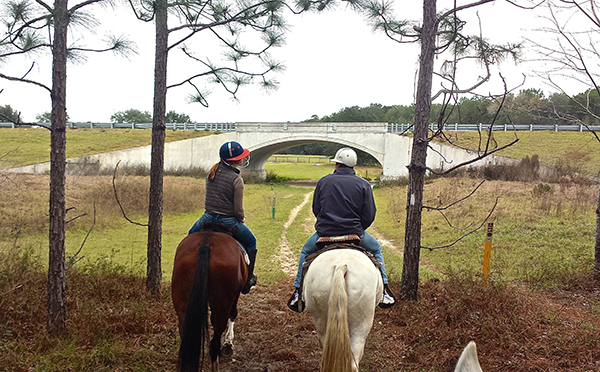 One of the many underpasses.
The Greenway trails also wind under several smaller roads.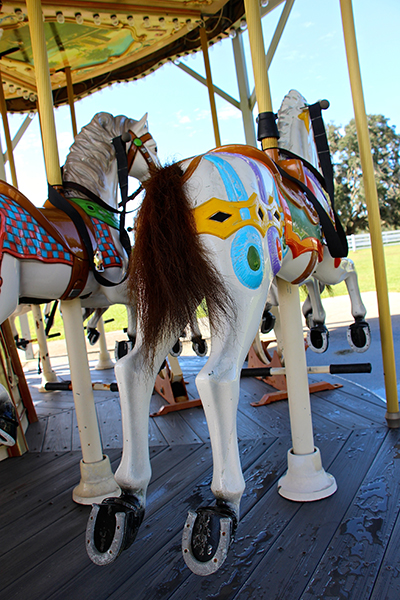 BG Ranch has a water park and swimming pools, diesel train and carousel onsite.
Back at BG, the ranch offers all kinds of horse experiences. Here, even the pretend ponies have real tails and shoes.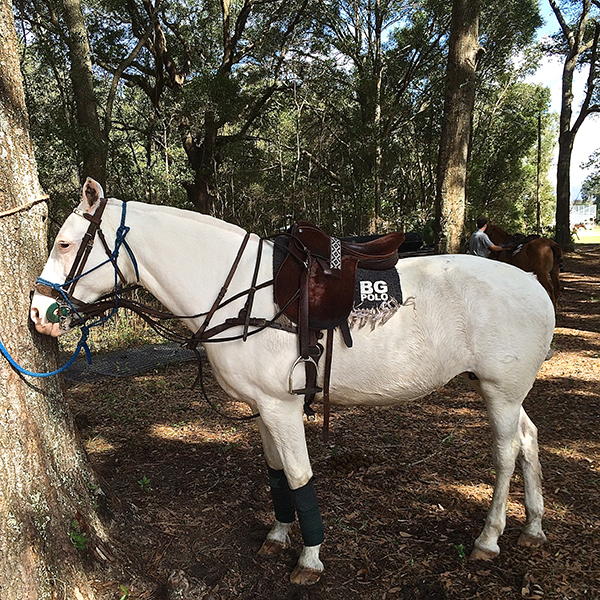 Polo pony in the woods.
You may have noticed the shorn manes on the trail riding horses. That's because they also double as polo ponies. Every day, after a scenic ride through the Greenway's forest, I followed it with a stick and ball lesson. Snow White was one of my faves. Probably because she's good with kids, which is my polo happy place.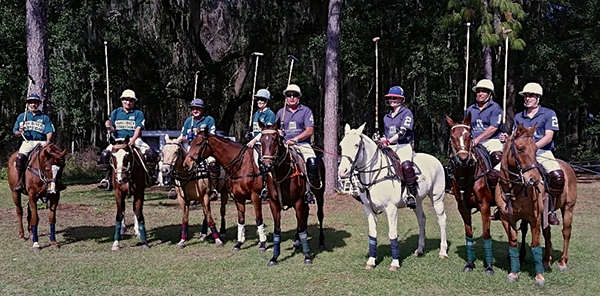 Our polo group at BG Ocala Ranch.
At the end of the week, the BG Ocala Ranch resident polo pros organized a friendly game, on the well-maintained field next door at the Florida Horse Park. After four chukkers, they held a barbecue in classic Argentine tradition, right beside the horse trailers.
My verdict, after a week in the "Horse Capital of the World?" I can't wait to return.
About the author: Tiffany Burns is a Calgary-based journalist and TV producer who recently took up polo, which she writes about on her blog www.bluebesos.com. Follow her on Twitter and Instagram @bluebesos.