My First Mexican Gallop- What a Ride!
Where did you first enjoy a gallop? A traveler from the Cayman Islands takes a fast ride at Rancho Las Cascadas in Mexico... and falls in love!
by Paula Ross
My first visit to Rancho Las Cascadas was many years ago, but vivid and clear, as if it were just yesterday. I arrived late at night. The cicadas were playing their tunes, singing loudly in search of love. The sky was dark and clear. A half moon lay on its back as if it didn't have a single care in the world. Stars twinkled in adoration around it. The air was still, and I could smell horses. Excitement bubbled, like the waterfall in the distance. I felt my cares leave and evaporate. I'd never been there before, but I instinctively knew I was home.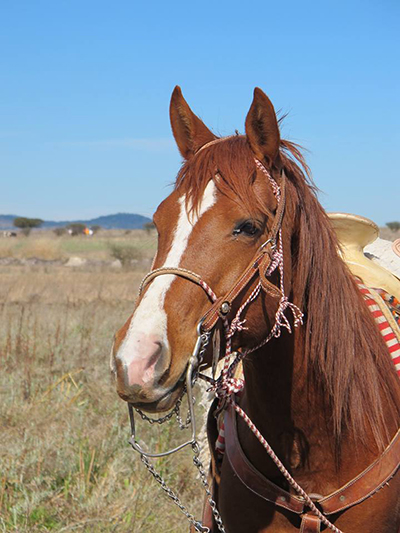 I walked down to the corral, drawn to the happy sounds of horses at rest. Their scent becoming stronger, pulling me towards them. I could hardly wait to have one chosen for me. Somehow I trusted that I'd be given one that suited. I'd sent my information and details of my riding experience and now that I was standing there, I knew it didn't really matter. Any one of them would be just perfect. Their dark eyes looked at me, wondering why there was a gringa near them so late at night!
I returned to my cozy room where a fire flickered and warmed the room with its soft light. I realized that I was tired but wondered how I could possibly sleep when I was so happy. The bed was comfortable and inviting. The night called.
After eating a breakfast three times larger than my usual fare, I met Uschi. She had a husky, slightly accented voice, full of friendship and reassurance. I was assigned a horse with care, and I was surprised and impressed that she knew the personality and quirks of each one. After asking me more about my riding preferences, I was given Tequila. Not the drink, (that came later) but a beautiful, chestnut brown beauty, eyes bright and soft velvety muzzle. He was perfect, forward but controllable. I knew right away that we would make some lovely memories together.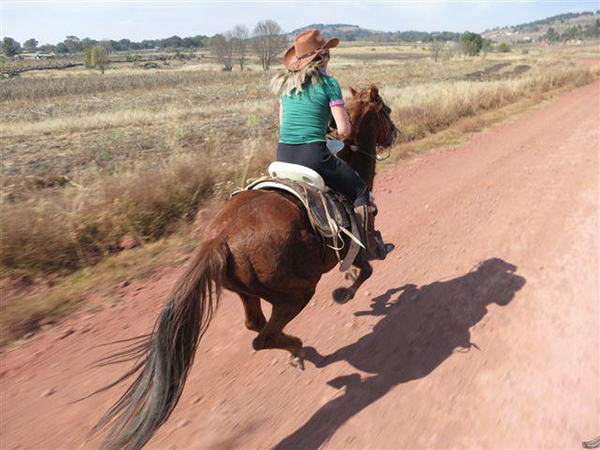 Our first ride was to a village, but on the way we came across a large lake. Sun shone down on the water and it twinkled as the stars had done the night before. Ducks and moorhens swam contentedly, not at all bothered by the horses that passed nearby. Herons waited, eyes peeled, more skilled than any fisherman, and more patient.
The guide turned, his smile gave the game away. My first Mexican gallop was ahead of me. He asked "Ready" and off we went. The wind blew in my face, my heart pounded, partly from the exertion, but mostly from the thrill. On and on we flew, Tequila and I were one creature with the same aim, to run and love it. We tired at the same pace, slowing down and both of us panting-–– I laughing, he snorting.
I bent and wrapped my grateful arms around his soft neck, "Good boy, did you enjoy that?" I said. He spoke back to me in his own language, "Are you kidding?" he said, "I loved it!"
Learn more about luxury dude ranch vacations on the Rancho Las Cascadas website and on the Rancho Las Cascadas Equitrekking page in the Equitrekking Vacation Guide and Top20Ranches.com.