Must Ride National Parks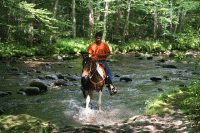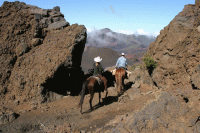 by Darley Newman. Originally published in True West magazine.

Bryce Canyon National Park is a place that I've always wanted to explore. I was fortunate to be guided by "The Kid," a black Quarter Horse who's ridden the Rim Trail a thousand times. That's the kind of guide I want when I am seeing a new place. A veteran - an expert - someone in great shape and knows exactly what potholes to avoid on the trail to get me safely through the journey. It seems I had found the perfect horse for the job. At a juncture by the Queen's Garden, where the canyon opened up to a sea of hoodoos, spire rock formations weathered by time, I noticed other travelers in the distance, slogging through the softer sand on the trails on foot. I gave a smile and a pat to The Kid, who casually meandered along, letting me focus on the views and nothing else.

Some of the best places to ride in the United States are our nation's parks. As I travel the United States riding horses for pleasure and for our PBS travel series Equitrekking, I am constantly in awe of the national parks that I visit and so happy that I can do it on horseback. If you're looking to ride in a national park, here are a few key parks to add to you list.

Bryce Canyon National Park- The stunning sea of hoodoos in this Utah park won't last forever, but will be here for another few million years, so you still have plenty of time to take in this colorful park on horseback. You can bring your own horse or head out with Canyon Trail Rides, who lead visitors on guided horse tours of the park. This is a spring, summer or fall ride, as the canyon gets a good bit of snow, making some trails impassible. I rode here in the spring and really enjoyed that time of year, because the hoodoos were still spattered with snow, making the varied rusty red and pink colors stand out even more. The Paiute Native Americans believed that these hoodoos were people who had been turned to stone. One can visualize this readily, and with a little imagination, see other creative images in the hoodoos while descending approximately 1000 feet from the rim to the crater floor.

If you are bringing your horse here to ride, make sure to coordinate with Canyon Trail Rides. As many riders know, strange horses don't always get along with each other. Canyon Trail Rides also leads rides in nearby Zion, making it feasible to hit both parks in one visit. You'll want to be prepared for the changing altitudes in Bryce by keeping yourself and your horse hydrated. Pack layers, because the weather can change here on a dime. Before you travel, make sure to check each park's regulations, many of which are listed online. When I ride in parks and anywhere else, I make sure to try to practice leave no trace travel. Our national parks and natural areas are treasures that we want everyone to be able to enjoy and leave unscathed.

Capitol Reef National Park- Utah has a lot of great state and national parks and Capitol Reef is another must see in Utah. The "Capitol" in the Capitol Reef gets its name because of the dome shaped cliffs that appear like the Capitol dome in Washington, DC. These tall cliffs and domes are a barrier to travel, just as a reef is a barrier to travel for sailors. Looking around at the cliffs and rocks, I could imagine that navigating this park would have been difficult for the Mormon pioneers, who settled here in the late 1800's. I rode in the park with Pat Kearney of Hondoo Rivers and Trails. She's been exploring this area for over 30 years, so can tell you anything that you need to know about the park. Her horses were wonderful mounts, but you can also bring your own horse to ride here. Don't miss the rock art, ancient petroglyphs and pictographs from the Fremont people, and more recent pioneer graffiti, which all tell the story of settlement and abandonment of the park. Pat and I took a break from the saddle in the Capitol Gorge area to check out an area with a wide variety of petroglyphs from the ancient Fremont people. This was a true treat. These petroglyphs have been studied, but no one knows what they really mean. I had fun as Pat and I looked at the sheep and squiggly lines and bear claws on the wall and tried to imagine what they meant. Another highlight in the park is the Cassidy Arch. Butch Cassidy is believed to have hidden out in Capitol Reef in an area called the Grand Wash. There are lots of good hiding places here. You'll have to get off of your horse and hike to the Cassidy Arch should you want to see it, as horses aren't allowed in this area. If you are hiding out here for the night, you'll need to secure a permit and of course, check with the park for other rules.

Great Smoky Mountains National Park- Though not in the American West and without its grand scale features, this western North Carolina and Tennessee border park has it's own breathtaking views, natural wonders and lots of room to ride. This is a horse-friendly park where riders have plenty of options. There are a couple of different concessioners in the park that rent horses or you can bring your own. There are also about 550 miles of trails open to riders and a variety of campsites. I rode through this park with members of the Eastern Band of Cherokee Indians on their smooth Tennessee Walking horses. Forrest Parker, our guide, Forrest, made me feel like I was riding in someplace really special- his home. Many of the trails here are shaded and cool. You do have to watch out, as the trails can be steep, rocky and narrow. There is a lot of water here- a nice visual and good for the horses. As we let our horses have a drink in a quiet stream, I watched the purple butterflies and small white, wildflowers moving with the breeze. Put this park on your list to view wildflowers and learn about Cherokee history in the mountains of North Carolina.

Haleakala National Park- This is one of the most unusual rides that I have ever taken. Haleakala National Park on Maui is really diverse. One part of the park is a lush coastal rainforest and the other is the otherworldly crater of a volcano. Both parts of the park have guided trail rides with Pony Express Tours leading riders into the crater and Maui Stables leading riders into old Hawaii and the rainforests in remote Kipahulu. I wouldn't recommend bringing your horse from the mainland to the far-flung island of Maui. I would recommend heading out with Pony Express, whose horses are conditioned to the changing altitude in the crater. On our ride, I witnessed one woman almost collapse several times as she attempted to hike out of the crater. My horse, on the other hand, was well adapted to the altitude, meaning that if I slathered on the sunscreen, drank lots of water and kept my raingear in case of a sudden storm, I would not have to sorry about passing out during our trip. The vibrant greens and reds of the crater's cinders juxtaposed with the spiky, rare Haleakala Silversword, a plant that is found only here, make for unusual scenery.

In Kipahulu, after you brave the over 600 curves along the Road to Hana, Maui Stables offers a taste of old Hawaii. My guide Keoni learned the ways of his ancestors, who lived off of the land in this lush section of the island. As we rode to a tall waterfall in the rainforest, we picked fresh fruit from the trees, saw a couple of wild cows, and climbed to an area with views of the bright blue waters of the Pacific.

There are lots of other great national parks across the United States. It could certainly take a lifetime to explore them all, but what a beautiful lifetime that would be, especially if it's on horseback.
Darley Newman is the host of the Emmy Award-winning Public Television series Equitrekking®, which takes viewers on horseback riding vacations around the world. Equitrekking is broadcast on PBS stations, Create TV and on international networks in over 65 countries.

Learn about equestrian vacations and book a trip at EquitrekkingTravel.com and the Equitrekking.com Vacation Guide.