Multi-Adventure Guest Ranches
Want more than horseback riding on your next ranch vacation? These destinations offer great adventure options for thrill seekers.
by Jocelyn Pierce
Rock climbing, white water rafting, mountain biking, and even helicopter tours are just a few of the adventure activities that these ranches offer. Set in incredible landscapes, with mountains, rivers, and forests, these locales make it easy to try many options. So get your adrenaline pumping with these multi-adventure racnh vacations that are sure to excite!

Rancho Los Banos, Mexico

Rancho Los Banos has a long history of adventure and wildness both in landscape and culture. An authentic Mexican working cattle with real cowboys, Rancho Los Banos has a multitude of opportunities for adventure in a pristine and beautiful location. Enjoy wildlife spotting and bird watching, hiking, river and lake activities, jeep tours, and mountain biking on 30,000 acres of natural conservation area in the Sierra Madres.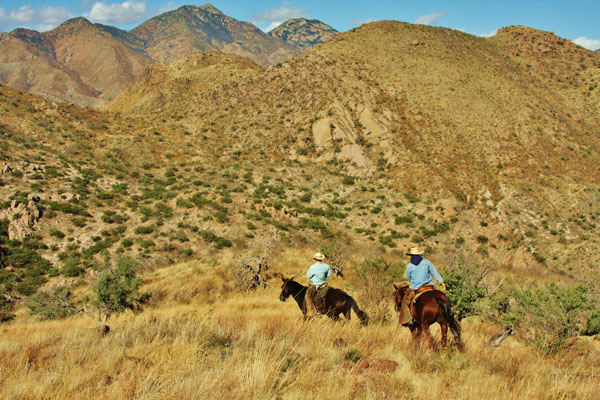 The landscape teems with adventure with a long history of bandit hiding spots, stories of hidden gold, and repeated attempts by miners to find fortune.
Because of the remoteness, Rancho Los Banos has a "Dark Sky" stargazing opportunity, with views of the Milky Way that very few places can offer.
There are endless opportunities for adventure in the water between the Bavispe River and Lake Angostura. The Bavispe is said to be one of the last remaining unspoiled rivers in the Sonoran and Chihuahuan desert region. It has great areas for birding and fly-fishing and is also Class I and II whitewater river for those wanting a little more excitement. Lake Angostura also boasts bass fishing, boating, and excellent hiking.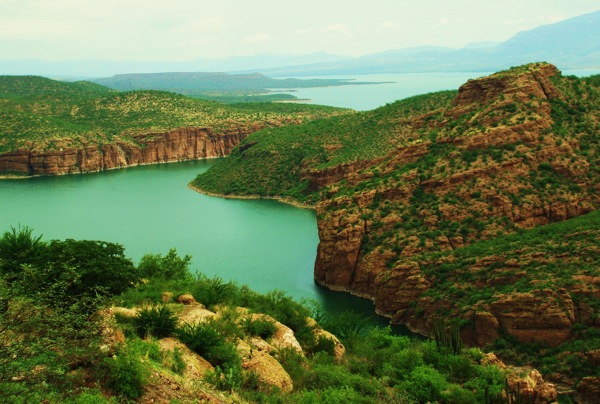 New to Rancho Los Banos is their "Sea to Sierra" holiday which includes a wide range of adventures for guests in the Sierra Madres and Sea of Cortez. Guests start off at the ranch and take part in activities like horseback riding, hiking, jeep tours, and then head west, visiting historic towns before arriving at the Sea of Cortez for more adventure activities.
Siwash Lake, British Columbia
Siwash Lake is a luxury resort in British Columbia. Because of its pristine location, The Ranch at Siwash Lake is a great destination for outdoor activities like wildlife safaris, river and lake activities, hiking, mountain biking, shooting, archery, guided eco-adventures, and even wilderness survival classes.
All levels of riders can ride as much or as little as they like. For a true equestrian adventure, try the horseback riding safari, where riders may see some of the resident wildlife including moose, deer, black bear, a large variety of birds, and more.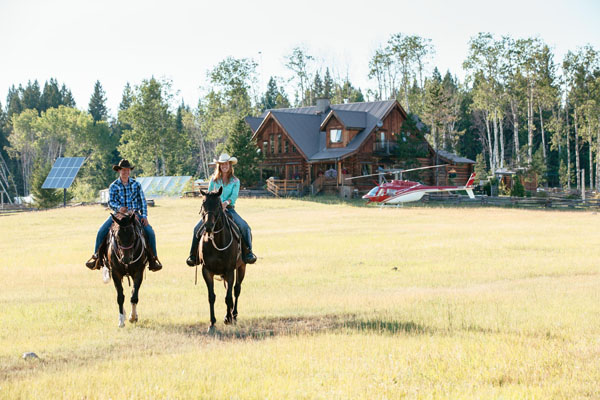 Fly-fishing is another popular adventure choice at Siwash Lake. The Cariboo region's rivers, lakes and streams provide spawning, rearing, and foraging habitat for wild native fish, including rainbow trout. There is also an on-site pond at the ranch stocked with rainbow trout, so angling guides can coach guests in the art of fly-fishing. Other water activities available include kayaking, paddleboarding, and swimming. In July and August, add a day excursion in the ranch's speedboat to try water sports like knee boarding, water skiing, and tubing.
A huge hit with guests of Siwash Lake is their newest adventure-the helicopter safari. Guests may customize their experience with options such as soaring over sandstone hoodoos, picnicking on a remote river beach, or viewing remnants of the Gold Rush Frontier.
For slightly more relaxed adventures, Siwash Lake also offers forest yoga and guided walks.
Marble Mountain Ranch, California
Marble Mountain Ranch in California combines their horseback riding vacations with thrilling activities like whitewater rafting, kayaking, sporting clays, fly fishing, and jet boat adventures on the Lower Klamath River.
Guests ride the stunning scenery of the Klamath National Forest of varied and rugged terrain. Advanced rides are known for their rapid gains and losses in elevation through mountains trails. For an even more daring riding experience, guests can opt for a three day wilderness pack trip which allows for solitude, wildlife viewing, float tube fishing on alpine lakes, and wonderful opportunities for photography.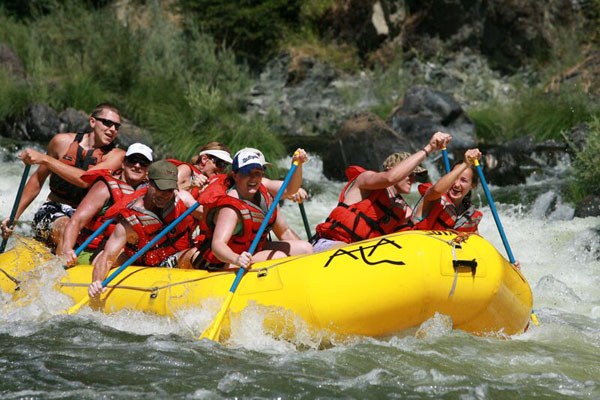 Many guests choose the Marble Mountain signature "Saddle Paddle" or "Raft and Ride" options, which combines morning trail rides with afternoon rafting or kayaking trips. Guests have many ways to enjoy the Klamath, from great swimming to rafting and kayaking the Class II and III rapids.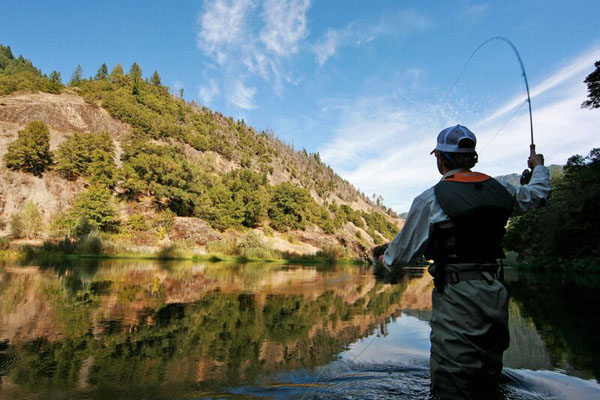 Marble Mountain Ranch is also a destination fishing resort featuring steelhead fly fishing trips in which they target the Middle Klamath River, Lower Klamath River, Trinity River, and Cal Salmon via drift boat, jet boat, raft and by guided wade fishing.
Mountain Sky Guest Ranch, Montana
Mountain Sky Guest Ranch is in Montana's Paradise Valley, in the heart of the Rocky Mountains and only 30 miles from Yellowstone National Park, which allows for countless adventure opportunities. Guests can take part in riding, hiking, fly-fishing, and new this year-a challenge course.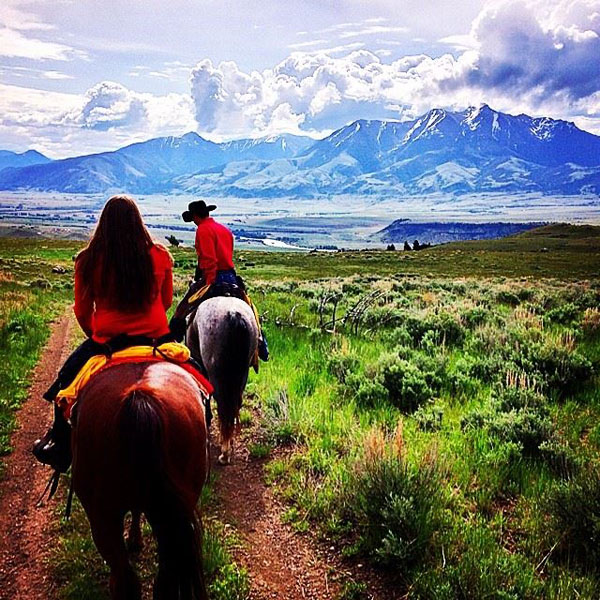 Ride the ranch's 9,000 acres or see the awesomeness of Yellowstone National Park from the back of a ranch horse with Mountain Sky's day long Yellowstone Horseback Ride.
Guided trips to Big Creek or half-day drift boat trips are offered. Guests can practice first with fly-fishing instruction at Mountain Sky's trout pond. Anglers with a thirst for adventure can also horseback ride to some of Yellowstone's remote fishing holes.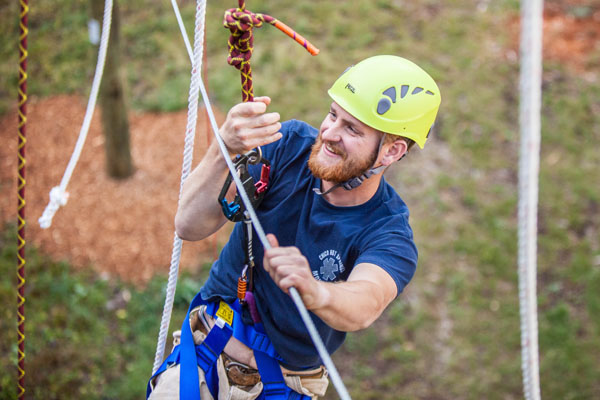 For faster paced water adventures, travelers can delve into Class II and III rapids along eight miles of the famous Yellowstone River.
Mountain Sky's new onsite ropes course is a great partial day activity. Start with a low ropes element to get comfortable, and then get harnessed up and try the high element course with climbing, traversing, crawling, swinging, and zipping.
Learn more about horseback riding vacations in the Equitrekking Vacation Guide, Top20Ranches and check out discounts to get you there on Equitrekking Travel Deals.