Horseback Riding in France - A Mother / Daughter Weekend at a Working Normandy Horse Farm - Part 1
Follow Equitrekking Producer Caroline Maffry's Adventures Horseback Riding in France in This Five Part Series on Normandy
by Caroline Maffry
Just a few hours from Paris by train, my teenaged daughter Alexis Mozeleski and I were met at the train station in Avranches by Annette Jouvin. We drove about 15 minutes to their 200-year-old farmhouse where we would stay for the weekend to ride the Bay of Mont-St-Michel. Cheval-Plaisir offers equestrian vacations that take riders around and across the Bay.
Jean-Pierre and Annette Jouvin purchased a 200-year-old country farm château 35 years ago when Jean-Pierre decided to leave the business world. This working farm, complete with geese, rabbits, roosters, and horses, is now the family business run with their daughter, Catherine. Cheval Plaisir is a lesson barn, pony club, and most exciting, offers 1 to 5 day guided horseback riding vacations in the Normandy area surrounding the Bay of Mont St. Michel.
During a tour of the house and the grounds, we were taken to the stables in the back where we met Catherine, the couple's youngest daughter, a certified guide of the bay and riding instructor at the family's riding school.
She was finishing up with her afternoon of lessons and later we learned that some of her students just completed their first horse show. A few stayed to help bathe Chloe, the Connemara pony that Alexis was to ride the next day. Because Chloe is a grey pony (white colored horses and ponies are called greys), Catherine and her students wanted to make sure that Chloe was clean and presentable for us.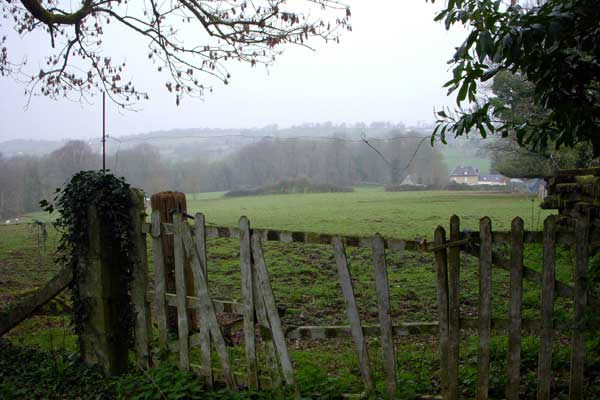 While Alexis Mozeleski was caught up in the romance and mystique of the chateaux, I was reflecting upon the first conversation I had with Jean-Pierre.
When I contacted him to ask him if my daughter and I could come experience their ride of the bay, Jean-Pierre was very happy to welcome us. He did tell me that we were a few weeks early for the beginning of their season, (normally April to October), but since I was confined to coming during my daughter's spring break, he agreed to tailor the ride to meet our needs with one day in the saddle.
We agreed to ride the northern side of the bay, though we would miss one special aspect of the ride - being able to actually cross the bay at low tide, normally a part of this riding vacation. We were just too early in the season.
However, Jean-Pierre was excited to inform me that we were going to experience something unique. During this time of year and particularly this weekend, the bay was to exhibit its highest and most rare tide of the year due to the Earth's position and full moon. In fact, this was the very reason the conditions were just too dangerous to cross the bay.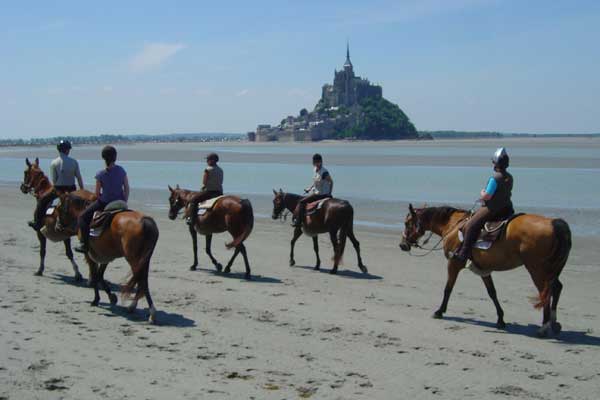 We were shown to our room, which was located in the top right corner of the Chateau's third floor, up several flights of creaking and winding staircases, certainly adding to the expected atmosphere of a 200-year-old French countryside farmhouse.
With each turn and ascending step, my daughter's grip on my arm became just a bit tighter. We ascended the old staircase and found our accommodations, Alexis white-knuckling my arm.
I asked about the history of the house and learned that around 100-years-ago it had been the weekend summer retreat of the Dior family, a family today well known for their line of perfume and couture as the House of Dior.
Annette said that their family had yet to find a secret formula to any of the Dior perfumes hidden in the house, but that we might be the lucky guests to find something, one never knows!
I myself was fascinated and intrigued by this story, while my daughter was having second thoughts. Once alone, Alexis insisted to me that at no point was she to be left alone in the house. Caught up in the tales of the Dior family mixed with the antique ambience of the chateaux, she was positive there were ghosts all around her.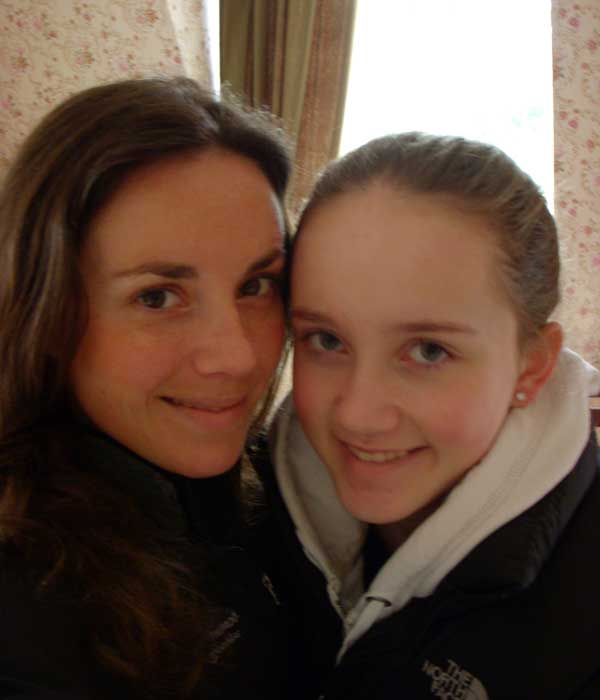 We were allowed some time to freshen up for dinner, which was to be served around 8:30. As we met Jean-Pierre and completed the introductions, we sat down in the Grande Salle (large dining room) to a beautifully presented homemade meal that consisted of paté with eggs, tomatoes, and capers to start, followed by pork cooked in traditional Norman style with apples in a delicious cream sauce. To drink we enjoyed red wine and local cider followed by four kinds of local cheeses, with a tart for dessert and accompanying coffee.
During dinner, we exchanged stories about our travels and tall, exciting horse-related feats, all while speaking in French. My very rusty French was complimented by Alexis' more polished school French, in between giggles at my expense, of course.
As we discussed the next day's itinerary, we examined a map of the bay, which showed where the widely varying water levels reached with the different stages of the tide.
As the fortnight was to be a full moon, this weekend was to be the highest tide of the year. There was not to be a tide nearly as high again until august.
Having lived in a 100-year-old house myself, I expected to find the occasional spider or other sort of visitor from the bug world during our stay. Fearing all creepy-crawlies, Alexis was on the lookout and was pleasantly surprised to find some ladybugs and nothing to fear.
As we turned out the light and said good night, both of our charging iPhones started chiming uncontrollably and without reason. I quickly unplugged the phones and powered them off, unsure what was happening.
Alexis was sitting straight up and pale-white, now certain that she had been right this whole time about the house and its unseen inhabitants. We both slept in the same bed.
Despite the iPhone incident during the night, which I later found out was just a power surge as it happened again in Paris days later, we both enjoyed a good night's sleep. I looked out the window at the lovely day, and to my happy surprise, gazed down at a pasture just below our window to see a black Shetland pony grazing - not a sight I am typically lucky enough to wake up to each day.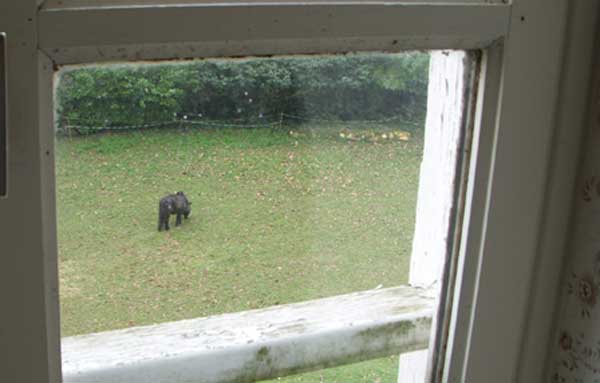 My daughter and I dressed in our riding attire and met downstairs in the Grand Salle for a lovely breakfast of hot chocolate, coffee, croissants, homemade jams, and breads.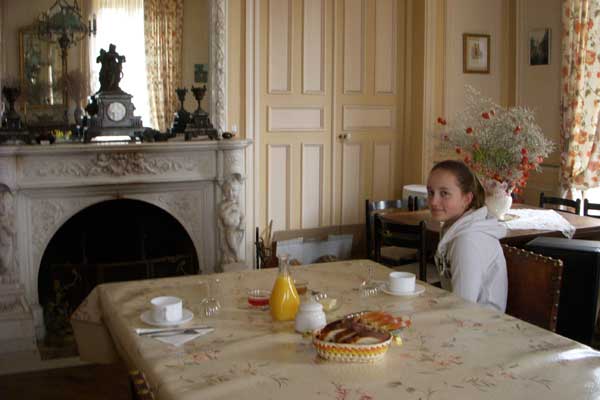 As Jean-Pierre and Catherine trailered the first two horses to our departure point at the bay, we had time back at the Chateau to explore the grounds.
Greeted on the front steps by the family dog Patou, a friendly German Sheppard, we continued around the side of the Chateau to find geese, rabbits, and chickens, as the roosters announced the morning. One rooster, we were told, was around ten-years-old, something of an anomaly.
The pastures surrounding the Chateau were filled with Shetland ponies and Selle Francais horses (French sport horses).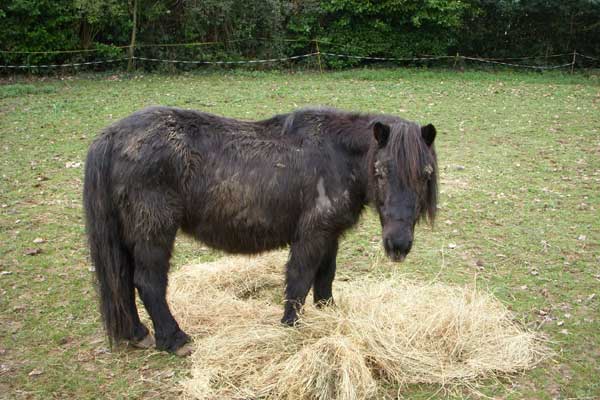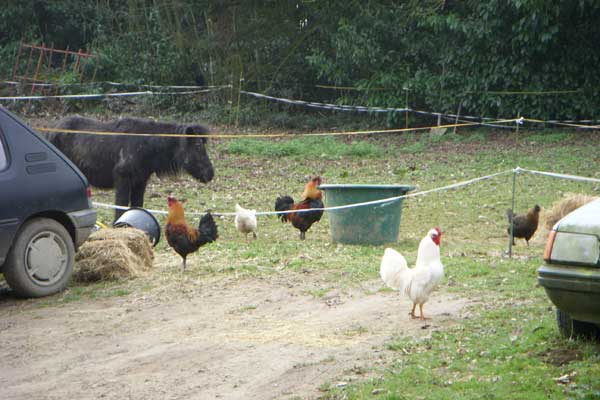 For more information on Cheval-Plaisir, visit www.cheval-plaisir.com or contact the Jouvins at info@cheval-plaisir.com, tel number: 02 33 60 52 67
NB: Jean-Pierre and Catherine are certified equestrian guides of the Bay of Mont St. Michel, a certification not to be taken lightly in this area. When not leading their equestrian vacations, Catherine runs the company's lesson barn and pony club as the head instructor.