The Morgan Horse Breed Profile
Is the Morgan the right horse for you? Learn about this stylish mount and famous Morgans from the past.
Equitrekking interviews Julie M. Broadway, Executive Director of the American Morgan Horse Association. Julie shares with us some interesting facts and history related to America's first horse breed, the Morgan.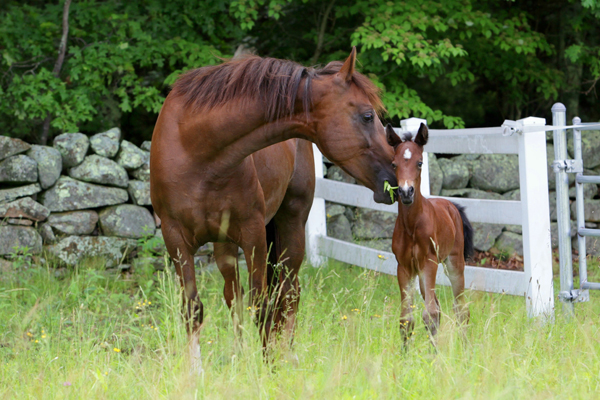 Photo © Dave & Andy, www.photosbydaveandandy.com
Raina for Equitrekking: What are the origins of the Morgan horse?
Julie M. Broadway: Justin Morgan was a teacher and composer who moved to Randolph, Vermont from Springfield, Massachusetts. He acquired a bay colt in 1789 and gave him the name "Figure." This colt was the founding sire of the Morgan Breed. He was later renamed Justin Morgan, after his owner. His three most famous sons were: Sherman, Bulrush, and Woodbury–– they carried on his legacy to future generations of Morgan horses.
Equitrekking: What are the general conformation characteristics of the Morgan horse?
Julie M. Broadway: The Morgan is distinctive for its stamina, vigor, personality, and eagerness. They have a strong natural way of moving, and of course, their versatility.
The head–– broad forehead; large prominent eyes; with straight or slightly dished short face. The ears should be short and shapely.
The throatlatch is slightly deeper than other breeds and should be refined sufficiently to allow proper flexion at the poll and normal respiration.
The neck should come out on top of an extremely well angulated shoulder with depth from top of withers to point of shoulder.
The body should be compact with a short back, close coupling, broad loins, deep flank, well-sprung ribs, croup long and well muscled with tail attached high, carried gracefully and straight.
The legs should be straight and sound with short cannons, flat bone, and an appearance of over-all substance with refinement. Viewed from the front, the chest should be well developed.
The height ranges from 14.1 to 15.2 hands.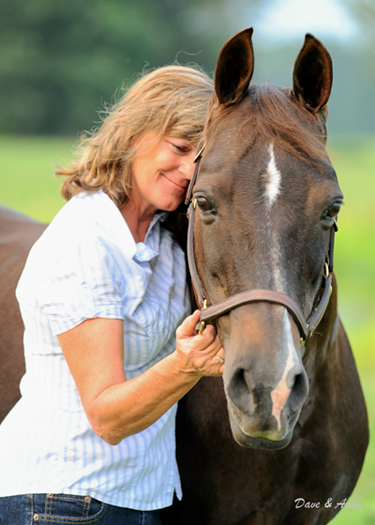 Photo © Dave & Andy, [url=http://www.photosbydaveandandy.com]http://www.photosbydaveandandy.com[/url]
Equitrekking: How has the Morgan horse been used throughout history?
Julie M. Broadway: During the Civil War, Morgans bravely carried their owners into battle. The Vermont Cavalry were mounted on Morgans, along with units from Massachusetts, Ohio, and other states. General Sheridan, an outstanding officer from the North, rode Rienzi, his famous Morgan horse to many courageous victories. The stamina that was displayed during wartime has continued on to the modern day Morgan.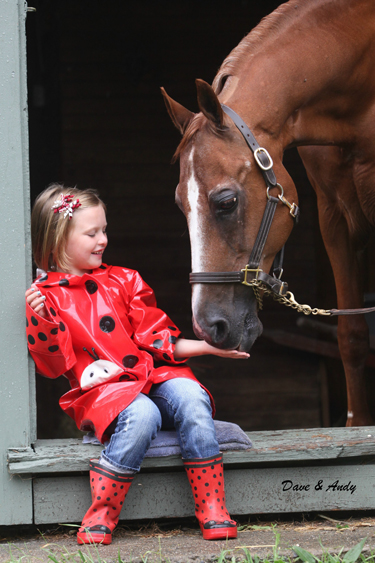 Photo © Dave & Andy, [url=http://www.photosbydaveandandy.com]http://www.photosbydaveandandy.com[/url]
Equitrekking: What kind of temperament is this breed best known for?
Julie M. Broadway: The Morgan is known for its willingness and even temperament. This makes them easy for all to enjoy; children, adults, individuals, families, amateurs or professionals.

Equitrekking: What style of rider best suits the Morgan horse?
Julie M. Broadway: The Morgan horse can suit any rider. They are companionable and comfortable on a quiet pleasure ride and a working sensible partner in a long day of ranch work. Morgans are great for endurance riding. They will wait patiently, but become alert when you are ready to enter a show ring, or perform in formal riding disciplines.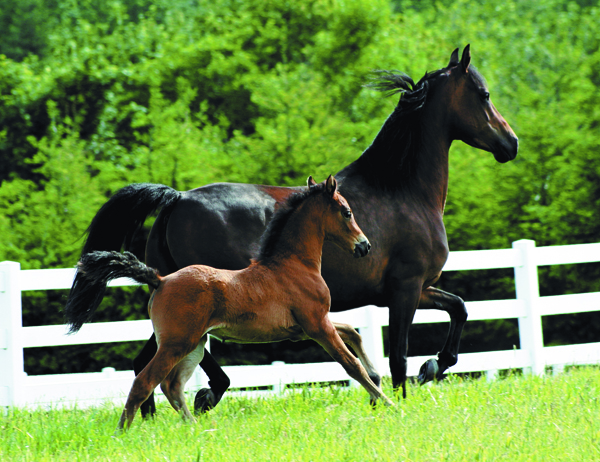 Photo © Dave & Andy, [url=http://www.photosbydaveandandy.com]http://www.photosbydaveandandy.com[/url]
Equitrekking: Has the Morgan horse evolved over time?
Julie M. Broadway: Like any breed, America's first breed certainly has evolved over time, but some things haven't changed. Morgans are still easily recognized by their proud carriage, upright graceful neck and distinctive head with expressive eyes. Their intelligence, willingness, zest for life, and good sense is blended with soundness of limb, athleticism, and stamina. In addition, the Morgan's longevity has made this breed a good bargain for more than 200 years.
Equitrekking: Are there any famous historic Morgan horses?
Julie M. Broadway: Famous Morgan horses in history include: Little Sorrel, ridden by Confederate General Stonewall Jackson during his Civil War campaigns. Reinzi was ridden by General Phillip Sheridan, to rally his Union troops. The Morgan named Comanche, is recognized by historians as, " The symbol of the Battle of Little Big Horn."
Equitrekking: What makes the Morgan horse unique as a breed?
Julie M. Broadway: The Morgan is a stylish mount with conformation that lends itself to a vast range of disciplines. They are gentle enough for lessons, 4-H, and Pony Club involvement, and are in great demand as therapeutic riding horses due to their steady and comfortable gaits. The Morgan is known for many things including extreme beauty, heart, athleticism and versatility. But, the one trait that distinguishes them from all other breeds is a people-loving attitude.
Equitrekking: What are further resources for people interested in this breed?
Julie M. Broadway: Starting with Justin Morgan to the creation of the Morgan Horse Club, The Complete Morgan Horse, by Jeanne Mellin, is the most comprehensive book about the breed and its formation. This is a must have on any Morgan lover's bookshelf.
If one is interested in the history of the breed, The National Museum of the Morgan Horse in Middlebury, Vermont is a great place to visit. The museum has rotating exhibits and has an extensive archive collection, housed at Middlebury College.
Here are some interesting facts about Morgan horses:
The Morgan is America's first breed of horse.
The Morgan horse is the official state animal of both Vermont and Massachusetts.
It is the only registered breed of horse ever perpetuated by the United States Government.
The estimated worldwide population of Morgan horses is over 125,000.
The Morgan has influenced other breeds, including the Tennessee Walking Horses, Quarter Horses, Standardbred, and American Saddlebreds.
The Morgan breed has been represented many times in international competition, the most recent being in September 2011 at the FEI Pony World Driving Championship. Shelly Temple drove her Morgan horse, LR Ami B-Line, to 11th place, and the U.S. team won the bronze medal!

Here are further resources where you can learn more about the Morgan horse:
The American Morgan Horse Association, and visit their Facebook page.