Montana- Big Sky Country
Horse Riding and Travel Adventures at The Bar W Ranch in Whitefish, Montana.
Written By Susan Seligman, Photographs courtesy of Susan Seligman and Bar W Ranch

The day was beyond perfect. We rode for miles along the border, and then dropped down to a pure white sandy beach surrounding azure blue waters. Soft mountains outlined by the haze of the afternoon sun served as a cool backdrop as we pulled picnic lunches out of saddle bags, tying our horses to gnarled driftwood along the deserted beach. We had not seen another person the entire day. We could have been in Mexico, Italy, Spain or Greece. But we were riding with wranglers from the Bar W Ranch in Montana, the border was the U.S. and Canada and the Mediterranean blue waters soothed us from a sparkling lake not the sea.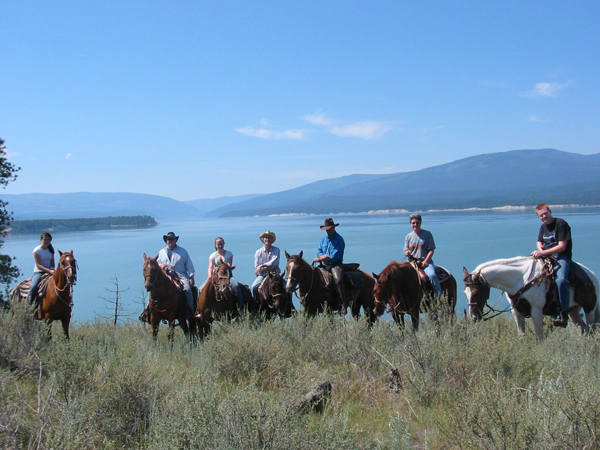 Cowboy luxury at a Family Dude Ranch

Our few days at the Bar W Ranch in Whitefish, Montana offered surprising experiences at every turn. First was the lodge. This wasn't a rustic mountain lodge, by any means. It was originally a luxurious home, nestled on a 100 acre state of the art Arabian horse ranch, with its own private lake that backed up to a 3200 acre state park, and thousands of national forest acreage just a trailer ride away. We had the master suite with a Jacuzzi tub that overlooked the pastures, pine forests and mountains beyond. The whinnying of horses lulled us to sleep. No cowboy ever lived like this!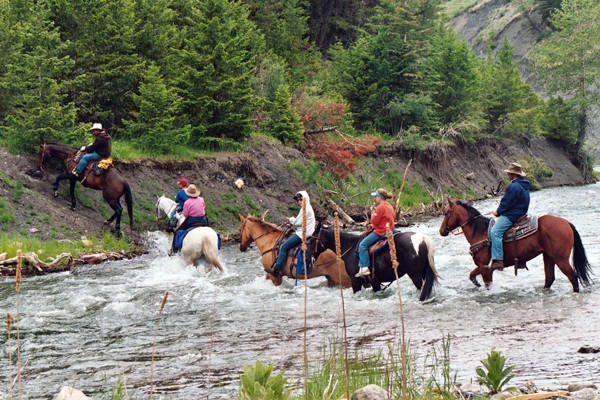 Great riding for all levels

Then there was the riding. Most folks who come to the Bar W Guest Ranch are novices and much of the riding program is geared towards a positive Montana riding vacation for beginners or those with rusty riding skills. However the Bar W is a small operation (maximum 32 guests) and the emphasis is on personal service. Since we were experienced riders, we were well accommodated with private and exhilarating riding. The wranglers were vying to take us out and ride. And ride we did!

"How about going up this hill?" queried our wrangler. He pointed left. Little did I know Chuck was one of those guys who makes trails not follows them and we ran our horses straight up Spencer Mountain dodging low hanging branches, trees and rocks until we reached the top, nearly out of breath. The reward was a jaw-dropping view of the spectacular Montana valley beyond.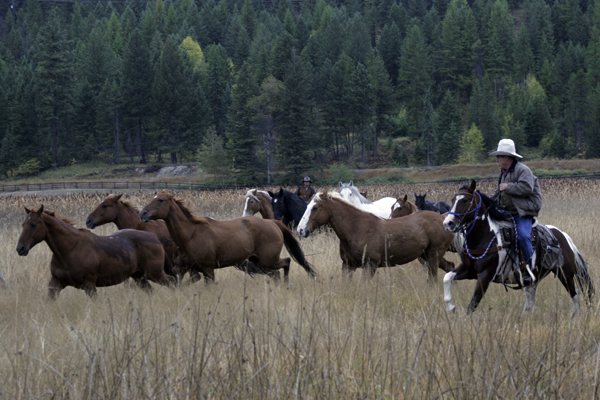 "Not too many folks got to see this all summer!" he smiled with pride. We blazed trails for hours, not bothering to stop for the lunch we had packed... there was too much exploring to do! Back at the ranch, we devoured our sandwiches while new horses were tacked up for ranch sorting.

Any activity with cows is a blast in my opinion and ranch sorting allowed riders of all skill levels to join in for an afternoon of fun. A group of cows are numbered and each team of two has to sort the cow in numerical order and move that numbered cow into the next pen without letting a cow with the incorrect number (a dirty cow) into the pen. Sorters and gate-keepers alike whooped and hollered at the scurrying bovine. There was an immediate outbreak of infectious smiles and laughter among everyone who joined in.


Then, at 5:30 our chariot awaited! Well, make that a hay wagon pulled by a black and a white Percheron team who took us on a tour of the entire ranch before pulling up to a Gazebo overlooking the Bar W's Lake Spencer. Checkered tablecloths with wildflowers set the mood for a delicious bar-b-que steak dinner. We were serenaded by a western ballad singer as the sun lowered in the sky, illuminating the lake and the mountains beyond.

Ranch adventures and more all year 'round

Adventures at the Bar W dude ranch and the surrounding area are endless. In addition to ranch activities like barrel racing, pole bending, week long cowgirl camps, cattle drives and rodeos, there's lake and river fishing, hiking, mountain biking, kayaking, canoeing and white water rafting. The Bar W is one of the few guest ranches in the Rockies open all year round. During the colder months, ranch activities take place in the indoor arena. Trail rides go out through the snow on sunny days and horse drawn sleigh rides take guests to the Gazebo for a cozy dinner. Cross country skiing and snow shoeing is perfect on the ranch and the adjacent horse trails. You'll find world class skiing at Big Mountain outside of the lively resort town of Whitefish, and don't forget dog-sledding, an absolute must!


Nearby Glacier National Park

Just 45 minutes from the Bar W is Glacier National Park, known as the Crown Jewel of the Continent. The one million acre park contains some of the country's most dramatic mountains, abundant wildlife, pristine forests, alpine meadows and spectacular lakes. The unsurpassed "Going-to-the-Sun Road" is one of the most beautiful drives in the United States. Glacier is a hiker's paradise, with over 700 miles of trails in the park. A day or more here is a must, either before, after or during your stay at the Bar W.

Great Memories

Back home in New Mexico, we are sipping our Night on Glacier Bay tea from the Montana Tea and Spice Trading Company and spreading the last of our wild huckleberry jam on toast. We couldn't resist a bar of "mountain lake" scented buffalo tallow soap to remind us of our perfect riding day along the sandy beaches and border in northwestern Montana. A week here hardly touched the surface of this incredible landscape and all there is to do. We've penciled in another visit soon.

How you can go: Visit the Bar W Ranch website and check out the Bar W Ranch page in the Equitrekking Vacation Guide, a searchable guide to dude ranch vacations, guest ranches, riding vacations and cattle drives.
About the Author: Susan Seligman is an adventure travel writer and equestrian who rides and writes from her home in New Mexico.