Modern Mongolian Saddles Showcased as Works of Art
Stone Horse Expeditions & Travel's hand-made saddles displayed in art gallery in Ulaanbaatar, Mongolia.
by Darley Newman
Throughout history, the horses of Mongolia have stood out, making their mark as war horses during Genghis Khan's conquests and as the companions of expert horsemen, the Mongolian nomads. The saddles, included in travelers' tales throughout time, have a distinct design, traditionally tall and lightweight with a wooden frame and intricately crafted disks that stand up from the sides. Modern travelers may wish to try riding in a traditional Mongolian saddle while on their trip through Mongolia, but for optimal comfort, may like a more modern Western-style trekking saddle for multiple days on the trails.
Outfitter Stone Horse Expeditions, which operates in Mongolia, stands out as riding operator in that they hand-make their trekking saddles, fusing the Western and Asian styles for a unique design that mixes the traditional and modern and optimal comfort. Saddlemaker and co-owner of Stone Horse Sabine Schmidt was recently honored to have her works of art and function on display at the Cracco Art Gallery in Ulaanbaatar, Mongolia.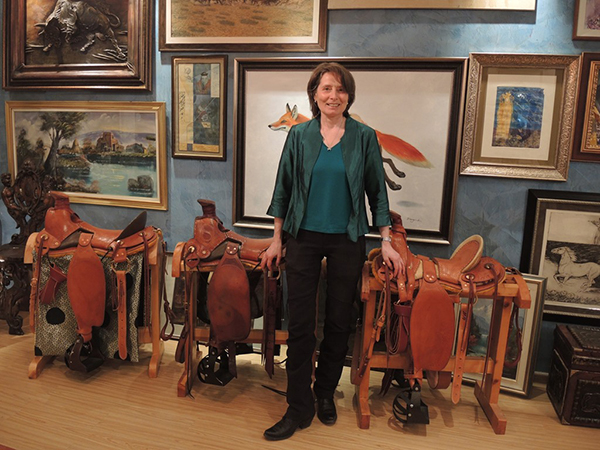 Stone Horse Expeditions owner Sabine Schmidt with her hand-made saddles at an art gallery in Mongolia's capital and largest city.
Schmidt has lived and worked in Mongolia for the past 15 years, helping develop the national park system and working with nomadic herders that travel on horseback throughout the country, carrying on their centuries old family legacy. Sabine studied the craft of Western saddle making in the American West, apprenticing in New Mexico. She further honed her skills in Mongolia, working with the locals and taking into account the special horses and landscapes of this east-central Asian nation. She hand-crafts lightweight saddles for horse trekking and trail riding in Mongolia in her own saddlery using quality leather and hardware and melding the Mongolian style with the Western for a distinctive design.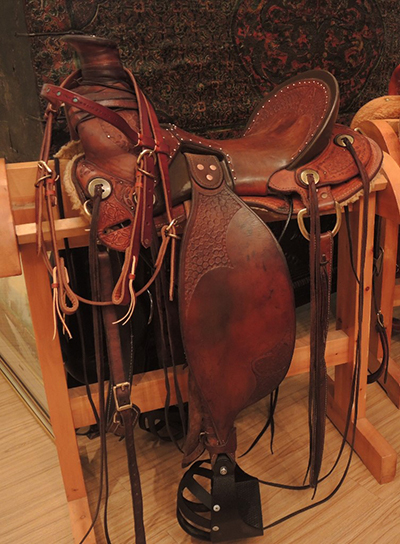 During the winter months, you may find Sabine in her saddlery, fine tuning saddles for the summer season of trekking.
Created to fit the small, but hardy Mongolian horses, the saddle tree is crafted as more traditionally "Western", not unlike Mongolian saddles of earlier periods in their basic design. The seat is carefully constructed to help promote balanced riding for the comfort of the rider and horse and tested in the field by both local Mongolians, the Stone Horse team and global travelers. They are built for strength, but also crafted to honor the Mongolian horse.
A typical Mongolian saddle with its high pommel (the raised front of the saddle seat) and cantle (back of the saddle seat, which provides a backrest and support to keep riders secure in the saddle).
"While the primary features of a saddle are safety and comfort, its design and beauty make it complete for me," said Schmidt. "I like saddle making as it combines the need for good craftsmanship and technical construction with design and artistic elements. Being immersed in making a saddle is great and satisfying. This is surpassed, of course, by sitting in a saddle and being with your horse in a great landscape. I am currently designing two saddles for Mongolian customers and will adorn these saddles with designs inspired by traditional Mongolian patterns. I am proud that Stone Horse saddles are creating interest in Mongolia where people have ridden horses for thousands of years."
Stone Horse saddles on display. The swell (or fork), the horn and the seat are covered with layers of leather that are carved into shape, a physical process.
Learn more about Stone Horse Expeditions on their page in the Equitrekking Vacation Guide and check out a more in-depth interview with the Stone Horse Team. Hear from travelers who've ridden with Stone Horse in Autumn Horse Trek in Mongolia- A Family Adventure and A Mongolia Horseback Riding Vacation.