Michigan's Horsey Christmas Sightings this Holiday Season
Carriage rides, jingle bells, and wagons full of carolers are right around us at holiday celebrations.
By Karen Braschayko
Many classic Christmas carols mention horses, and imagery of winter commonly features cozy horse-drawn sleighs and barns of fuzzy equines snug in their stalls. Carriage or sleigh ride scenes seem almost requisite in romantic holiday movies. Horses are part of our collective portrait of the Christmas season, so it's only fitting when our holiday celebrations feature equines as well.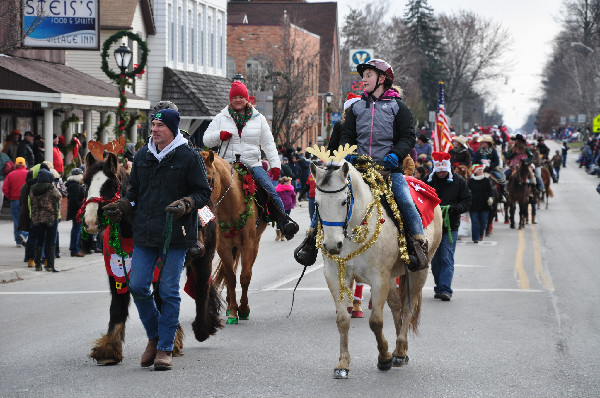 Horses walk in full holiday regalia at the Old Fashioned Christmas Horse Parade in Lexington, Michigan.
This year, I decided to seek out these experiences and let horses help me get in the mood for the holiday season. Each year I look forward to the Old Fashioned Christmas Horse Parade in Lexington, Michigan, but what other horsey opportunities could I find right around me? I wanted to hear real jingle bells this winter and pet some warm muzzles too.
Here are some equine occasions I found in my corner of Michigan. I hope you can find some around you, too!
Lapeer's WinterFest
My hometown of Lapeer had an early December celebration called WinterFest, bringing Santa out to take toy requests and a local elementary school class to sing carols on the historic courthouse steps. The farmer's market pavilion was warmed by heaters so local vendors could display their crafts. Shops stayed open late and welcomed us inside with cookies and hot beverages.
The team of Buster and Chance from LeSanSha Percherons of Millington, Michigan, pulled the Christmas carriage around town.
Free carriage rides were a popular feature, and the line stayed full despite the biting wind. Many of the buildings in our downtown look nearly as they did decades ago in the days of the horse-drawn carriage, so it felt right to hear shod hooves clop through the streets once again. This team of Percherons had plans to ferry the crowd at several other area parades and celebrations, the handler told me.
Novi Equestrian Expo
This year the Novi Equestrian Expo was timed just right for holiday gift shopping, and the red and green décor opened the season with horsey sparkle. Booths featured every equine-related gift imaginable, from stockings filled with horse treats to cold-weather gear and blinged-out saddles. The stalls were decked with garlands and wreaths in the shape of horses. Toddlers took their first rides on ponies, and little cowgirls and cowboys tried out roping.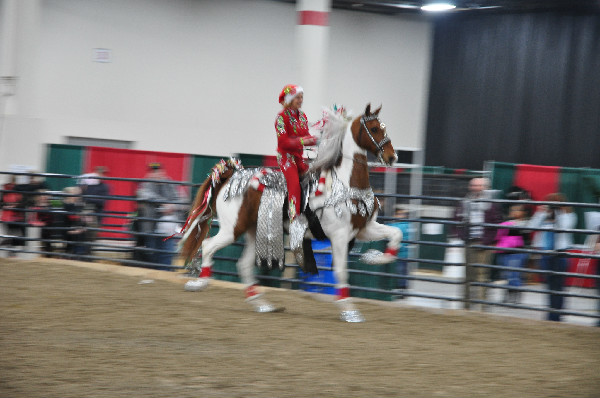 A Saddlebred in festive costume sped around the main arena, earning applause from the crowd.
Riders paraded in costume, and an American Saddlebred in full silver made a festive sight flashing around the arena. Of course it was also a great chance to catch a demonstration by clinician Stacy Westfall (riding her famous horse Popcorn) and many other speakers, but the folks walking out with bulging bags testified that this had been a multi-tasking event for sure. An expo is also an opportune place to find new rescue or horse charity to support for year-end giving.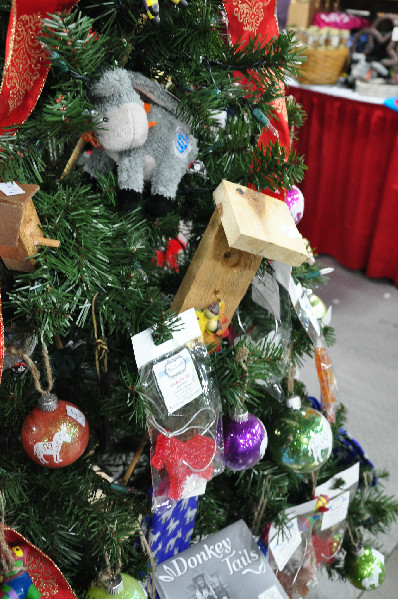 All types of equine-related gifts and horsey holiday decor were on display at the Novi Equestrian Expo.
Dinner in Frankenmuth
Frankenmuth, nicknamed "Little Bavaria," was founded by German immigrants in 1845 and has become quite a tourist destination, offering unique gift and food shops in the quaint downtown. My family has a new tradition of a trip to Bronner's Christmas Wonderland, which claims to be the "World's Largest Christmas Store," to pick out ornaments that encapsulate the past year and to wow the youngsters with endless sparkles, lights and magic. Afterward, we savor the famous Frankenmuth family-style chicken dinner at one of the restaurants (don't miss the Bavarian Inn buttered noodles!).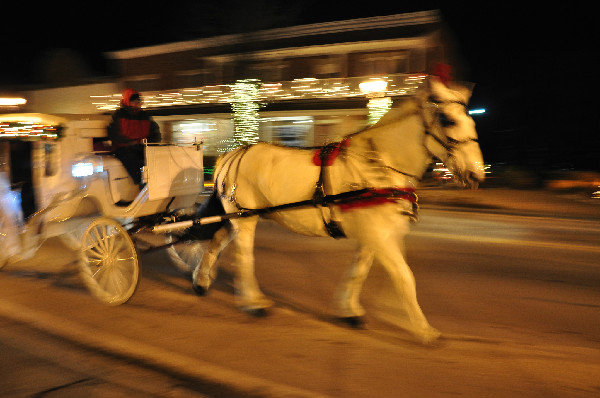 Horses are a common sight in Frankenmuth, where they trot around town and over the wooden bridge.
As usual, there were hooves clopping through the downtown area and across the covered bridge, closed carriages available to the public. It reminded me of horse-drawn rides I enjoyed there during my own childhood, the highlight of the season for a horse-crazy kid like me. Now I can share this treat with the next generation, enjoying a jaunt behind trotting hooves and through the Christmas lights.
Holiday Nights in Greenfield Village
This popular event sells out quickly and fills the parking lots, so I'm glad I remembered in time to buy a ticket this year! Interpreters staff the many historical buildings gathered by the vision of Henry Ford, describing and demonstrating the industry of yore including weaving, tinwork, printing and pottery. It was bitterly cold on the night we'd chosen, so the fiery glass blowing building was particularly popular, though there were many heated buildings and warming stations throughout the grounds. The shops offered gifts crafted on site, and hot beverages and snacks were plentiful.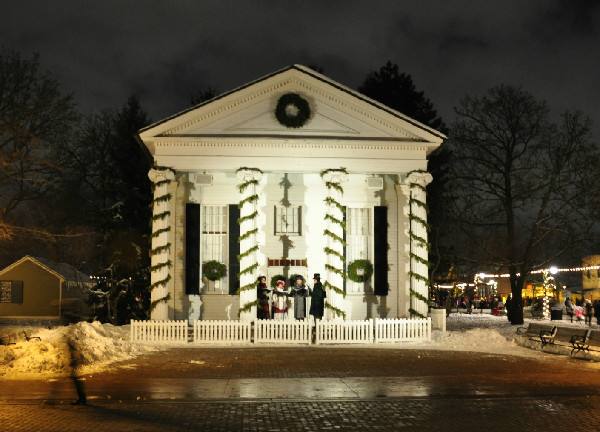 Draft horses pulled wagons full of guests around Greenfield Village, past historic buildings and carolers in period dress.
Beautifully decorated with a Dickens-era feel, Greenfield Village was a wholly different place than usual and transformed by holiday cheer. Lanterns lined the streets, and wood fires scented the air. Guests queued up to enjoy wagon rides drawn by draft horse teams, each complete with its own guitar-playing carol singer. An ice rink, storytellers, chimney sweeps, military reenactors, Model T rides, reindeer, and Santa reading the naughty or nice list fashioned the holiday scene – a great way to sample the foods, traditions, and challenges of the Christmas experience from American colonial times to World War II. The night was capped off with fireworks and caroling by a historically-costumed cast, complete with a dose of music history when introducing each song.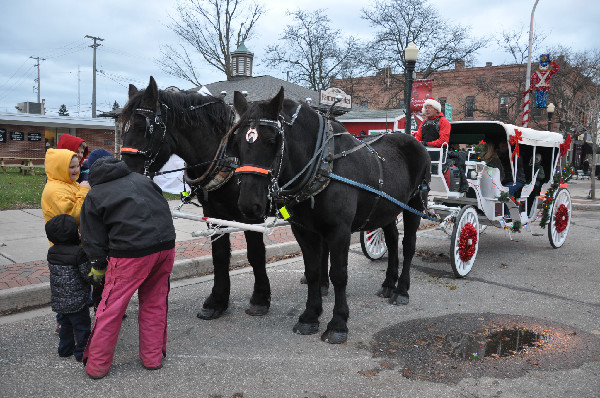 Percherons Buster and Chance enjoyed attention from children while the carriage loaded again for a trot around town.
From tree lightings to holiday festivals and parades, horses are often featured at holiday celebrations, breathing a little warmth into the winter season. Carriage rides offer the chance to experience a city in a new way, to slow down for a moment and take in the view. For many children, this is their first time feeling the sway of the carriage, hearing horse snorts, petting a furry muzzle, and experiencing a mode of transportation most only see in books and movies. They may even feel a little like Cinderella in her carriage. It's a time for equine contact accessible to all and an opportunity to support horses who have jobs and their owners too. Besides raising holiday spirit, seeking out horsey events allows horse lovers to be ambassadors in our communities.
Whether you have a barn full of equines or just daydream about them, making horsey holiday memories with family and friends may not be far away. So check your local paper and social media sites, grab family and friends, and bundle up to hear some hoof beats and jingle bells in real life, not just in soundtracks. Let us know where you find horses helping your community enjoy the holiday season.
Karen Braschayko is a freelance writer and horse lover who lives in Michigan.