Michigan's Hidden Gems: Mackinac Island Part 2
Susan St. Amand continues the adventures on Mackinac Island, a horse lover's dream destination.
by Susan St. Amand
The first scene upon pulling into the harbor ferry dock immediately took us back in time and set the tone of the rest of our visit to Mackinac Island – a horse drawn wagon waiting for goods to be unloaded off the ferry.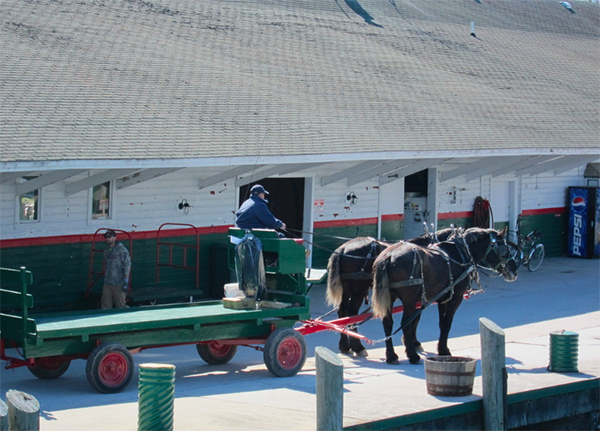 Not far from the dock is Main Street where you will find many interesting shops and restaurants, including hitching posts to tie horses. At the Pink Pony restaurant, we enjoyed a good meal. On the menu was maple bourbon barbequed steaks, which was a reminiscent flavor of an earlier spring trip we took - "Chasing Maple".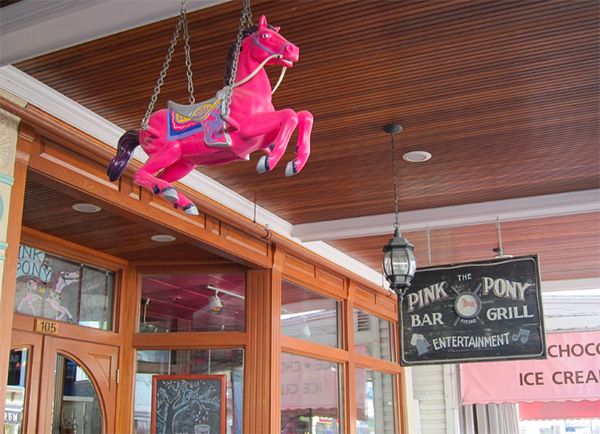 For dessert, a trip into one of the six fudge shops located on Main Street is a must. At Murdick's Fudge Shop, freshly made peanut brittle was cooling off on the marble slabbed tables. Murdick's Fudge Shop still uses its original 1887 recipes and confectionary skills using all-natural Michigan ingredients and copper kettles. A large cast iron horse head hung beside another interesting restaurant, continuing the theme of Mackinac Island.
In the Mackinac State Harbor, a smaller version of the Statue of Liberty sits, donated by the Boy Scouts of America.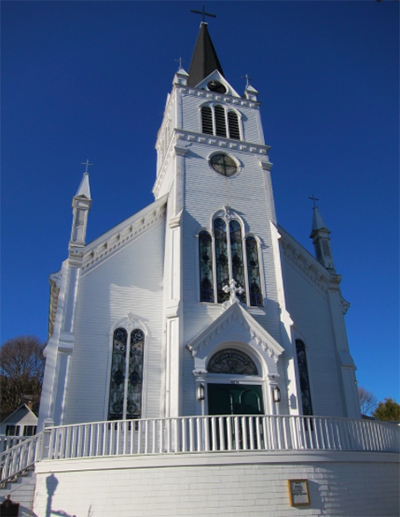 St. Anne Catholic Church, which has been rebuilt and moved several times over the years since 1670, is the oldest church in honor of St. Anne in the U.S. and holds baptismal records dating from April 1695. In the Mackinac Island Peace Garden sits a statue commemorating 200 years of peace between the U.S. and Canada from 1815 to 2015. Another popular icon on Mackinac Island is the Grand Hotel.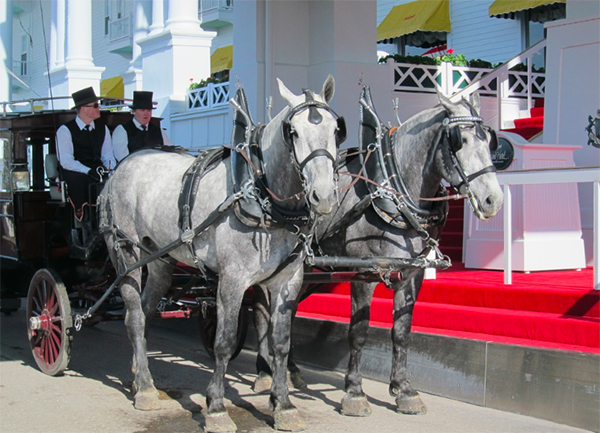 Horse-drawn carriages transport hotel guests to and from the hotel and ferry dock.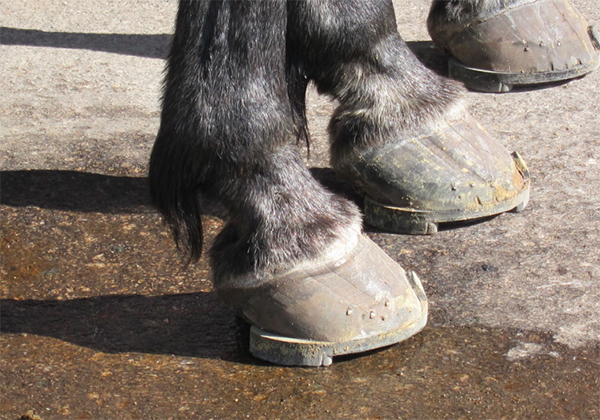 The carriage horses wear special horseshoes which have a rubber cushion on the heels of the front shoes to assist in absorbing the shock from the continious and constant pounding of their hooves on hard pavement. Borium is added on the rear shoes for traction.
At Jack's Livery Stable, we learned a lot about the use of horses on Mackinac Island. During the summer tourist season beginning in May until October, there are roughly 600 horses total to be found on this small island pulling drayage wagons, carriages, and recreational riding. They do not winter on the island, rather they are transported on the ferries to and from the mainland. Temporary summertime wagon and carriage drivers are employed and go through a one week crash training learning the basics of horse care, hitching up a team to a wagon or carriage, as well as learning to drive a team. The island maintains a full time veterinarian during the summer. On average, there are also three farriers to shod all of the horses.
Evidence is seen in the farrier's shop as to the supply of horseshoes required to maintain all the horses as they are re-shod every 4 to 6 weeks.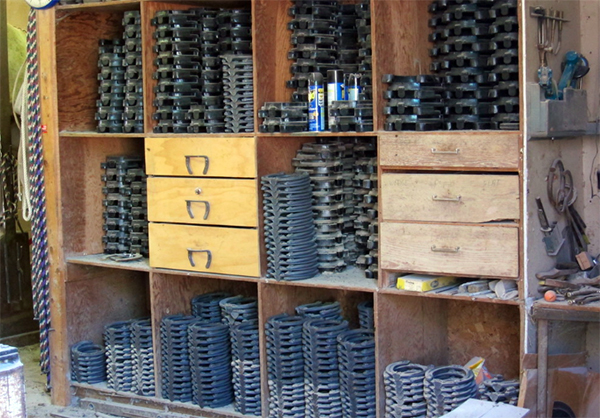 Another stack of evidence is the growing pile of discarded worn-out shoes. Next door to Jack's Livery is Surrey Hill Square, a carriage musuem.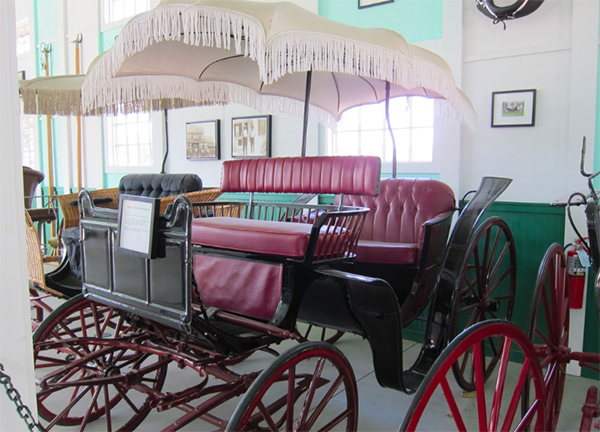 Inside the museum you will find a variety of antique carriages of all shapes and sizes.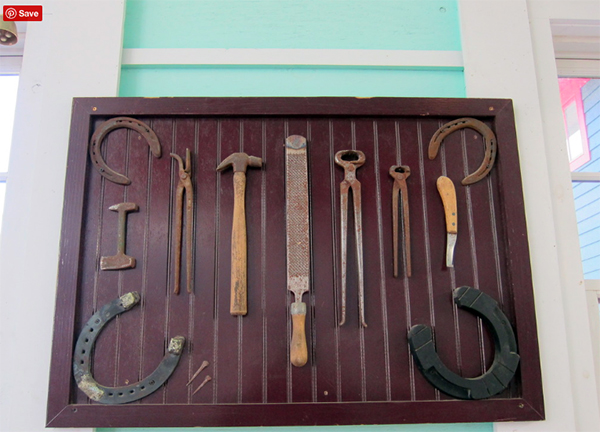 Also on display are farrier tools and different types of horseshoes.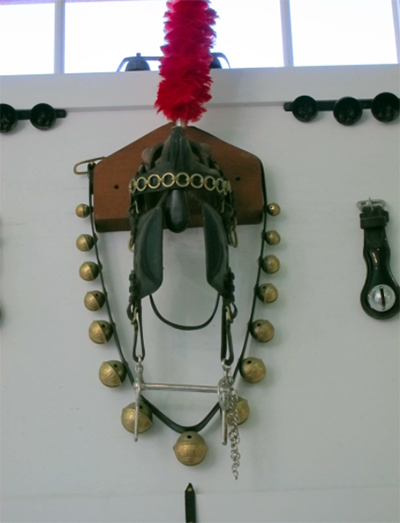 An exquisite carriage horse headstall with plummage can also be seen.
Mackinac Island Butterfly House
Another interesting place to visit on Mackinac Island is the Butterfly House and Insect World. As you walk in the butterfly garden, it feels surreal, as numerous butterflies flitting around all at once are like tiny fairies. Many butterflies are found in colorful varieties. In the gift shop, you will find real butterfly wings from butterflies having reached the end of their lifespan, processed into pretty and colorful earrings and necklaces for purchase.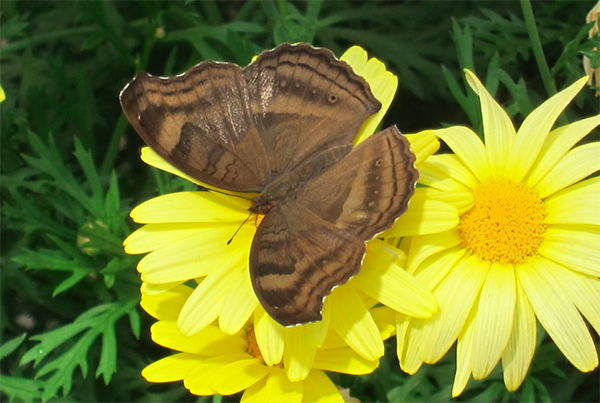 To learn about the true history of Mackinac Island, a visit to Fort Mackinac is a must.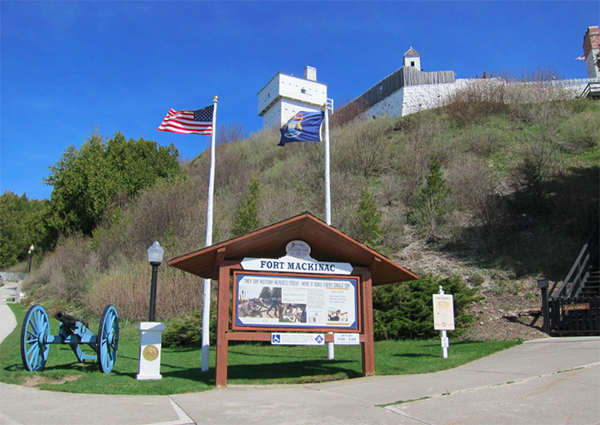 Fort Mackinac sits up high upon a hill, and the views of Mackinac Island from the Fort's walls are beautiful. It is also understandable as to why soldiers used this view to their advantage for defense purposes.
Canons facing the harbor are found on display along the Fort's walls as well. Canons are shot on a regular basis throughout the day and can be heard throughout the island. Re-enacting soldiers also fired their muskets. A display of military punishment tactics can be found. Punishment was quick and severe, a stark contrast to punishment dealth in this day and age.
Other than horse-drawn transportation, bicycles are also popular in getting around. It was amazing to see newspapers delivered by bicycle as well as people arriving on the the ferry from the mainland in the mornings picking up a bicycle to head to their place of employment. It certainly brought centuries old ways of conducting life and business back to life. Many bicycle vendors have stations for visitors to rent bicycles as well. One of the popular bike riding venues is pedaling the eight mile perimeter around the island on Lakshore Road which meanders through Mackinac Island State Park. This is a beautiful bike ride to do at your leisure, and surprisingly, for two out of shape older persons, we were not sore the next morning.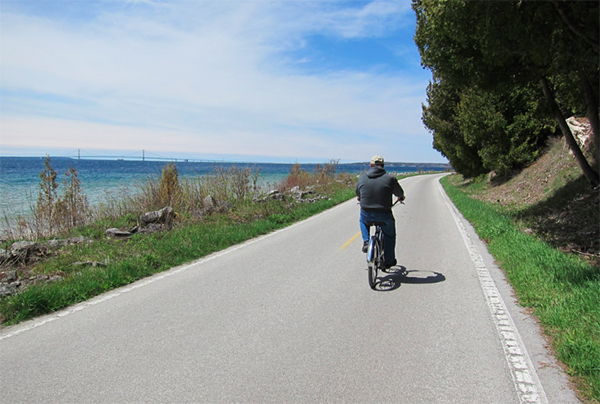 Along the route we encountered many seagulls along the waters edge and on the rocks.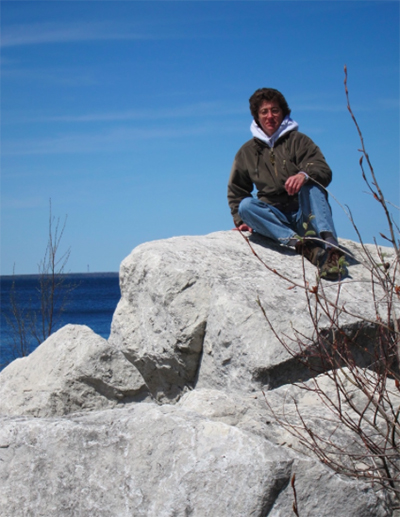 Not to be outdone by the seagulls, I also took advantage of a photo opportunity on the rocks along the shoreline.
Another site to see along the Lakeshore Road through Mackinac State Park is Arch Rock, a breccia formation. It once was a solid formation standing 100 feet about water level, but over the past 4000 years the lake waters slowly dissolved the softer material at the center of the formation, leaving behind the firm breccia limestone arch.
On the third day of our stay at Mackinac Island, it was time to board the ferry back to the mainland to Mackinaw City. The Arnold Ferry takes about 40 minutes one way. Newer and faster ferries are available as well.
From Mackinaw City, we crossed the Mackinaw Bridge heading north to the Upper Pennisula of Michigan. Along the way we stopped in a local grocery store named Trout Lake Grocery Store and purchased a great tasting Bavarian Nutmeg Rootbeer called "Virgil". In addition, we purchased smoked lake trout or "Char" as the locals say.
Another interesting local food fare is "Pastie" . It is a pie-crust folded over in half filled with chunks of beef, cubed potatoes and turnips, onions and seasonings. It is a popular fast "meal in hand."
The climate, geography and topography of the Upper Pennisula reminded me so much of Maine, as they are both similar in latitude. Its similarity in its rustic countryside and wilderness was also striking. Well groomed snowmobile and atv trails were found everywhere as well.
Read Part 1 Michigan's Hidden Gems: Dutch Windmills & Dragons
Read Part 3 Michigan's Hidden Gems: Upper Peninsula Charms
About the Author: Susan St. Amand is a Board Member of the Shenandoah Trail Riding and Horseman's Association and employed with the Virginia Cooperative Extension as a 4-H Youth Program Assistant. She grew up in Northern Maine with horses on a farm and has been a transplant to Virginia for the past 25 years. She enjoys planning horse vacations with friends and has currently completed many rides in Maine, Pennsylvania, New York, West Virginia, Tennessee, North Carolina, as well as Virginia, trailering her own horse.