Michigan's Hidden Gems: Dutch Windmills & Dragons Part 1
From tulip farms to Mackinac Island, awesome adventures on Michigan's Upper Peninsula in this three-part series from riding and travel enthusiast Susan St. Amand.
by Susan St. Amand
This was our first trip to explore the state of Michigan, specifically to visit Mackinac Island. As we planned our trip details, we realized there were other interesting places to visit as well to make the trip truly worthwhile, such as the Tulip Festival held each spring in Holland, MI. As a result, the trip was planned to begin the first weekend in May in order to catch the tulips in bloom. Little did we realize this would be the third time we experienced "spring" this year – first, at home in Virginia, then heading north, up to New England states to "chase" the running of the Maple Syrup season, next heading the opposite direction, south to North Carolina and seeing the blooming flower gardens at the Biltmore Estate in Asheville, NC and now north again to Michigan, where on the Upper Pennisula, you still needed a heavy jacket to stay warm. Our constant re-experiences of spring this year reminded me of the "Groundhog" movie.
Dutch Windmills, Tulips Farms and Dragons
Once we arrived in Holland, MI we began by "tiptoeing through the tulips" at Veldheer's Tulip Farm, Delft Factory and DeKlomp Wooden Shoe Factory.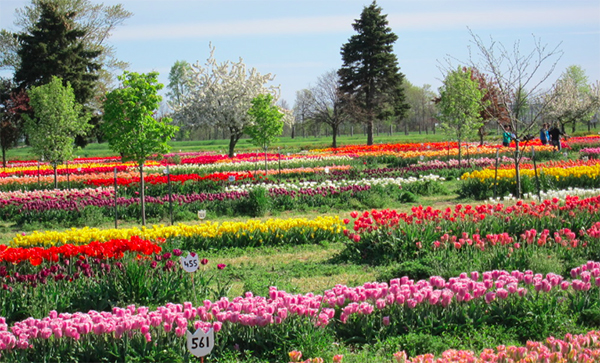 Veldheer is Holland's only tulip farm with 5 million bulbs blooming each spring. As we entered the tulip fields, the vast bright colors of the tulips were impressive. I never realized there were so many different varieties and colors of tulips of all shapes and sizes. There are no words to describe how beautiful they were. Each section of tulip beds are numbered. Upon entering the fields, you are given a catalog, so you can mark off which tulips you like the best and then order them in the gift shop after your tour. The desired tulip bulbs can be delivered to your home in time for fall planting, so you can grow your own little piece of "Holland".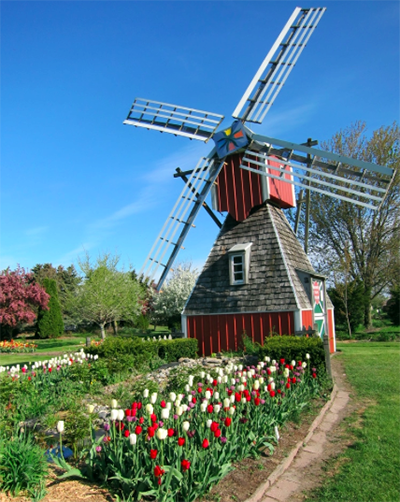 Small Dutch windmill replicas were also present among the tulips. Available for purchase as well in the gift shop were carved wooden tulips in assorted colors.
Located within the same building was the Delft Factory, where artists mold, hand paint and glaze the only authentic blue and white delftware in the U.S. The DeKlomp Wooden shoe factory was situated in the same building. Here woodworking craftsmen carve out wooden shoes one at a time. Finished wooden shoes were stacked up against the wall, sorted by size, for purchase within the gift shop. Also found on the farm in a pasture on the remote end of the fields are a herd of bison.
Our next stop was at Windmill Island Gardens to tour the only fully functioning Dutch windmill (or DeZwaan in Dutch) in the U.S. which continues to mill wheat from local farmers into flour. It was imported from the Netherlands and restored. The blades, reaching as high as a 12-story building, turn by the power of the wind, showing that old methods are still considered "green and energy efficient" and sometimes it is not necessary to "re-invent the wheel" as it has been in front of us all this time. 250 pounds of flour are ground per hour in the mill.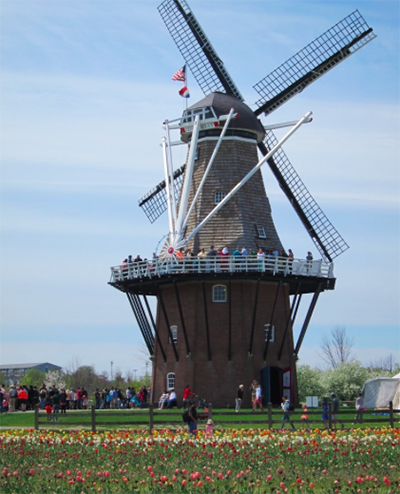 Tour guides led visitors up inside the windmill through five levels explaining the traditional process of how flour is milled. Towards the upper level, we were able to view the large wooden gears which are turned by the windmill blades. Beeswax is used on the wooden gears to reduce wear and tear of the constant grinding of the gears. Other attractions at Windmill Island Gardens include a children's antique Dutch carousel, a tropical Conservatory and lovely gardens. Freshly ground wheat flour can also be purchased in the shops in traditional cotton flour sacks.
The third stop on our Holland, MI itinerary was the Nelis Dutch Village to experience the Netherlands of the 1800's. Consisting of 10 acres of authentic Dutch architecture, canals and gardens, it takes you back in time.
Dutch Klompers entertained us with their cultural dances. The dancers and employees who wear the Dutch wooden shoes will wear 6 to 9 pairs of layered socks for comfort and keep their feet warm during colder weather. You would expect the wooden shoes to be durable and last a long time, but depending on usage, they actually only last between 1 – 3 months. It has been known for the dancers to have their shoes split apart while dancing due to the constant concussion of shoe stomping.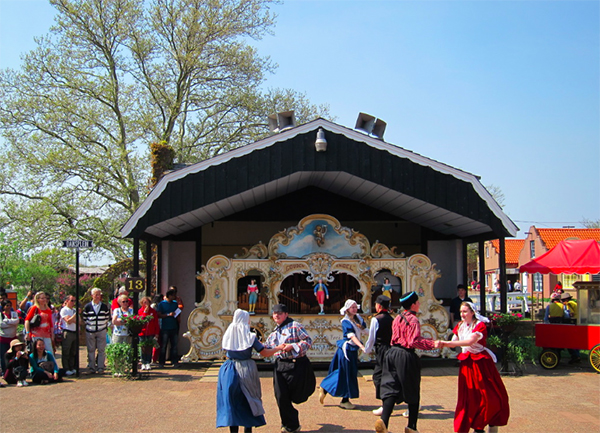 Inside the Dutch museum were a collection of dolls and dresses depicting Dutch costumes.
In another shop, gouda cheese was being processed. Freshly made cheese could also be purchased here. In the gardens many of the Dutch statues of kissing couples can be found. In addition, a small barnyard petting zoo and a carousel are some of the many interesting things to see and do.
All of these three Dutch adventure spots are all with close proximity within the town limits of Holland, MI and if planned correctly, can be seen all in one day if you get a head start early enough in the morning before the large crowds and tourist busses start arriving, as the Tulip Festival is a large and popular attraction here each year.
Heading north, we traveled to Charlevoix to visit Castle Farms. Built in 1918 to operate as a working dairy farm by Albert Loeb, acting president of Sears & Roebuck, it was modeled after the stone barns and castles found in Normandy. Prize winning dairy cattle and belgian horses eventually were raised and bred here. After a period, the farm fell into disrepair, and changed hands several times in which it was used as an art gallery and music theatre with poplar artists such as Willie Nelson, Doobie Brothers, Beach Boys and Ted Nugent to name a few held summer concerts here. The most recent owner purchased Castle Farms and did extensive renovations. Castle Farms is now host to many weddings and bridal expos with large walking gardens and a reflective pool.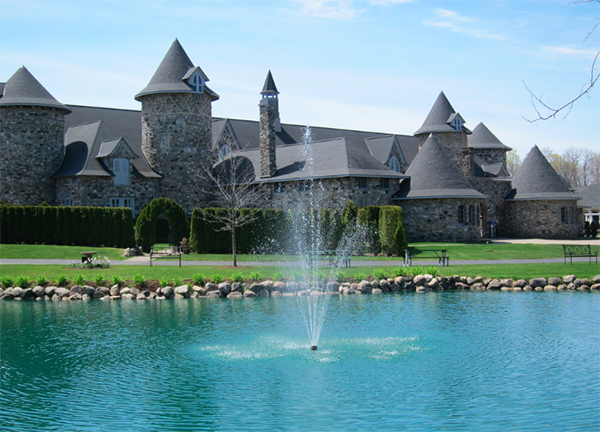 A statue of Norm the Dragon, made of 100% recycled metal and weighs 3,700 pounds, is situated in the gardens, as well as a couple of large chess games.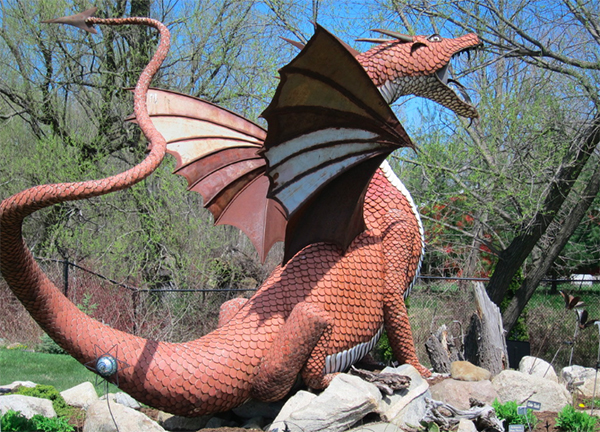 In addition, there is an outdoor working model train exhibit on the grounds.
From Charlevoix, we headed northeastward to Mackinaw City to board the Arnold Ferry and headed to Mackinac Island. Mackinac Island is located in Lake Huron between Michigan's Lower and Upper Pennisula and is 3.8 square miles in size. The island was home to Native American settlements before European exploration began in the 1600's. It was a key site for the Great Lakes Fur trade followed by two battles during the War of 1812.
In the Straits of Mackinac stands Round Island Lighthouse, now designated as a historic site and part of Hiawatha National Forest.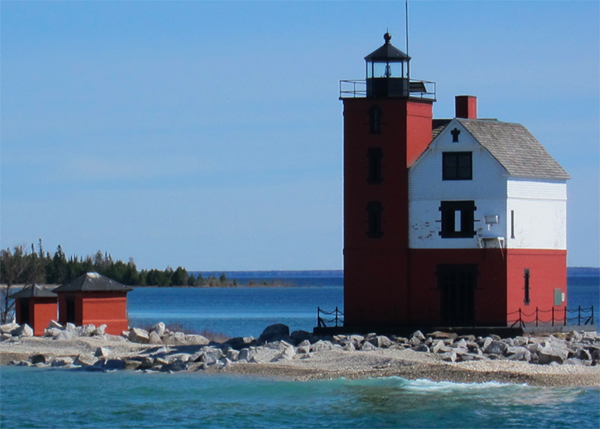 Read Part Two: Michigan's Hidden Gems: Mackinac Island
About the Author: Susan St. Amand is a Board Member of the Shenandoah Trail Riding and Horseman's Association and employed with the Virginia Cooperative Extension as a 4-H Youth Program Assistant. She grew up in Northern Maine with horses on a farm and has been a transplant to Virginia for the past 25 years. She enjoys planning horse vacations with friends and has currently completed many rides in Maine, Pennsylvania, New York, West Virginia, Tennessee, North Carolina, as well as Virginia, trailering her own horse.