Michigan Shore to Shore Riding Trail
Learn about the Michigan Shore-to-Shore Trail, a 240-mile long trail that runs across the Lower Peninsula of Michigan and is open to horseback riders and hikers, part of the Equitrekking 50 State Trail Riding Project.
by Carol Baldwin
Looking for a riding and camping experience with your equine partner? Michigan has the trail for you! Extending from Lake Huron to Lake Michigan the Shore to Shore trail is complete with diverse terrain, lakes, rivers, streams, wildlife, beautiful scenery and primitive camping.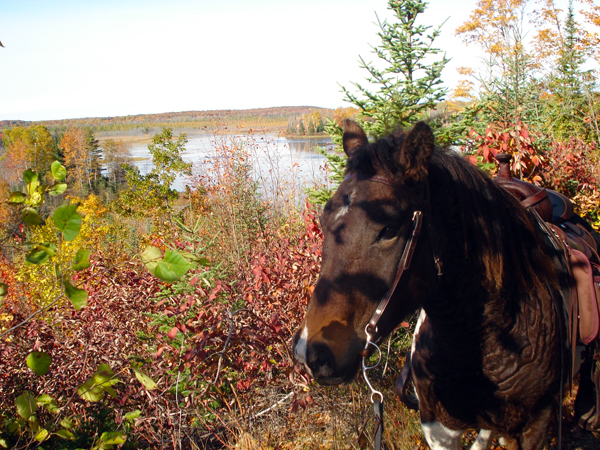 JL Phantom on a ridge overlooking the Stoney Creek pond on the North Spur of the Shore to Shore trail.
The East-West trail is 240 miles long extending from Empire along the shores of Lake Michigan to Oscoda, which is located along the shore of Lake Huron and primitive campgrounds are located approximately 25 miles apart on this trail. The 10 primitive campgrounds do allow camping with horses. Several of the campgrounds are located near a river or lake. The facilities have a hand pump and outhouses available.

Another trail called the North- South trail extends off the main trail. The South spur extends from the main trail to Cadillac, Michigan and the North spur extends from the main trail to Cheboygan Michigan. The spurs are located near Gaylord, Michigan.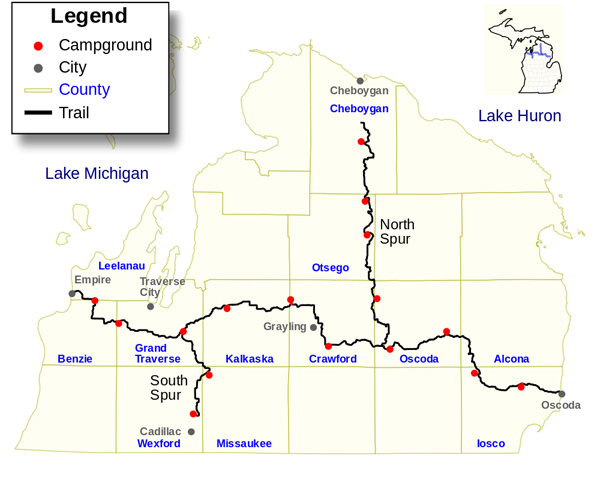 Map of the Michigan equestrian and hiking trail from Lake Michigan to Lake Huron. Not shown in this map, the trail now continues up north of Cheboygan and then along Lake Huron into Mackinaw City.
For more information and an organized ride schedule, contact the Michigan Trail Riders Association, Inc. or call Chris Rayner, Secretary/Treasurer 989 473 3205.