Mexican Folk Legend's Los Tres Potrillos Ranch
Visiting the "Frank Sinatra of Mexico's" Ranch, Vicente Fernandez's Los Tres Potrillos in Guadalajara.
We arrived to the gate of Vicente Fernandez's Guadalajara ranch in Mexico to find fans waiting outside. Though Los Tres Potrillos, The Three Colts, is a private ranch, Fernandez does sometimes open his doors to guests, including during the holidays, special occasions and for groups like ours who had scheduled ahead for an exclusive look at this legendary folk singer's home. Sometimes called the Frank Sinatra of Mexico, Fernandez is a household name and has been over the span of his several decades long career. His cowboy songs come from the heart, as does his passion for horses, particularly miniature Appaloosas, which he breeds along with hundreds of Quarter horses.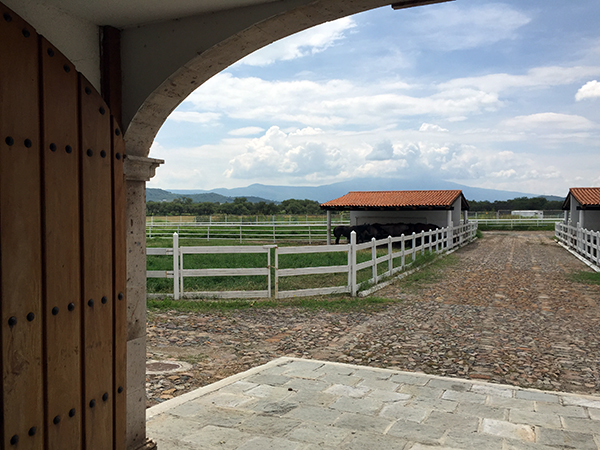 A view from the stables.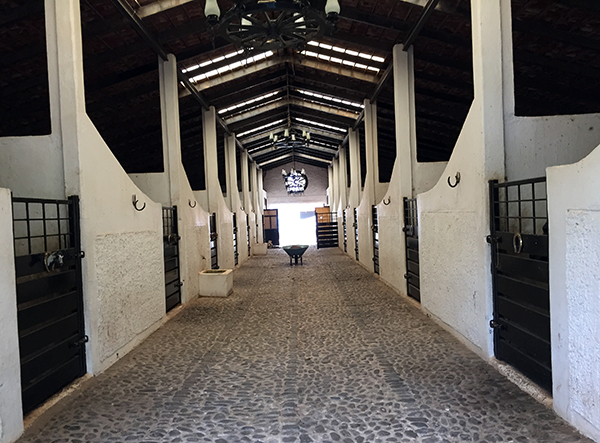 A look inside Vicente Fernandez's stables.
Past the large open fields where a few horses grazed, we drove up to the stables. On the property, his Centro de Espectaculos Vicente Fernandez Gomez seats 11,000 and played host to the 59th annual Charro National Congress and World Championship. Right by the house, there's a covered area for practice and smaller exhibitions.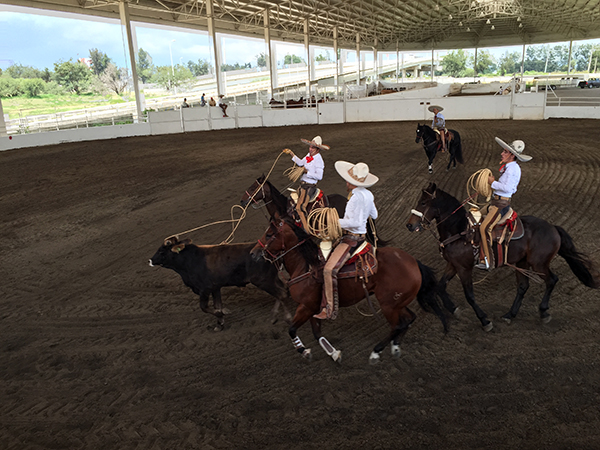 Roping a cow during a demonstration in the lienzo charro arena, which has two areas: one 197 ft × 39 ft and a second, circular area 130 ft in diameter.
A charro is a Mexican cowboy and Fernandez hosts equestrian events throughout the year in an effort to keep charro traditions alive and to help the older generation pass their knowledge and skills down to their children. Our group would get to see a special charro demonstration in Fernandez's covered arena. A popular sport in Mexico, charreria combines Mexican culture, tradition and history in equestrian competitions focused on horseback riding, roping and cattle handling. Much like cowboys on American ranches, the skills shown in these competitions harken back to skills cowboys used in daily life at haciendas.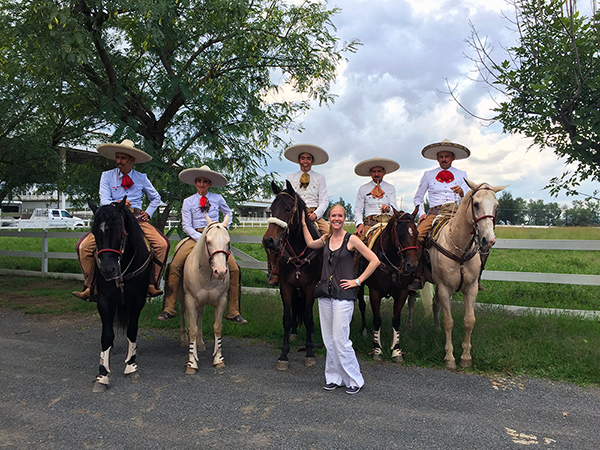 Hanging with the cowboys at Los Tres Potrillos.
We visited the elegant and spotless stables with their impressive tack room. Beautiful, elaborate Western saddles hand embroidered with palm, which take three months to craft, were on view alongside sidesaddles and other tack. In Mexico like the rest of the equestrian world, women, too, participate in competitions; practicing escaramuza, bold horseback ballets, ridden sidesaddle at high speeds.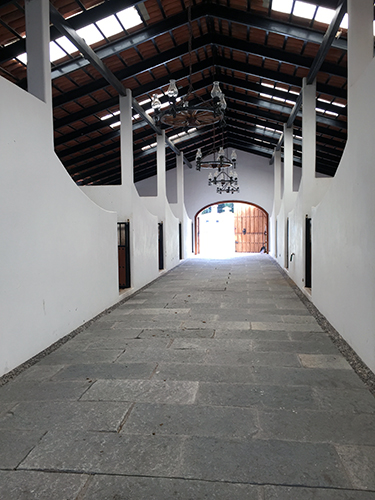 Inside the another one of the almost spotless stables.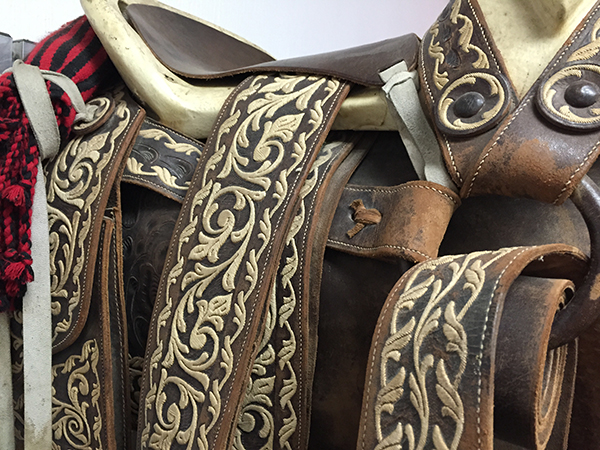 The elaborate designs on the saddles in the ranch's tack room.
A few horses looked out to greet me, as I walked further along to check out Fernandez's pool, which is huge and in the shape of a guitar. You know you've achieved true rock star status when you can have a pool shaped like your favorite instrument. From there, I could see a few of the miniature Appaloosas hanging out near the pool, along with some colorful peacocks. I wondered if the minis were allowed to take a dip.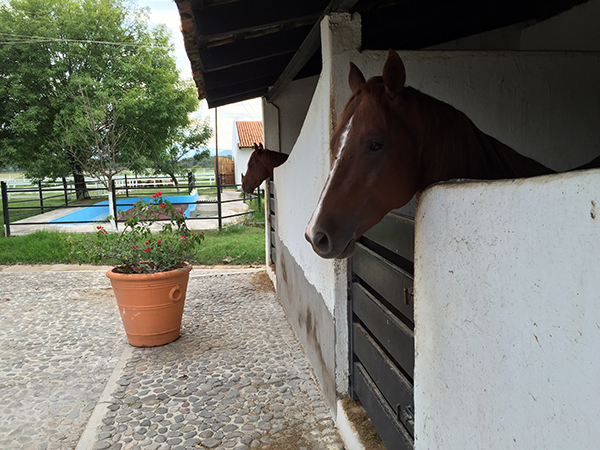 Saying hello to the horses, as we tour the ranch.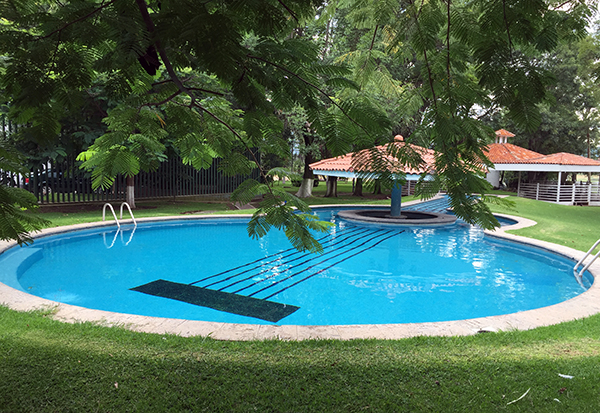 Fernandez's guitar shaped pool. Rock star status!
Back at the arena, the Mexican horsemen in their wide-brimmed sombreros were showing off some of the tricks that they may demonstrate in competition, including mesmerizing the audience as their ropes danced around them and their horses, reining and team roping. After touring this ranch, a true passion project, I thought about how nice it is to be a rock star and, even nicer, a rock star with a passion for horses.
Getting up close to check out that sombrero!

Learn more about ranches and riding vacations in Mexico in the Equitrekking Vacation Guide, a resource for places to horseback ride and vacation around the world.