Meeting Olympic Equestrian Reed Kessler
Alexis Mozeleski and the Washington International Horse Show Junior Committe meet Olympic equestrian teen Reed Kessler.
by Alexis Mozeleski
During the Washington International Horse Show, I and my fellow junior committee members enjoyed a special surprise; we got to eat pizza with the youngest show jumping Olympian in history, Reed Kessler. At just 18 years old, Reed is the reigning US National Champion and a member of the 2012 US Olympic Team.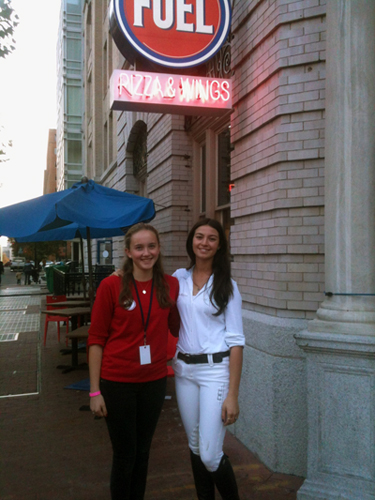 Reed Kessler with Alexis Mozeleski at Fuel Pizza in Washington, DC.
When Reed arrived at Fuel Pizza to meet us, we were all very star struck. Members shook her hand and introduced themselves, seemingly collected while on the inside, we were all flipping out. After all, she's where we all aspire to be. Although Reed is an equestrian celebrity, it was clear in her humor and topics of conversation that she is just a regular kid. She joked about ex-boyfriends, her favorite TV shows and her love of Georgetown Cupcake.
Cylana ridden by Reed Kessler at WEF 11 AA. This round is from class 1, Round 1 - USEF Olympic Trials
After winning the $100,000 President's Cup Grand Prix, an FEI World Cup Qualifier at WIHS, Reed Kessler's interview.
We asked her some questions about her career and experiences. One of the more memorable questions was, "Did you always know you wanted to do jumpers?" In the discipline "hunter/jumper" there are 3 aspects: hunters, which is judged on the horses form, equitation, which is judged on the rider's form, and jumpers, (Reed's discipline) which is all about speed and
clearing the fences. Kessler answered that she had tried hunters, and didn't like it. She then tried equitation noting that "it is very important to have a base in equitation but to remember that there is no equitation in the Olympics" and in the end, it was jumpers that captured her attention.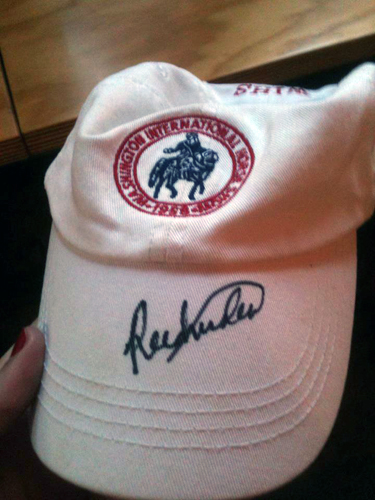 Alexis Mozeleski gets a signed WIHS hat from Reed!
She was also asked whether the rumor is true, did she really make her dad wear the same clothes during the Olympic games that he wore for the trials. Reed responded quickly, rolling her eyes saying "I didn't make him, that was all him! All the other men were wearing suits and there he was wearing the same clothes he had been wearing for days, and everyone was begging him to change!"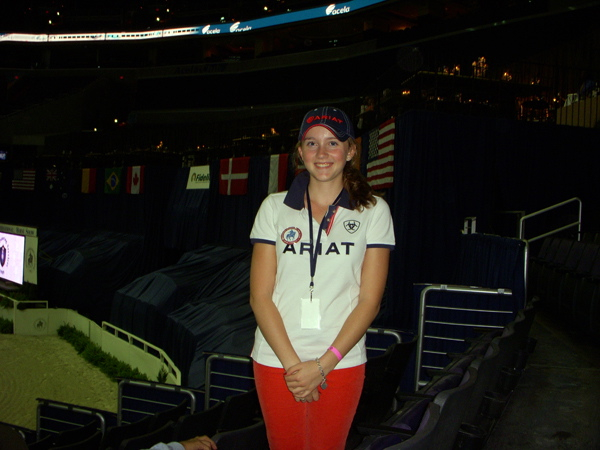 Alexis Mozeleski in Ariat, an Equitrekking sponsor, at the Washington International Horse Show.
It was a delight to share a meal with Reed, and I'm as proud to number her among my friends as I am of her Olympic achievements.

About the Author: Alexis Mozeleski is a sophomore in high school and lives in Washington, D.C. Alexis has been riding and competing since the age of seven and currently rides at Meadowbrook Stables in Maryland. As captain of the Meadowbrook upper school riding team, Alexis is currently competing in the Interscholastic Equestrian Association (IEA) Varsity Open level.
Alexis has been a junior rider, reporter, and equestrian consultant for Equitrekking since 2010.