Meeting Retired Thoroughbreds at Old Friends in Kentucky
Meet legendary Thoroughbreds and some unlikely residents of Old Friends Farm, which you can tour on a visit to Kentucky.
by Darley Newman
I recommend any horse lover take a trip through Lexington, just to drive past the impressive horse farms. Lush rolling bluegrass, white and black picket fences, old stone walls reminiscent of Ireland, and horses grazing amid enviable pastures–– this is roadside Lexington, with some of the prettiest farms in the country. You must also make the time to our some of these horse farms to get up close to million dollar horses and equine celebrities.
With Sarava, a retired Thoroughbred that ended War Emblem's bid for the Triple Crown by capturing the 134th running of the Belmont Stakes.
At Old Friends in Georgetown, Kentucky, I took a tour to meet some of the more than 100 retired horses, including some unlikely residents. Old Friends is a Thoroughbred Retirement Center, so while I knew I'd meet former racehorses, I didn't think I'd meet a miniature stallion, Little Silver Charm, rescued from a kill truck and one of the most popular residents at Old Friends. Let's face it. He's super cute.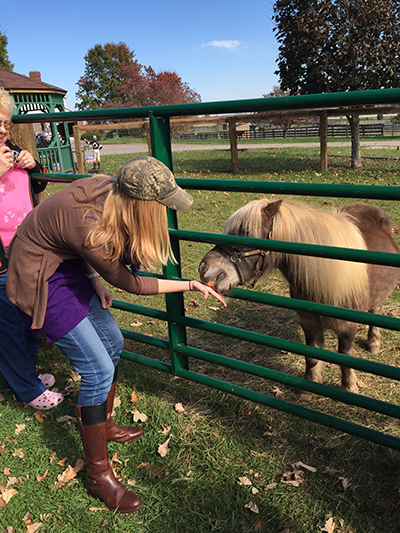 Giving Little Silver Charm, a true charmer, a carrot.
I was also surprised to look in one stall to see Google and Yahoo, two goats that serve as companions for Eldaafer, winner of the 2010 Breeders' Cup Marathon. There are also stallions from Japan, Popcorn Deelites, one of the stunners cast as Seabiscuit in the Oscar-nominated film, and Gulch, who won over $3 million on the track and has been visited by Queen Elizabeth. Talk about special horses!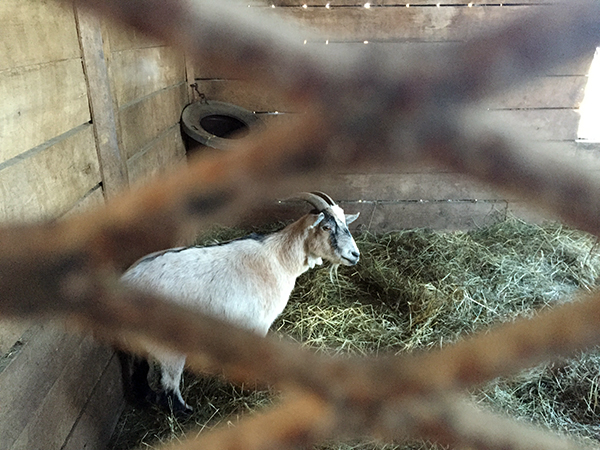 Unlikely stallmate at Old Friends.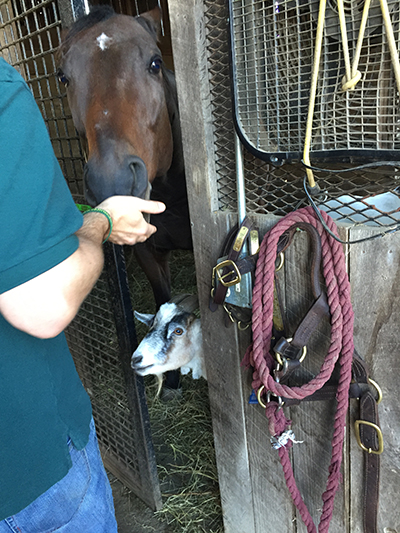 Friends forever at Old Friends Farm.
Particular care, too, must be taken with retired stallions, including letting them graze, but in separate paddocks. On a tour at Old Friends, you'll get to hear the stories of these equestrian legends and appreciate the time, effort and cost in keeping these horses happy and healthy in their retirement. It's a feel-good, educational farm visit, especially when you get to give the horses carrots as treats.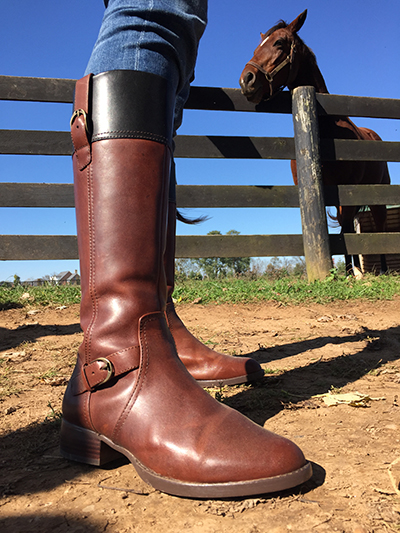 Eyeing my new Ariat boots.
How you can go: Tours of Old Friends are daily at 10 am, 1 pm & 3 pm March 8th through November 3rd. The farm is located at 1841 Paynes Depot Rd. Georgetown, KY 40324. Learn more at oldfriendsequine.org.