Meet Your Host - Lazy L&B Ranch
A family-owned dude ranch in an area where historic figures like mountain man Jim Bridger and Buffalo Bill once trekked, Lazy L&B Ranch is located in a part of America's West where you may feel like you're stepping back in time.

Meet Lee Naylon, who purchased the ranch in 1993, and shares some of the special history of her historic property.
Equitrekking: What is an interesting story related to your ranch's history?
Lee Naylon: This ranch was historically a sheep and cattle ranch and originally settled by Scottish homesteaders in the 1890's. Later it was operated as a small family dude ranch for family and friends called "The Hot Foot Ranch".
Later it was operated for 20 years. as a children's camp and later again as a dude ranch. We bought the ranch in 1993 and continue to try and preserve it's history.
There are still some of the original buildings on the ranch today. At the corrals there is the sod roof on the boot barn. Some of the cabins still have the original classic cowboy wallpaper that people today are paying top dollar for. There have been obvious improvements to the main lodge which was the original homestead cabin, though you can still see the sod roof on the porch, the hand hued logs and cement chinking.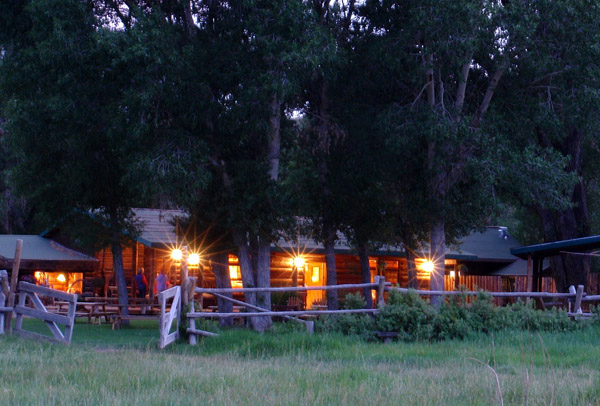 Inside the main lodge you can hear the creaking of the hard wood floors and appreciate the hand carved stone fire place. As renovations were done, we saved some of the hand hued logs and use them as benches out at our fireplace area. They have been kept off the ground to preserve them. You can see the workmanship and imagine what it took to craft a home back in those days.
Equitrekking: What is most special about your location?
Lee Naylon: Our ranch location is extremely unique. We are 11 miles off the main highway. We are one of seven properties in the East Fork Valley that is surrounded by 80,000 acres of wildlife habitat, never to be developed.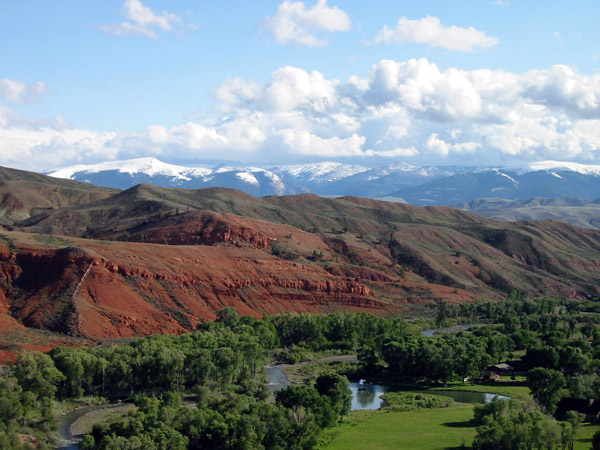 To the east of the ranch is the western border of the Wind River Indian Reservation. FIve miles up the road is the Forest Boundary, which borders on the wilderness. When we are out riding you never see a soul.
Equitrekking: What level of rider do you need to be to visit Lazy L&B Ranch?
Lee Naylon: Any level of rider can ride here. The youngest rider is five-years-old. Adults ride with adults in groups of similar ability with no more than six people in a group. Children ride in groups of similar age and ability. We allow trotting and loping or nice easy walking rides.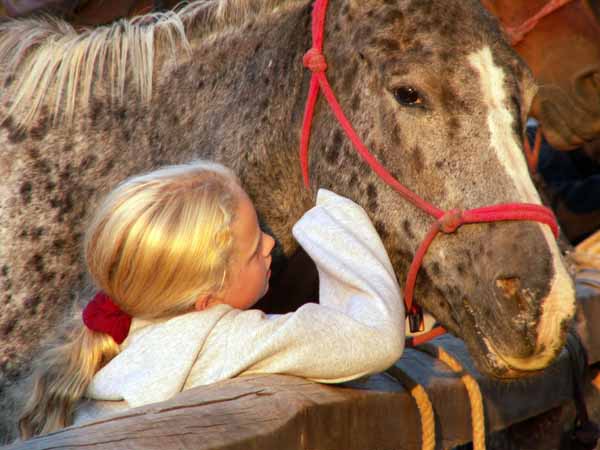 Equitrekking: What is your favorite horseback riding destination on or around your ranch?

Lee Naylon: Every ride is through completely different terrain. One of the longest and most favorite rides is the out through the ranch land country, crossing Bear Creek then climbing the rolling hills to an amazing overlook. The Wiggins overlook is described as feeling like you are in Alaska. There is the deep river gorge below and snow-covered peaks in the background.
After a hearty "Bucket Bread " lunch, we ride down into the Wiggins River around Black Mountain through Windy Gap and follow the smells of the ribs and beans cooking on the BBQ for a well-deserved feast along the tail. Then, the sunset evening ride home to the ranch.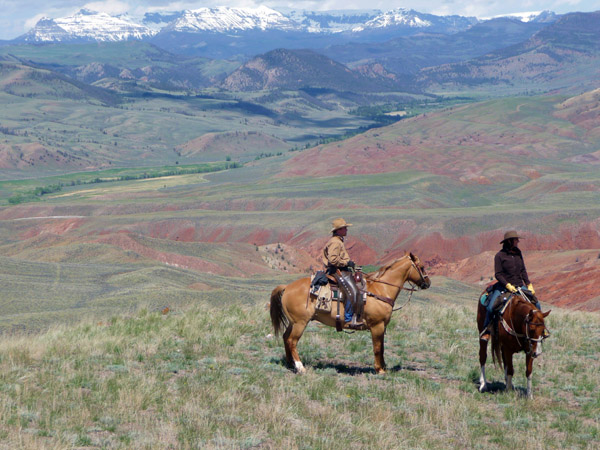 Equitrekking: What do travelers find most surprising when they visit you?

Lee Naylon: Most people are extremely surprised about the variety of country we have to offer to ride through. It is really difficult to describe it until you really get out and explore it. We have had what we call "professional dude guests" return to us and say that they have not found any other ranch that offers the variety of spectacular country and riding that we have.
Learn more about great dude ranch vacations in the Equitrekking Vacation Guide, a comprehensive resource for dude ranches, riding holidays, cattle drives and equestrian vacations.