Meet Your Host- Tsylos Park Lodge
Learn about Tsylos Park Lodge from owner Karen McLean, who grew up at this Canadian wilderness lodge on Chilko Lake in British Columbia.
Canadian Bud McLean and his American wife Corinne dreamed of having a fishing and hunting lodge for themselves and future generations of their family. Committed to conservation and lovers of nature, the McLean's made their dream a reality by moving themselves and their five children to Chilko Lake, British Columbia and opening Tsylos Park Lodge (pronounced sigh-loss) in 1957. Growing up in this pristine, wild area made for a dream childhood for youngest daughter Karen McLean, who took over the lodge in 1990.

Tsylos Lodge is located a one-hour charter plane flight from Vancouver, British Columbia, on the 52 mile long, wild and remote Chilko Lake. Stunning snow-covered peaks dominate the skyline and grizzly bear, bald eagle and osprey may be seen on your riding holiday at this intimate Canadian lodge.
We interviewed Karen McLean to learn more about this Canadian wilderness lodge and its myriad of horseback riding, fly fishing, wildlife photography and grizzly bear viewing adventure vacations.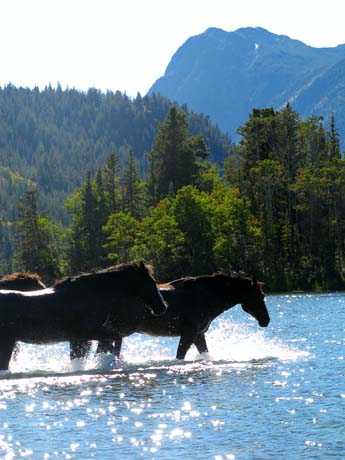 Equitrekking: What inspired you to own and run Tsylos Park Lodge?
Karen McLean: I am passionate about horses! I love riding, training, teaching, doctoring, rounding up, and exploring beautiful places on horseback.
I love the Chilko Lake area. It is one of the most beautiful places in North America, but it is not just the beauty of the area that captivates me. It is the character of the wild, the wildlife, the beauty, the timelessness of the river, the seasons, and the interconnectivity of it all.
I believe that everyone needs more of these wild spaces in their life. I love being able to offer to people a little spot of paradise for them to truly get away.
I am the second generation to own this lodge. My parents started in in 1957 and offered hunting, fishing, and wilderness pack trips. In 1989 they decided to retire. In 1990, I purchased the lodge from them and the torch was passed to me. With the torch came my commitment, passion, and the love of the lifestyle to carry it on.
In 1990 I added the lodge riding vacation and the lodge fly fishing vacation. The riding was designed for riders who love to ride on a great horse in beautiful places. The fly fishing package is for fly fishers who are just as passionate about fly fishing in a world class river as the riders are about riding. In 1996 I added the Grizzly Bear Wildlife viewing and photography. This package is designed around people who love seeing and experiencing wildlife.
Our guests come from all over the world to experience Tsylos. They all have a few things in common; a love of the land, pursuit of their passion, and experiencing this in some of the world's truly most beautiful places. I feel truly blessed that I am able to offer this too them.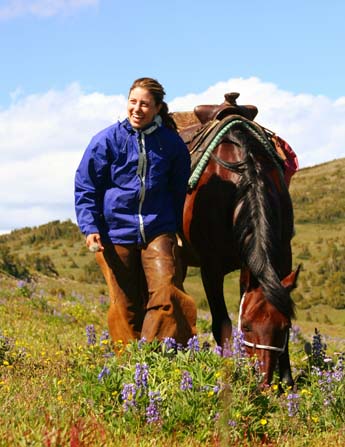 Equitrekking: What is most special about your location?
Karen McLean: It's beautiful everywhere you ride from the tops of the peaks of the adjacent Coast Mountains, along the river, or the grasslands on the plateau. It is still an intact ecosystem.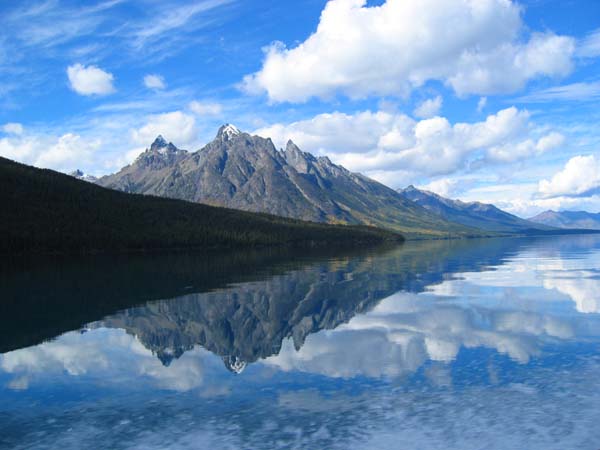 Equitrekking: What level of rider do you need to be to horse ride at Tsylos Lodge?
Karen McLean: Our lodge horse riding vacations cater to intermediate to advanced riders. Many of the riders that join us are active riders, but not many people have the time to actually ride for more than a couple of hours a day. Our riding packages build up the endurance of the riders. We want people to have fun, be comfortable with their horse and abilities before we get into some of the longer cantering rides.
Our riders come from all over the world. Many have been recommended by someone that they have met on another equestrian trip in another country.
Our lodge is more of an adult orientated lodge. Older teens are welcome but we are really not set up for little kids.
Equitrekking: Do guests have a favorite activity either in or out of the saddle? If so, what?

Karen McLean: After a great day, our guests usually hit the bar for a cold drink, relax on the deck and swap horse stories, or soak in the Jacuzzi prior to dinner being served. After dinner, they may go for a walk, a canoe ride, tell tall tales with the rest of the guests, or hit the deck again to view the stars. It is a pretty relaxed ambiance.
Equitrekking: What do travelers find most surprising when they visit you?

Karen McLean: It is actually more beautiful and more remote than people expect, and that a place like this still exists in North America.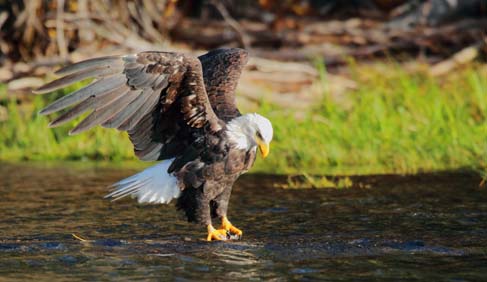 Learn more about Tsylos Park Lodge and their adventure vacation packages by visiting tsylos.com. Check out Tsylos Park Lodge in the Equitrekking Vacation Guide, a global searchable guide to great dude ranches, guest ranches, wilderness lodges and horseback riding vacations.