Meet Your Host- Tarryall River Ranch
Meet Paula and Colton G. of Tarryall River Ranch in Colorado, where you'll get a western experience that you won't soon forget.
Paulta and Colton have been in the Dude Ranch Industry for a while and know that what makes Tarryall River Ranch so special is it's excellent horse program, great fly fishing, wonderful evening activities, fantastic homecooked meals, and energetic and outgoing Staff. While both come from different backgrounds, they both bring a lot of warmth and hospitality to Tarryall River Ranch.
Colton was born and raised on his family's grass-fed cattle ranch in Northern California. While working on the ranch, he went to Columbia College and graduated with degrees in Fire Science and Emergency Medical Services. It was during college that he was looking to get out of the California summer heat. He found a job at a dude ranch in southern Colorado, where he met the two loves of his life, Paula and dude ranching. While working there, he learned every aspect of the dude ranch. From taking out rides to helping anywhere he could, Colton developed the skills needed to run a successful dude ranch. With his experience and skills, he'd love to take you out on a ride someday.
Paula is originally from Albuquerque, New Mexico and has had an interest in horses and riding (both english and western!) since she could talk. She graduated from the Albuquerque Academy and went on to pursue further studies in Italian and Studio Art at Smith College. She spent her junior year of college living with a family in Florence Italy and eventually returned to the city of Brescia up north to work as a mother tongue English instructor with high school students. In between travels and school, Paula has always found work with horses, eventually finding her way into the dude ranch life. She especially loves working with kids and teaching them how to trot and lope out on the trails.
Equitrekking: What inspired you to own and run your own dude ranch?
Colton: I grew up on a ranch and spent quite a few years of my life working on different ranches. I love the sense of satisfaction that you get from a hard days work. Whether it's from fixing fences, going on long rides out in the mountains, or working with horses, nothing compares to it. Dude ranching is just one of many types of ranches that I've worked on. It's my favorite type of ranch as well, I love the fact that I get to meet new people that are excited to be out west. I love learning about the people that come to visit, as well as talking with them about what I love, Tarryall River Ranch. I was fortunate enough to get the job of a lifetime and I can't wait to take people and show them the life that I live.
Paula: I've always loved the outdoors, especially seen from the back of a horse. When I was younger I used to take cereal boxes and turn them into small barns for my model breyer horses. I've worked at both english and western barns but what made the most impact was my job working as a kids counselor and wrangler on a dude ranch. I liked that it was a place where you had to earn your spurs and where the kids I worked with could get away from their ipods and cell phones and just play. The ranch life never gets boring and has provided me with so many opportunities to meet people from around the world.
Equitrekking: What is most special about your location?
Paula: I think it's impossible for any ranch to be exactly like another which is a good thing. Our scenic location certainly adds to our charm, however, at the end of the day, I have always felt that the people and culture that are cultivated in a ranch community are what makes it special. At Tarryall, we really make an effort to embrace everyone such that every person who walks through our door feels like a member of our family.
Colton: I think it would have to be our backdrop. No matter which direction you get to the ranch from, it's going to be a beautiful drive. And to add to that, no matter which cabin you find yourself in, there is bound to be a great view. Being surrounded by such great beauty really has a good effect on a person. You'll find that spending time here really makes you slow down and appreciate the beauty of it all. With the gorgeous rock formations, the river with its many bends, or the horse herd scattered along the mountainside in the evening, there are all sorts of picturesque spots on the ranch.
Equitrekking: What level of rider do you need to be to visit your ranch?
Colton and Paula: We are very fortunate here, with a great horse herd and lots of different types of terrain, we can accommodate every level of rider. We have different rides leaving the barn every day. If it's your first time on a horse or a seasoned hand, we've got a ride that you'll feel comfortable with and come back to the barn satisfied. We also offer instruction at every level to help everyone become a better rider.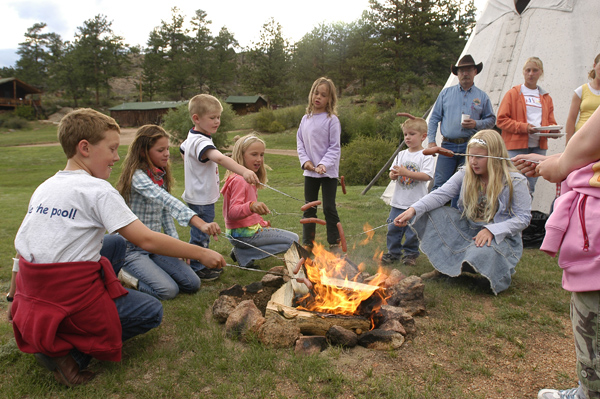 Equitrekking: Do guests have a favorite activity either in or out of the saddle? If so, what?
Colton and Paula: Well, our ranch rodeo and team penning would have to be at the top, although the white water rafting, fly fishing, western dance nights, all day ride, and bon fires aren't far behind. No matter what your interests are here, we've got something for everyone.

Learn more about Tarryall River Ranch. Check out their page in the Equitrekking Vacation Guide to great Colorado dude ranches, guest ranches, cattle drives and worldwide riding holidays.