Meet Your Host- Geronimo Trail Guest Ranch
Meet Meris Esterly, who was inspired to own a guest ranch from her own dude ranch vacation, and find out more about her New Mexico guest ranch.

As a teen, Meris Esterly joined her family on a dude ranch vacation. They liked the experience so much that they went back to that ranch for five years in a row. She decided that one day she'd like to own a guest ranch and share the experience with others.
Ranch owner, barn manager, and a little bit of everything else, Meris Esterly is living her dream job at her New Mexico guest ranch, Geronimo Trail Guest Ranch, located in the breathtaking Gila National Forest in the mountains of southwest New Mexico. Learn about Geronimo Trail Guest Ranch and Meris Esterly's inspiration.

Equitrekking: What is most special about Geronimo Trail Guest Ranch's location?
Meris Esterly: The scenery is certainly one of the things that is most special about our location. The variety and expanse of the 3.3 million acre Gila National Forest is extraordinary. We ride through open meadows, tall ponderosa forests, up on high hills where the views go on forever, and down into deep canyons with sheer cliffs and crystal clear streams. It is hard to describe how incredible it is, but a picture is worth a thousand words!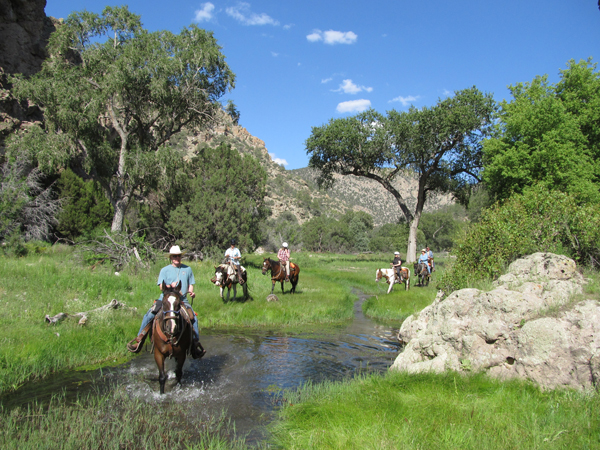 The history of the area is another part of what makes our location so special. Dating back over 1000 years ago, a people called the Mimbres were in this area. They built pit houses and cliff dwellings to live in, remains of which we see on many of our rides and hikes. You can still find artifacts such as pottery shards and arrowheads as well as see Pictographs painted on the rock walls, all evidence of the people who were here. This is also the homeland of the Apache people and Geronimo was born and grew up right in this area!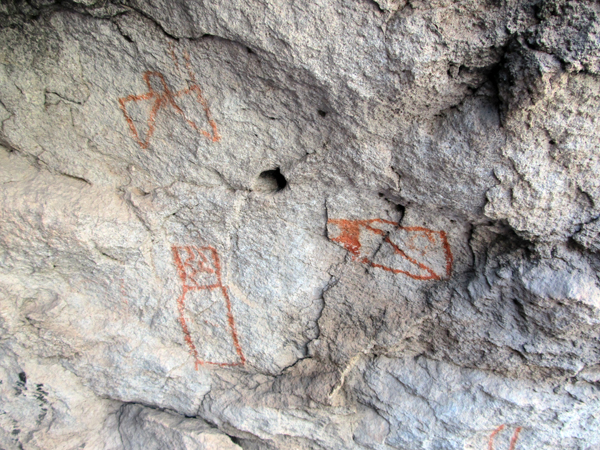 Being surrounded by nature is another very special thing about our location. It gives guests the chance to relax and slow down from their busy lives and enjoy the peace and quiet. It also gives people the chance to reconnect with the natural word and learn about the flora and fauna of the area. We love to share our knowledge of all the flowers, trees and wildlife with our guests. Wildlife is abundant and it is common to see elk, mule deer, javelina, eagles and more!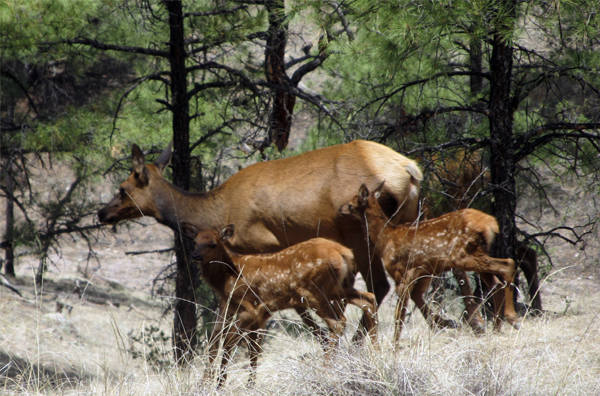 Equitrekking: What inspired you to own your guest ranch?
Meris Esterly: When I was 14, my parents and I went to a dude ranch. We loved it so much, we returned to that same ranch for a week-long vacation five years in a row! After that, I decided since I never wanted to leave the ranch, I should work on one. So, I went to work on a ranch and ended up working there for three seasons. By that point, the idea to buy a ranch had planted its seed.
We (my parents and I) all loved the experience a trip to a dude ranch offered and I in particular felt called to pass that experience on to others. Many people's lives are so hectic these days it is hard to get a chance to slow down and relax. And as cities get bigger and bigger we lose touch with our roots and the natural world. A trip to a ranch gives guests the chance to unwind, enjoy the peace and quiet and reconnect with the land.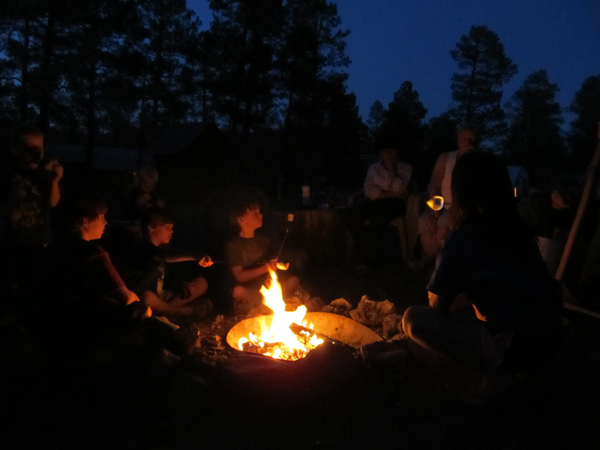 Equitrekking: What level of rider do you need to be to visit Geronimo Trail Guest Ranch?
Meris Esterly: Our guest ranch can accommodate all levels of riders, and we have a good variety of horses to do so. We have had guests who have never been on a horse before and guests who own horses and ride every day, as well as everything in between!

Equitrekking: Do guest's have a favorite activity either in or out of the saddle? If so, what?
Meris Esterly: In the saddle, guests never cease to be amazed by the scenery, so the trail rides (which are our focus) are an absolute favorite. Out of the saddle, guests love having campfires (sometimes with s'mores and sing-a-longs!) and stargazing.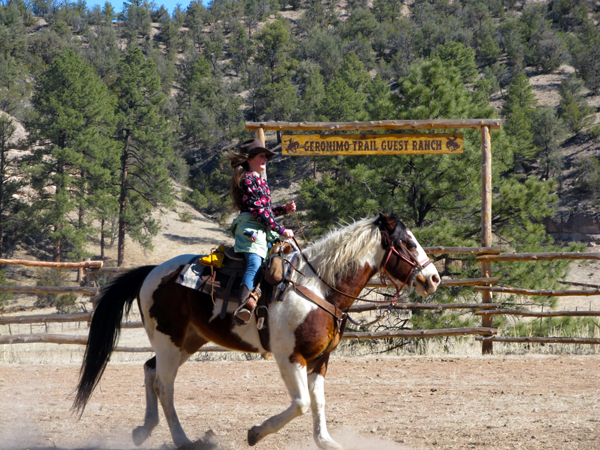 Equitrekking: What do travelers find most surprising when they visit you?
Meris Esterly: Well, we are remote! We are two hours from the nearest town and "off the grid" generating all our own power by solar and a diesel generator. But all our guests say it is well worth the trip and are amazed by the scenery both in its beauty and variety of ever changing landscapes as well as the rich history of the area, from the Mimbres people 1000 years ago, to the Apaches, to Basque Sheepherders 100 years ago, to Tin mining 70 years ago!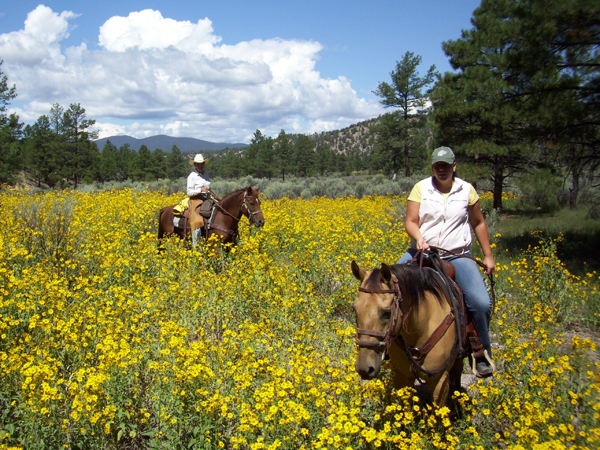 Visit the Geronimo Trail Guest Ranch website. Check out the Geronimo Trail Guest Ranch page in the Equitrekking Vacation Guide, a global guide to great dude ranches, guest ranches, cattle drives and global riding holidays.