Meet Your Host- Colorado Trails Ranch
Think the dude ranch vacation on which you're taking your family doesn't have a long-term impact? Jeanne Ross went to a dude ranch as a 10 year old little girl and grew up to be the general manager of Colorado Trails Ranch, a Colorado dude ranch located in Durango. Her love of nature, the outdoors and the dude ranching lifestyle began when she was very young on a dude ranch vacation and grew.

Jeanne been has been at Colorado Trails Ranch since 1966. Learn about her thoughts on the dude ranching lifestyle, the impact these vacations can have on youth and what she does to make Colorado Trails Ranch stand out.

Equitrekking: What is your favorite aspect of running a guest ranch and how did you get involved with this business and the Western lifestyle?
Jeanne Ross: When I was 10 years old, my family went to a dude ranch, and I think the seed was planted even then. I also love the mountains and the beauty of nature. It just feels right, and it is comfortable.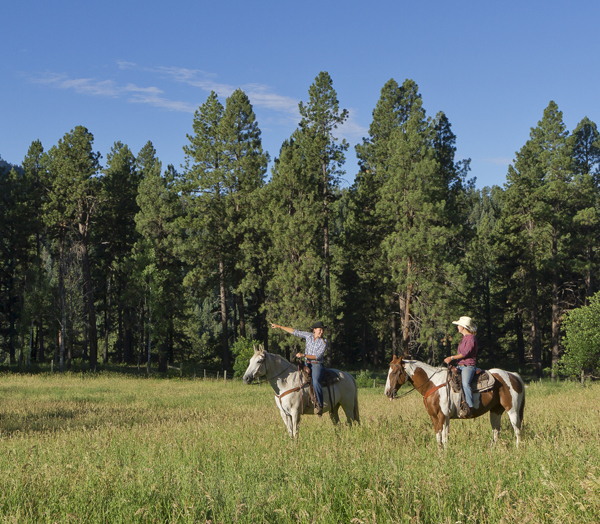 I love the people. We see people at their best and they are so interesting and from all over the world. It is such a pleasure to see them form friendships with the other guests. I especially enjoy the bonding that goes on amongst the kids who are guests. I know some of these friendships have lasted forever. It is a treat to open the eyes of these kids and adults to new experiences. And it is wonderful to see little children experience freedom that they cannot experience at home and be safe. Working with young kids and college age staff members, helps keep you young as well. I must say that there is never a dull moment.
The staff bonds very well and keeps in touch throughout the years after they leave the ranch. One thing that is very thrilling is when a mom or dad, who were guests here as children, bring their children back to capture the same experience. I don't believe anyone has ever been disappointed. The experience surpasses the expectation every time. Kids that I used to have in my kid's program are now bringing their kids back to the ranch.
Equitrekking: When guests visit Colorado Trails Ranch, they get the sense they've stepped back in time. The ranch has an old Main Street with a trading post, school house, an opera house, blacksmith shop, jail, and saloon. What is the inspiration behind the unique design of Colorado Trails Ranch?
Jeanne Ross: Colorado Trails Ranch is one of the few, if not the only, ranch that was built to be a dude ranch. We did not take over old buildings and adapt them to the business. As the years have passed, each new building has resulted from an idea or even a passing comment. For example, when we built the Blacksmith Shop, it was a way to disguise a maintenance building and be handy, but not look like a maintenance shed. Today, the maintenance building is much larger and a little more removed from the "Main Street" area. It does have a false front to look like an old barn which helps hide regular maintenance "stuff."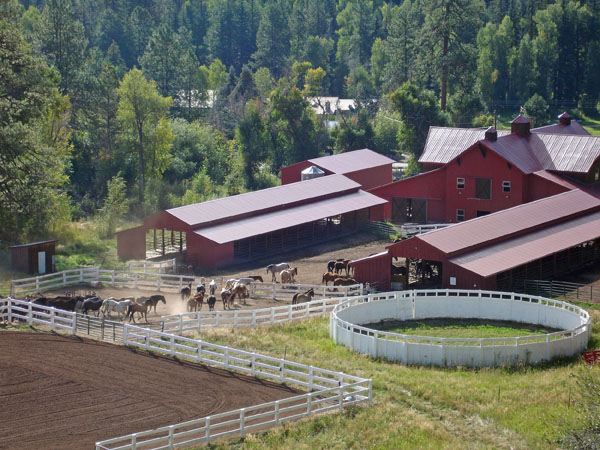 We wanted to have a tackle shop, so when we moved the maintenance equipment, tools, etc., the Blacksmith Shop became a perfect place to put the fishing headquarters and be convenient to the guests. The Saloon and School House are a great way to disguise our staff living quarters. The town of Durango and it's history certainly were a basis for our "western" town.
Equitrekking: You've been at Colorado Trails Ranch for over 40 years. How has it changed over the years?
Jeanne Ross: When I first started working here as a server and housekeeper, we had one old barn, the six alpine cabins built for guest accommodations and the lodge and nothing else. In the downstairs of the lodge, we had one game–– an old miniature bowling game–– a malt mixer and a ping pong table. It was very crowded, as we had more guests coming to the ranch, so we branched out and built first a game room, called The Ruckus Room, then the Trading Post and Soda Fountain.
The Opera House was built between the Ruckus Room and the Blacksmith Shop and is used for staff shows and square dancing. Now we also use it for a classroom for the Equine Investigations Academy that we host twice a year. It is a great large room that we can set up many ways. In the early 70's the Assay Office was built to the right of the Trading Post. This was much better than having an office in the front of the owner's summer cabin.
Always wanting to offer the best for our guests, we added the pool which was an above the ground pool with a vinyl liner. We later replaced that pool with an in-ground pool and added a hot tub. In 2013, we plan to replace the pool and hot tub.
With the increase in numbers, we found we needed much better facilities at the barn. At first, we added wings to the existing barn, then built some long barns with stalls. Then in 2010, we demolished the old barn with the wings and built a huge new barn with a large tack room, grain room, guest restroom and a wonderful saddling area. We also added a barn just for hay storage.

In 1996, when the ranch changed owners, we did some dressing up and remodeling of the lodge and cabins. Each year, we have been improving the ranch with cosmetic touches. We just changed out the infrastructure. Right now, we are in the planning stages to begin to replace some of the old cabins with larger cabins to accommodate today's traveler's needs and desires.
Equitrekking: Your ranch hosts a number of family reunions and business retreats. Every year since 1984, you've hosted the Equine Investigations Academy, a national school that teaches animal control officers, and other animal professionals, how to recognize and investigate horse abuse. Why is this such an important group for you to host at Colorado Trails Ranch?
Whether it is intentional or not, so many horses are abused. It is important to be a part of helping those who come in contact with the public to help correct the abuse and help the animals around us. I truly admire those who spend their lives watching out for horses and other animals. The students who attend this academy have dedicated their life to this calling, and I feel proud to be a part of improving horses' lot in life.
Equitrekking: Do guest's have a favorite activity either in or out of the saddle? If so, what?

The majority of our guests come for the horses and love learning so much. I think they are truly surprised how far their riding takes them in just a week's time. Fishing is also a favorite. Many of our activities are things that they have never had a chance to experience or that they haven't done since they were children. It is fun to see them so happy turning back the clock to a simpler life. Of course, they certainly rave about the food.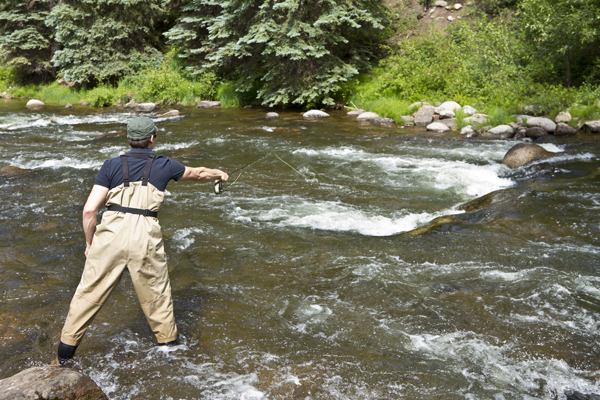 Equitrekking: What do travelers find most surprising when they visit you?

I think they are probably most surprised at all they are able to do during the week. I know they are surprised to find such delicious food and wonderful companionship at the ranch. We hear that their vacation experience exceeds their expectations all the time.


Visit the Colorado Trails Ranch website and see the Colorado Trails Ranch page in the Equitrekking Vacation Guide, a searchable resource featuring dude ranches, guest ranches, cattle drives and great riding vacations around the world.