Meet Your Host- White Stallion Ranch in Arizona
Meet the True Family, Russell and Laura, Michael and Kristin, Steven and Alice, and David, longtime owners of White Stallion Ranch in Tucson, Arizona!
Situated on the northwest side of Tucson, White Stallion Ranch is well-located and great for a variety of travelers. The ranch is easily accessible from Tucson International Airport as well as Phoenix Sky Harbor Airport. Located in the Sonoran Desert, White Stallion ranch is well-liked by experienced riders looking to lope through stunning surroundings, as well as beginners and families, seeking a mix of comfort and nature. The ranch is surrounded by several miles of lush green farmland and the Tucson Mountains, sharing a two-mile fence line with Saguaro National Park West.

We asked the True Family more about what makes this ranch so special and what types of riders are a good fit for their ranch vacations.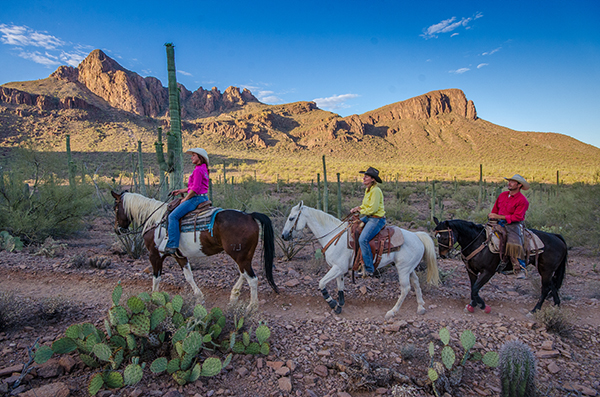 Equitrekking: What is the history of White Stallion Ranch?
The True Family: The ranch was homesteaded in 1936 as a cattle ranch and sometime later chickens and turkeys were added. At one time, there were pens for 30,000 birds. It became a guest ranch in 1945, passing through three owners from 1945 to 1965. Originally known as the CB Bar Ranch, it became the MZ Bar Ranch and finally in 1959 when purchased by Brew and Marge Towne, it was renamed White Stallion Ranch. They intended to name it after their favorite horse story The Black Stallion, but realized the initials BS were unacceptable. There has never actually been a white stallion at the ranch.
Allen and Cynthia True of Denver, Colorado purchased the ranch from Brew and Marge in the fall of 1965. Russell was 5 years old and Michael was a baby. At that time, there were about 30 guest ranches within an hour of Tucson, while today there are only three. At the time of purchase, the ranch was comprised of 160 acres, but thanks to Allen True's vision and ambition, they purchased adjoining land at every opportunity to result in 3,000 acres.
The ranch is currently operated by the 3rd generation of the True Family, hosting guests from around the world. Since the 1940's the ranch has served as a location to the movie industry with over 30 feature films shot on property, as well as an amazing number of television shows and print advertising campaigns.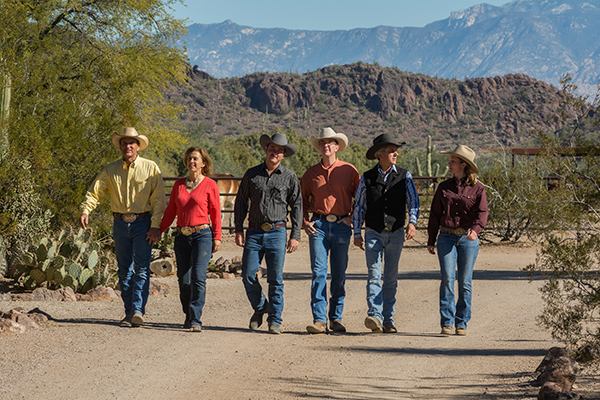 Equitrekking: What's most special about your location?
The True Family: Once here, it feels as though the "rest of the world" has completely disappeared –the mountains to the East and the South shield the ranch from the city of Tucson and all signs of civilization. Convenient to Arizona's two major airports, arts, culture, history and shopping, we enjoy easy access to all the benefits of modern society, while experiencing the blissful solitude of being surrounded by nature.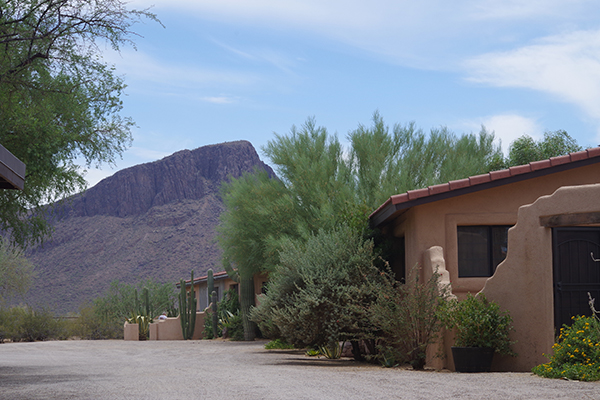 Equitrekking: What level of rider do you need to be to visit your ranch?
The True Family: We accommodate every guest from first time riders to horse owners who ride competitively. Our corral of 150 horses and Russell's intimate knowledge of each horse allows him to select the appropriate horse for every rider. Guest's horses are assigned for the duration of their stay to insure the best experience for both rider and horse.
Our extensive riding program offers a variety of leisurely rides to explore the mysteries of the Sonoran Desert as well as a choice of heart- pounding mountain rides and fast rides.
Specialty rides include half day and all day rides into the Saguaro National Park, and late afternoon Beer & Cheetos or Wine & Cheese rides, perfect for relaxing, swapping stories and making new friends.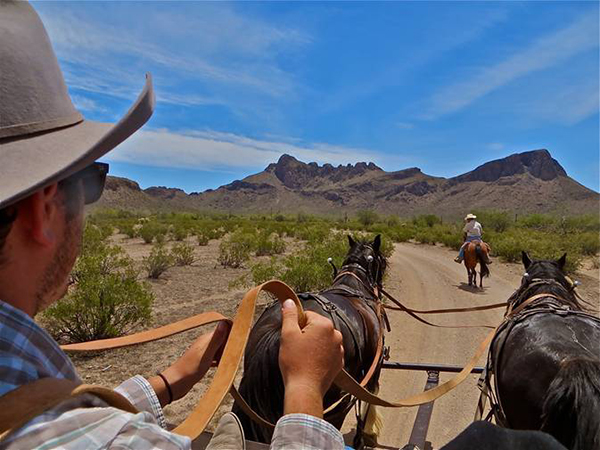 Equitrekking: Do guests have a favorite activity either in or out of the saddle? If so, what?
The True Family: Team Penning, Wine & Cheese Rides, Breakfast Cookouts, the Movie Hike and our variety of evening entertainment.
Equitrekking: What do travelers find most surprising when they visit you?
The True Family: They are most surprised by the "Honor Bar," the level of Personalized Service and the staff knowing their names.
Learn more about White Stallion Ranch and check out their page in the Equitrekking Vacation Guide.