Meet Your Host- Trail Riders of the Canadian Rockies
Located in the southwest corner of Alberta, Canada, and bordering Glacier National Park in Montana, Waterton Lakes National Park is a spectacular and lesser discovered UNESCO site. The Trail Riders of the Canadian Rockies, a non-profit club of enthusiasts who enjoy taking new guests to explore on horseback, know the park and its backcountry trails well. They have been leading riders into this part of Canada for 92 years, including beginners and seasoned riders from all over the world.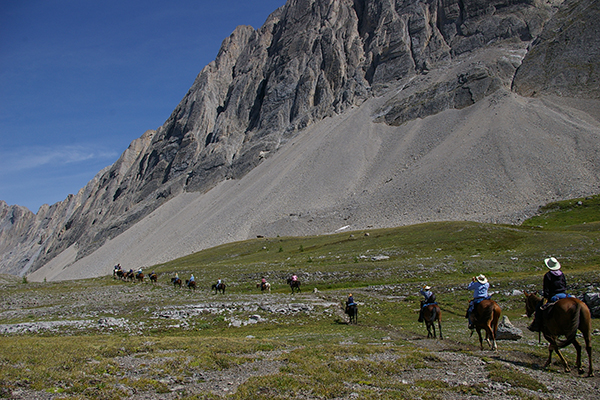 "Riding High" with the TRCR mean's altitude!
Guests stay in native Indian style teepee's and tents (raised cots and mattresses supplied) while enjoying delicious homemade gourmet meals on luxurious, six-day, professionally guided getaway adventures. After a day on the trail, educational talks and live entertainment around a roaring campfire are just part of the fun.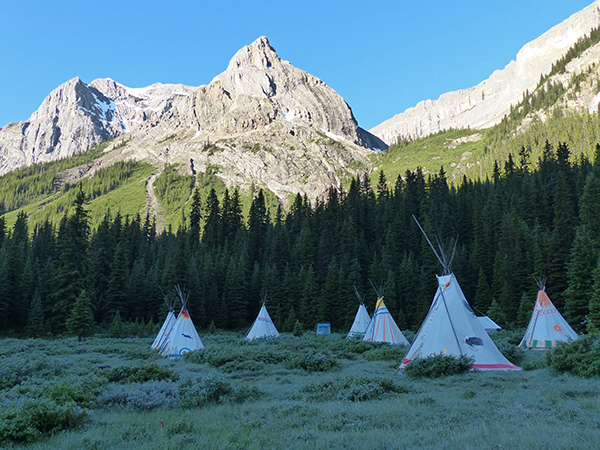 "Teepee Town" - TRCR's picturesque campsite.
Club President Stuart Watkins relays what's most special about these Canadian riding vacations and why you should join a ride.
Equitrekking: What is most special about your location?
Stuart Watkins: The most spectacular scenery in the world.
Riding at Mnt. Assiniboine, the "Matterhorn of the Canadian Rockies."
Equitrekking: What's the history of the Trail Riders of the Canadian Rockies?

Stuart Watkins: The TRCR was started in 1923 as a non-profit club, and continues to operate today with one paid employee, a volunteer board of three, and more volunteers during the summer.
Equitrekking: What level of rider do you need to be to ride with your group?
Stuart Watkins: Beginner to advanced. We ride western only.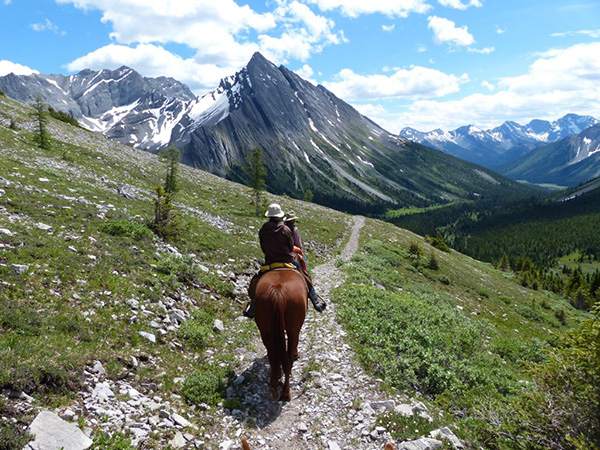 Riding scenic Allenby Pass, Banff National Park.
Equitrekking: Do guest's have a favourite activity either in or out of the saddle? If so, what?
Stuart Watkins: Sing-songs around the campfire, square dancing, cowboy poetry.
Enjoy singing and dancing around the campfire!
Equitrekking: What do travelers find most surprising when they visit you?
Stuart Watkins: They didn't know it would be this luxurious and this much fun! They are completely awed by the incredible scenery, wildlife, staff, food and horses.

Learn more about Trail Riders in the Canadian Rockies in the Equitrekking Vacation Guide and on the TRCR website.