Meet Your Host- Sylvan Dale Guest Ranch, Colorado
Learn about a Colorado guest ranch that's been serving up Western hospitality since 1946 in an interview with the owner, Susan Jessup.
Located west of Loveland, Colorado, about an hour north of Denver and 15 miles east of Rocky Mountain National Park, Sylvan Dale Guest Ranch is a longtime family owned horse and cattle ranch. Offering horse riding adventures and trophy trout fly-fishing, the ranch rests on 3,200 acres in the Rocky Mountain foothills. We tracked down busy owner and general manager Susan Jessup, who you'd likely meet if you visit this ranch. Susan Jessup is the face of the ranch, personally interacting with guests and running the ranch day-to-day. She's also the daughter of Mayme "Tillie" Jessup, who founded Sylvan Dale Guest Ranch with her husband Maurice in 1946.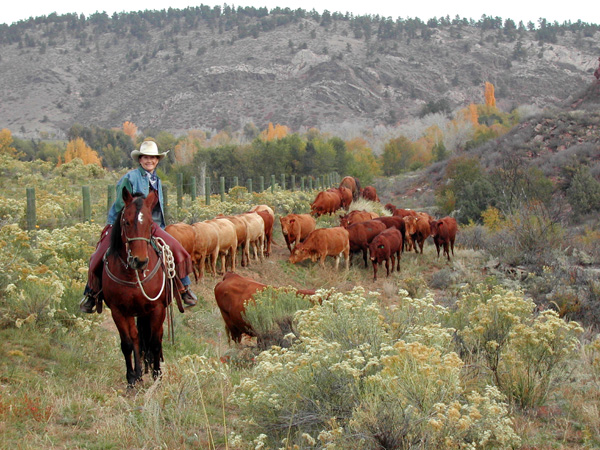 Sylvan Dale Guest Ranch's cow-calf operation of registered European cross-bred cattle offers guests a working cowboy experience.

Equitrekking: What is the history of Sylvan Dale Guest Ranch?
Susan Jessup: In the early 1900's, Mr. and Mrs. Frend Neville owned a small cattle ranch at the mouth of the Big Thompson River. Wealthy doctors from Saint Louis came to the area to hunt and fish. They liked it so much they wanted to bring their families. The Neville's built some cabins and a lodge along the banks of the river and planted apple trees in the yard. They called it Sylvan Dale--"Wooded Valley."
In the 1930's the facilities were sold to Cotner College, a Christian Church school in Lincoln, Nebraska, as a summer school campus. During the depression the summer school closed and J.B. Weldon, President of the College, initiated a youth camp at Sylvan Dale. Maurice Jessup, a 22 year-old college kid at Phillips University in Enid, Oklahoma, was hired for room and board only! He arrived in Pueblo, Colorado, by train, then hitch-hiked to Loveland where he caught a ride with the mail carrier to Sylvan Dale Ranch. He was so overwhelmed with the beauty of the mountains and the rushing waters of the Big Thompson that he told Rev. Weldon, "You know, I just love this place. Someday I'm going to buy Sylvan Dale." That was in 1934.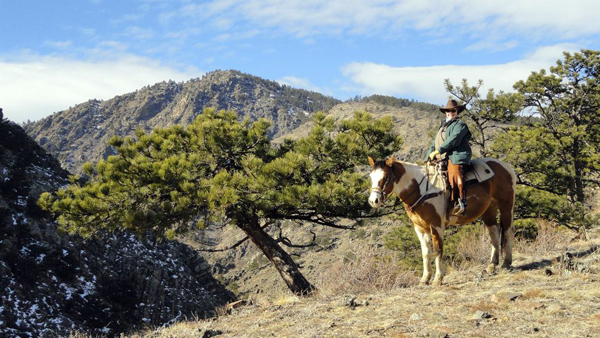 A view from Alexander Mountain on an adventure horseback ride with Sylvan Dale Ranch.
His dream was realized in 1946 when he received notice that the Ranch was for sale. Then a lieutenant in the Army Air Corps during World War II, Maurice got special permission to go to Lincoln to bid on the property. After scratching his bid on a piece of paper, he and his wife Mayme "Tillie" were awarded the 125-acre foothills property.
The Jessups and their two children, David and me, increased the 125-acre ranch to a 5000 acres, raising register Quarter Horses and European beef cattle and providing western vacation experiences for families from all over the U.S. When the Big Thompson flood of 1976 hit, the Ranch suffered considerable damage. With no insurance and no business, the future of Sylvan Dale was threatened, but then helped by reconstruction efforts by the Inter-Faith Task Force, the Ranch was able to rebuild and open for business the following year.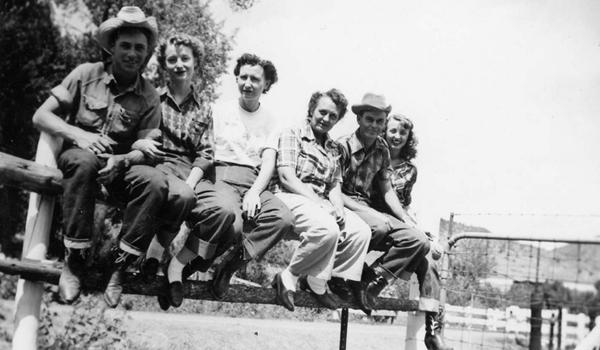 A historic dude ranch photo from Sylvan Dale Guest Ranch.
Since purchasing the ranch 67 years ago, Sylvan Dale is still in our family and continues to enchant people from near and far. Today, the Ranch is open year-round for Dude Vacations, Business Retreats, and Destination Weddings. Riding Adventures in the arena and on the trail delight riders of all levels, and the protected waters of the Big Thompson and private ponds provide exceptional fishing opportunities for anglers.
The Jessup Family's adherence to the proud traditions of western life are at the core of Sylvan Dale's success, as is our commitment to the land and the legacy that creates the magic of Sylvan Dale.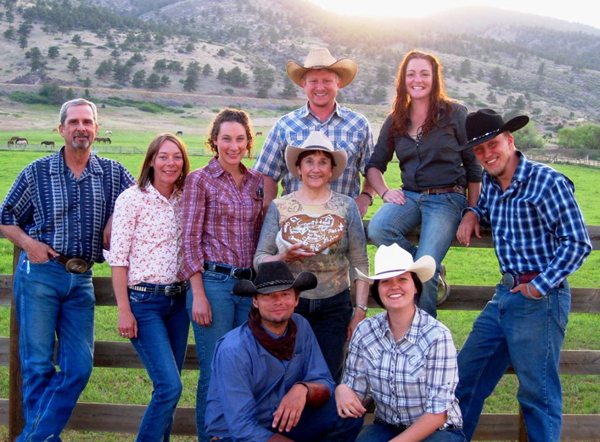 Cowboys and cowgirls today at Sylvan Dale Guest Ranch in Colorado.
Equitrekking: What inspires you to continue to run Sylvan Dale Guest Ranch?
Susan Jessup: People! And sharing the beauty of Sylvan Dale with them!
I am inspired when folks express the wonderful time they have had and what the experience has meant to their family. There is something truly magical that happens at Sylvan Dale: connections made with the land and the horses–– new friendships made and family ties strengthened. Nothing could be more rewarding! My parent's legacy is validated with each testimonial.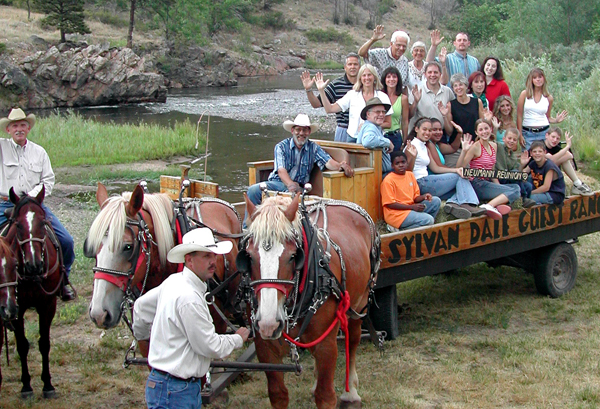 Guests on a family reunion take a ride around the ranch. Travelers visit Sylvan Dale Ranch for company outings and to celebrate special occasions, like weddings and family reunions.
Equitreking: What is most special about your location?
Susan Jessup: Environmental diversity!
Sylvan Dale is literally where the mountains rise from the plains. Our view encompasses over 1.5 billion years of Earth's history. This translates in to a wide variety of landscapes, wildlife, and geology at every bend in the trail.
Tucked away on the banks of the beautiful Big Thompson River, our location provides a feeling of remoteness while being easily accessible.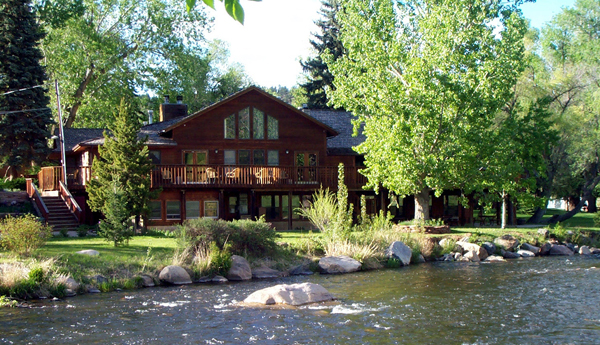 The lodge at Sylvan Dale Guest Ranch, overlooking the Big Thompson River.
Equitrekking: Do guests have a favorite activity either in or out of the saddle? If so what?

Susan Jessup: Team sorting and cattle drives would be at the top of the list for guests who ride. Family soft ball is the all-American favorite–– especially on the 4th of July when relays and races are topped with homemade ice cream cranking! Trap shooting is a real hit! A highlight of the guest week is the overnight pack trip into the backcountry to Sylvan Dale's historic Cow Camp where guests can sleep under a star-studded Colorado sky and awake to cowboy coffee!
Equitrekking: What do travelers find most surprising when they visit your dude ranch?

Susan Jessup: The quality of our horses! Our beautiful herd of well-trained registered Quarter horses provide responsive mounts for our riders. Guests are assigned "their" horse for the week resulting in a partnership between horse and rider that often ends in tears when it is time to say goodbye.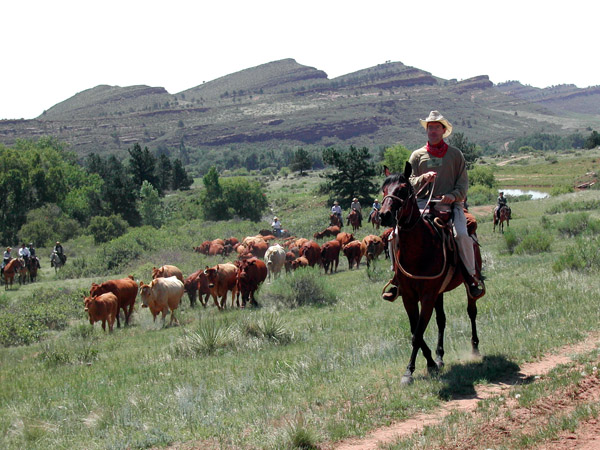 Ranch raised horses and cattle reside on 3,200 acres, over half of which are protected by conservation easements.
Equitrekking: Sylvan Dale Guest Ranch is unique in that you raise grass–fed beef and we hear that meals are scrumptious. Tell us more about your food.
Susan Jessup: Our Ranch-raised beef is served weekly. Guests appreciate the flavor and the health benefits that grass-finished beef provides. Knowing that we handle our livestock humanely increases the enjoyment of the gift they provide.
In addition to our beef, we incorporate vegetables from our garden and seasonal produce when available. Big ranch breakfasts are also popular, including Tillie's Pancakes.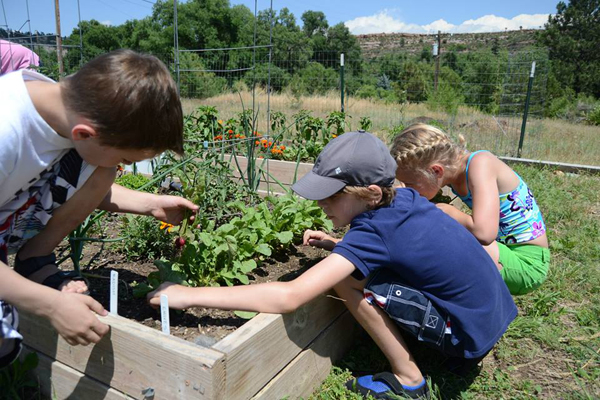 Kids help pick vegetables from the ranch's garden.
Equitrekking: Many of your horses are Quarter Horses. What do you like about this breed?
Susan Jessup: Quarter Horses are Us!
Quarter horses are renowned for their stamina, their good sense and willing temperament, and their ability to adapt to a variety of terrain. They are the preferred breed of the working cowboy.
We find that raising our own horses allows us to provide the best mount for our guests. A beautiful, well-trained, responsive horse is critical to a quality riding experience in the arena and on the trail.
The joy of watching foals playing under their mom's protective eye is transformational. The touch of their soft noses offers a beautiful opportunity to connect, and lessons of respect and kindness are experienced through the process of grooming and leading.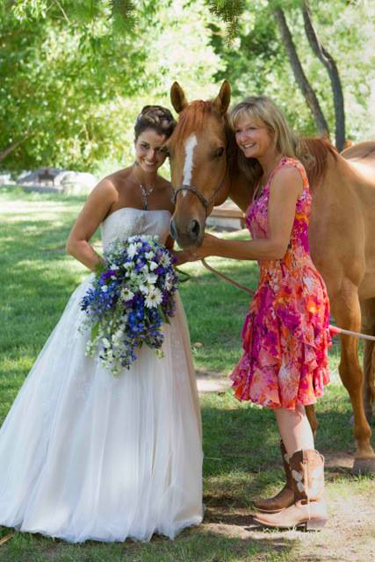 A bride and her mother posing with Sylvan Dale's horse, Tophand, during a wedding at Sylvan Dale Guest Ranch.
Learn more about Sylvan Dale Guest Ranch on Sylvan Dale's page in the Equitrekking Vacation Guide and on Sylvan Dale Ranch's website.