Meet Your Host- Sicily on Horseback
Ever wanted to take an island horseback riding vacation? Sicily is a fascinating place to saddle up and explore a variety of terrain, villages, traditions and customs. Equestrian photojournalist Franco Barbagallo and longtime horseman Paolo Cricchio run Sicily on Horseback, a company that takes riders from around the world on equestrian vacations throughout Sicily. Learn about Franco and Paolo and what it's like to ride on the ancient Mediterranean island of Sicily.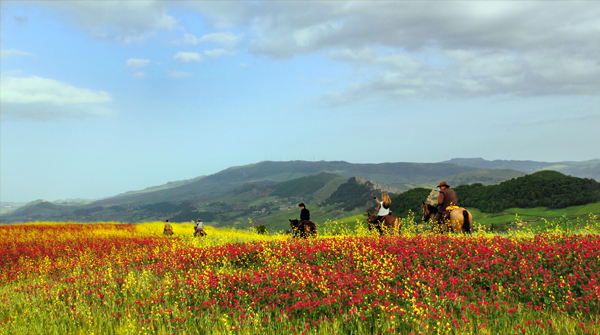 Spring flowers in the mountains of Sicily.
Equitrekking: What is most special about your location?

Fanco Barbagallo: Many people have a stereotypical image of Sicily. The island is not dry, barren and rocky. It is not only or mostly "spaghetti, sun, beaches and mafia". It is a land of unique mountains, covered by huge forests with many natural lakes, and it is green all spring, colorful in the fall, and golden from mid June to end of August.
Riding by goats in the Nebrodi Mountains.
Before the discovery of America, Sicily was the "centre of the ancient world" and it is incredibly rich in history, traditions and culture. We give to our riders not only fine riding vacations but a full Sicilian experience with awesome nature, wildlife, flora and fauna, medieval villages, history, ancient horse culture, local traditions and really top local food and wines to help them understand what really is Sicily.
Equitrekking: What steps have you taken to launch your horse business and make improvements over the years?
Fanco Barbagallo: For thirty years, I was a globetrotting photojournalist specializing in all kinds of outdoor photography. I traveled on horseback all over the world and decided to quit my job because I was tired of living out of luggage for seven months each year. So I decided to involve Paolo and run these horseback trekking vacations in the protected parks of the Sicilian Mountains.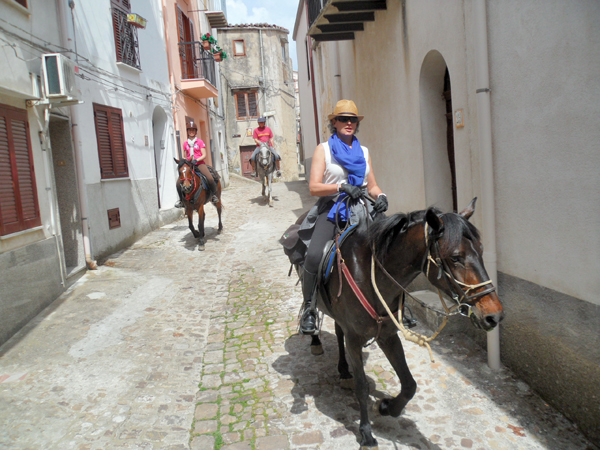 Riders trek though Castelbuono on horseback.
When I met Paolo four years ago, he was a young self-made rider and horse trainer. I recognized his incredible natural talent with horses and his hard working will. I decided to send Paolo to the USA to Ed Dabney to learn his Gentle horsemanship methods to train horses. Paolo came back after six months a new man, rider and trainer. Now, Paolo is specialized in solving very serious horse issues, and in the last two years he has saved at least 20 very fine horses with big problems created by their owners from slaughter. Our 15 Sicilian Indigenous horses (we have three local breeds of horses in Sicily) are all trained with the "Six Keys of Harmony" of Ed Dabney and are all very educated, fit and experienced in the high mountains, like Madonie, where normal horses are absolutely not able to go.
Equitrekking: What level of rider do you need to be to visit Sicily and ride with you and Paolo?
Fanco Barbagallo: For the trekking vacations, you need to be an intermediate or advanced rider. In July and August, beginners are welcome for our semi-nomadic weeks in Madonie Park, where guests stay in only in two top country-houses, each with a with swimming pool, and ride for three hours a day. In July and August, we offer also riding lessons and clinics on the Six Keys of Harmony for any level of rider who wants to improve their skills, starting with how to obtain a real independent seat on horseback.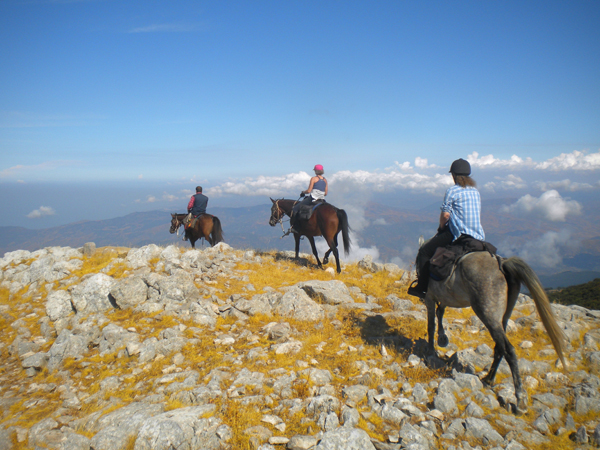 Blue skies and endless views riding the Madonie Mountains in Sicily.
Equitrekking: Do guest's have a favorite activity either in or out of the saddle? If so, what?
Fanco Barbagallo: The horse trekking vacations are progressive, so we change accommodations each night as we move further and further through diverse scenery, riding and learning about Sicilian nature, botany, wildlife, traditions and history. I tell stories and give information to the riders along the journey.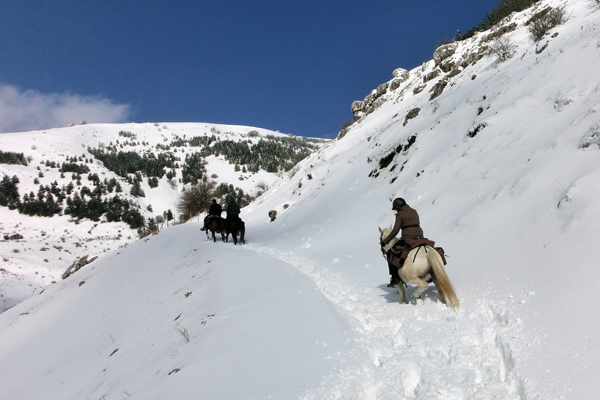 Trekking through the snow in the Madonie Mountains in Sicily.
In the weeks of July and August, riders and non-riders can enjoy a lot of activities with us or with our partners when they are not riding or resting in the country houses. There is guided hiking in the Park, guided visits by vehicle to discover ancient Sicily, including Palermo, Cefalù, Castelbuono, Petralia Soprana and Gangi. We stay away from the normal mass tourism routes and enjoy mountain biking, quad excursions, beaches, shopping, wine tasting, massages, the SPA (located in the country house where guests stay), the swimming pool, cooking lessons, photography lessons and pastry lessons.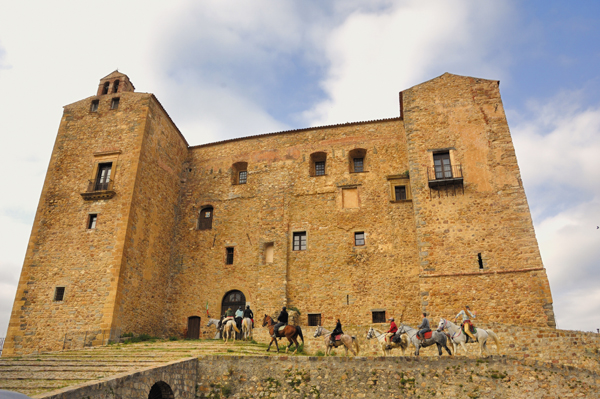 Riders trek to Castle Castelbuono in Sicily.
Equitrekking: What do travelers find most surprising when they visit you?
Fanco Barbagallo: There are a variety of things. First, the education, training, fitness and technical level of our horses along the trails. Second would be all of the information about Sicily. Next, the astonishing, totally unexpected nature, landscapes, natural wonders and people that we met.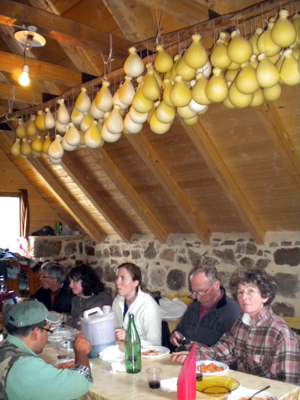 Eating lunch in a shepherd's hut in the Madonie Mountains in Sicily.
People are also surprised by the quality of local food and products. The nice year round weather is another. We have trips in February and beginning of March for sun and snow lovers. In the spring, we have a really wonderful weather with very little rain and lots of sun. From mid May until September, we never see rain and up in the mountains it is cool and windy and not hot and humid, as it is along the coast, and so possible to ride without getting too hot. In July and August, we are not trekking because it is too hard for the horses, but in high Madonie it is possible to do wonderful trail rides in not so hot temperature. We can organize custom trips year round.

Learn more at the Sicily on Horseback website and on their page in the Equitrekking Vacation Guide, an online guidebook to global ranches and horseback riding vacations.