Meet Your Host- Rawah Ranch in Colorado
Located in Northern Colorado, just south of the Colorado and Wyoming border in the Laramie River Valley, historic Rawah Ranch rests in the pristine Roosevelt National Forest. Western cabins built to fit into the natural environment welcome guests to enjoy fly fishing on glacial rivers, hiking amid aspen groves, horseback riding through mountain valleys and Colorado's high country wilderness.
Resting at 8,400 feet just south of the Colorado-Wyoming border, Rawah Ranch occupies a beautiful spot in the still practically undiscovered Laramie River Valley.

Recently, we were able to meet ranch managers Tim and Meg Dyer in New York City at the New York Times Travel Show, where they were introducing new potential travelers to this traditional Colorado guest ranch experience. We decided to delve deeper into Rawah Guest Ranch with this Meet Your Host interview, because no matter how wonderful a ranch's setting and horses may be, it's the people who welcome you who truly make the experience special.
Equitrekking: What is most unique about Rawah Ranch's location?
Tim and Meg: Rawah Ranch is an amazing location in Colorado in a lesser visited part of the State. Rawah stands for abundance in the Ute Indian language. This is what you get when you come to the ranch-- an abundance of wildlife and an abundance of happiness and joy that you will remember for the rest of your life.

Equitrekking: What is the history of Rawah Ranch?
Tim and Meg: Rawah has always been a Guest Ranch since first being built back in the 1950's. Tim and I came into contact with the owners of Rawah with Tim doing a commercial inspection on the property. We have land in Loveland and we said we could care for their horses until they were able to find a permanent location for them. We also said we would be happy to help with the construction and repairs that needed to be done to the ranch.

The first part of January 2014 we met both owners of the ranch and we had mentioned how much we would love to run the ranch for them. We had a 100 mother cows and their baby's and ran a profitable cattle ranch, but we had always wanted to run a guest ranch. By the end of our meeting with the owners we had the job and we were off to our first Dude Ranchers Association meeting and meeting all of the helpful dude ranchers out there. What an amazing community of people! It is such an honor to be part of a great group.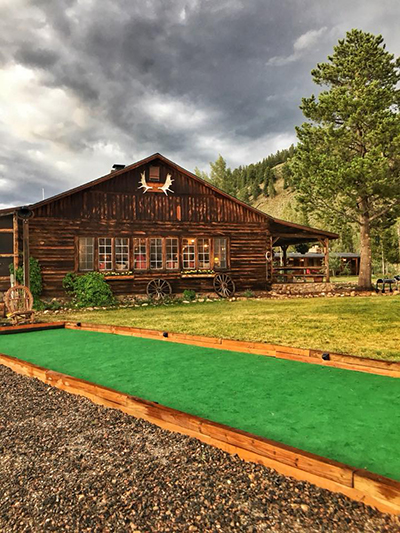 Post riding, play on the Bocce Ball Court at the ranch.
Equitrekking: What level of rider do you need to be to visit your ranch?
Tim and Meg: You only need to willing and able to try it. We have beginners to professional riders. We would say at least 90% of guests have had very little riding experience.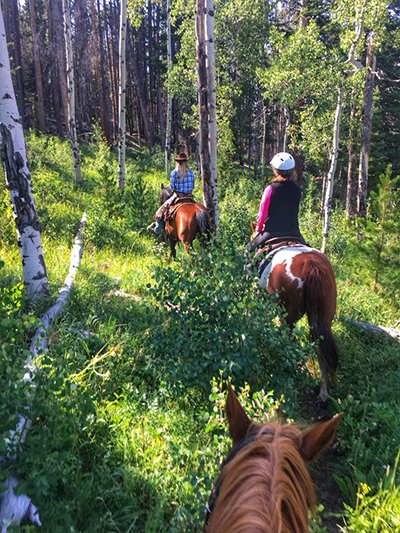 Guests enjoy backcountry horseback rides along alpine ridges or through groves of aspen.
Equitrekking: Do guest's have a favorite activity either in or out of the saddle? If so, what?
Tim and Meg: The majority of our guests are either horseback riders or fly fishermen. We have amazing fishing on the Little Laramie River and it seems to be very popular with everyone. What is fun is when someone comes to the ranch and they say all they want to do is ride a horse, and the next thing you know they are fly fishing, trap shooting and doing archery. It is so much fun to see everyone get out of their comfort zone and really enjoy themselves.
A guest favorite hike to the Lily Pond due to frequent moose and wildlife sightings.
Equitrekking: What do travelers find most surprising when they visit you?
Tim and Meg: How much fun they really have. Some guests are hesitant when they come to the ranch. Mainly because it is something new that they have never tried before. Even when it comes to eating with all of the guests together. But by the end of their visit everyone is best of friends and we all have a new appreciation for where our guests are from. I love the interaction of everyone and how we all get to know one another.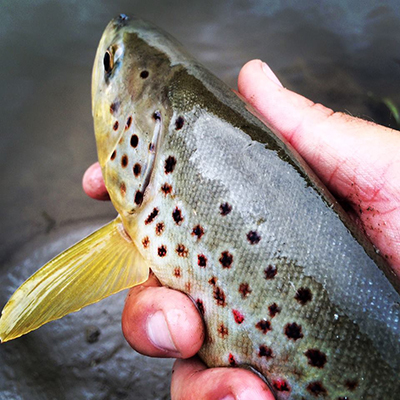 A fine catch (Brown Trout) on Rawah's stretch of the Big Laramie River.
Learn more about Rawah Ranch on their website, in the Equitrekking Vacation Guide and on Top20Ranches.com.