Meet Your Host- Rainbow Trout Ranch in Colorado
Meet Doug, Linda, David and Jane, members of the Van Berkum Family that you will meet on your stay at Rainbow Trout Ranch in the Southern Colorado Rockies. This dude ranch has been in their family for over 20 years. Active as team ropers and in raising their own Quarter Horses, the Van Berkum Family keep busy living the Western lifestlye and welcoming guests to enjoy it, too.

Hear about their ranch's history and what makes it so special in this Meet Your Host interview.

The Van Berkum Family of Rainbow Trout Ranch in Colorado.
Equitrekking: What is most special about your location?
Jane Van Berkum: We are at 9000 feet in the southern Colorado Rockies and yet we are the nearest Colorado guest ranch to fascinating Santa Fe and northern New Mexico.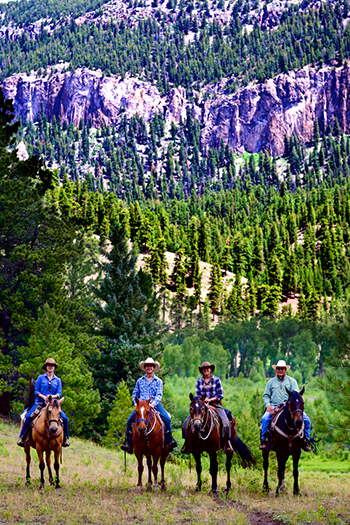 Rainbow Trout Ranch is surrounded by the San Juan Mountains in the Rio Grande National Forest and the South San Juan Wilderness.
Equitrekking: What is the history of Rainbow Trout Ranch?
Jane Van Berkum: The ranch was established in the 1920's primarily as a destination for fly-fishermen. In time, a small horse herd was added so that guests could ride as well as hike in the glorious scenery. Our family took over the ranch in the early nineties, having had two children who worked on dude ranches, one of whom wanted to live the dude ranch dream along with his wife, who he met at a ranch.
Nearly twenty-five years later, the Rainbow Trout Ranch has become a mecca for horsemen and women as well as fly-fishing aficionados. A very high return guest rate is testament to this, and the varied arrival routes and options, such as via Santa Fe and fascinating northern New Mexico, allow for additional adventures before or after the ranch. It is the perfect family vacation, allowing something for everyone and every age, as well as couples, groups or singles yearning for an escape to the western lifestyle.
Equitrekking: What level of rider do you need to be to visit Rainbow Trout Ranch?
Jane Van Berkum: Anyone from total beginner to expert and everyone in between. We match each guest to their own horse with plenty of scope to change if it is just not a good match—although we are pretty good at it by now, and we have great horses. We also have a very varied terrain which allows for all levels of rides, from gentle river rides to advanced mountain rides as well as loping (cantering) in meadows and on mountain tracks. There are also all-day rides as well as arena activities such as team-penning and barrels/poles, plus our weekly ranch rodeo.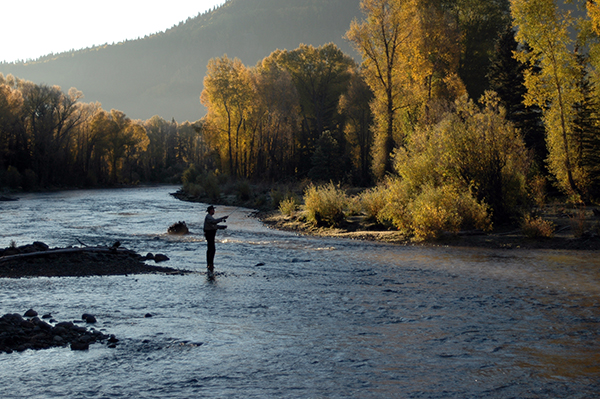 At the turn of the century, this Colorado dude ranch was a noted fisherman's paradise. A private fishing club was established for a select group of sportsmen.
Equitrekking: Do guests have a favorite activity either in or out of the saddle? If so, what?
Jane Van Berkum: Team-penning and the ranch rodeo have become guest favorites, as well as the all-day rides. River and pool cookouts are highlights during the week, and the whitewater raft trip out of Taos is very popular although folks hate to miss a day at the ranch! The teen program loves the heated game of Capture the Flag on Friday nights… The Cowpokes and Buckaroos (3-5, 6-11) really love the hot-dog/ s'more bonfire followed by the long "Singing Hayride." But over and above all of that, the most loved part of the ranch is the absolutely fantastic staff. They rock!
Equitrekking: What do travelers find most surprising when they visit you?
Jane Van Berkum: That the whole family is involved in every aspect of the ranch and that everyone at the ranch very quickly knows each guest by their first name. Each week becomes an extended family and lifelong friends are made. It is truly wonderful to see.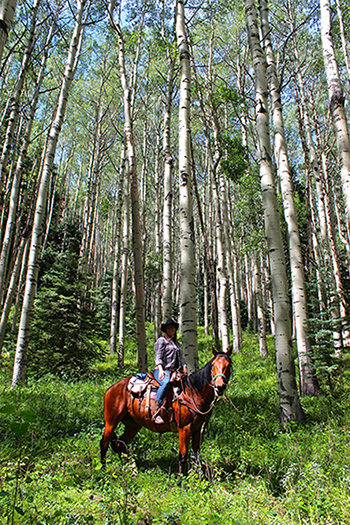 The ranch owns over ninety horses that are matched for each guest's ability.
Learn more about Rainbow Trout Ranch and check out their page in the Equitrekking Vacation Guide and Top20Ranches.com.