Meet Your Host- Connemara Equestrian Escapes in Ireland
Cathriona Goaley was born and bred in Connemara, the region through which she now leads riders on equestrian vacations. Learn about Connemara Equestrian Escapes, offering luxury riding tours in Ireland.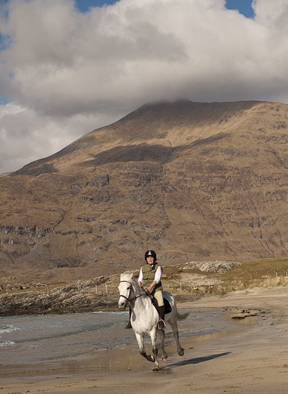 Horseback riding on the beaches of Connemara.
Equitrekking: Your tours take riders through the Connemara region on the famous Wild Atlantic Way in Ireland. What is most special about your location?
Cathriona Goaley: Connemara is region steeped in history and rich in breathtaking scenery, deep-rooted culture and age-old traditions. The friendly, fun, welcoming and sometimes quirky nature of its people entice visitors to return time and time again. Our accommodation providers are a selection of 4-star, award-winning country manors and castles, offering the best hospitality and food in the region.
Equestrian Cathriona Goaley, owner of Connemara Equestrian Escapes, on her purebred Connemara Pony 'Curra Whoopi'.
Equitrekking: What inspired you to start Connemara Equestrian Escapes and meld luxury riding with an emphasis on Irish culture?
Cathriona: My family has been immersed in the production of top quality Connemara Ponies and Irish Draught horses for generations. In the last decade, we started to refine our breed to produce an over-height Connemara pony, making it an ideal adult equine partner. My family and I have untold knowledge of the Connemara region and great friendships with the characters that help make it what it is. We are equally passionate about the area and the equines and believe there is no better way to experience the wonderful vista of mountains, rivers, lakes and bog lands than from the back of a native horse or pony.
Equitrekking: What level of rider do you need to be to participate in your riding holidays?
Cathriona: Novice to 'expert'. We can also cater for beginner rider groups.
Equitrekking: Do guests have a favorite activity either in or out of the saddle? If so, what?
Ciaran: Getting down and dirty with hands-on experience of Ireland's farming traditions and discovering the wealth of history around them.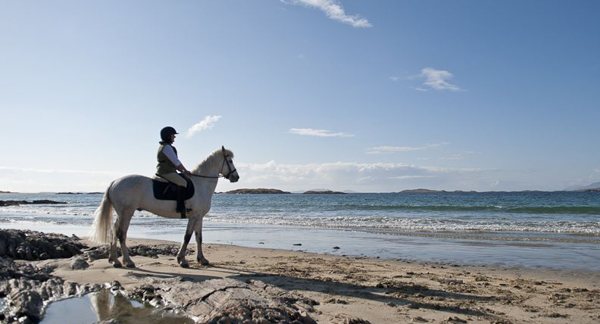 The dramatic scenery abounds along the Irish Coast.
Equitrekking: What do travelers find most surprising when they visit you?
Cathriona: Most people are stunned by the ever changing vistas and often underestimate how often they will be surprised by them. How the heritage and culture is valued and has been lovingly preserved is also a surprise, as is the wealth of history in the area. People often underestimate the hospitality, humor and wit of the Irish in general and are amazed at how laid back and homely the accommodation is, despite the level of luxury provided. The standard of food is also a very welcome surprise.
Learn more on the Connemara Equestrian Escapes website and check out their photo gallery on their page in the Equitrekking Vacation Guide.