Meet Your Host Clew Bay Trail Ride's Padraic Foy
The Wild Atlantic Way, Ireland's first long-distance touring route stretching along the dramatic Atlantic coast from West Cork to Donegal, is an increasingly popular place to take a riding vacation. Padraic Foy, whose family has been breeding horses in the Clew Bay area along the Wild Atlantic Way since 1963, started a progressive trail riding vacation in this area before the recent surge in popularity, back in 1995. Foy takes riders on multi-day treks through the quaint villages, beautiful sandy beaches, small sea and off-shore islands, country lanes, mountain tracks and local heritage sites. Guests stay in the town of Westport and can choose between hotel and self catering or they can arrange their own accommodations if they so wish during The Clew Bay Trail Ride.

Foy, a Qualified Riding Instructor, also has the advantage of being a local, recounting the area's personal history, local lore and ins and outs of this special part of Ireland. We caught up with Foy to learn more about the Clew Bay Trail Riding Vacations.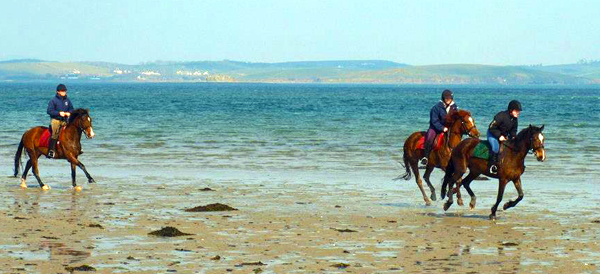 Equitrekking: Your stud farm is based in Westport, which has been named the "Best Place To Live In Ireland" by The Irish Times, and takes riders through the Clew Bay region in Ireland. What is most special about this area?
Padraic Foy: Clew Bay is an area of outstanding beauty with its various islands, mountains, lakes, rivers and beaches. The people, culture, and history are truly unique to the area. It's also a world-class activity hub and a paradise for outdoor enthusiasts. You can choose from walking, cycling, fishing, sailing, diving, golf, horse riding and a host of other adventure activities. Of course, we prefer to ride.
Equitrekking: What inspired you to start trail riding vacations in Ireland?
Padraic Foy: Drummindoo Stud was founded by my parents, Paddy Joe and Patsy Foy in 1963. Since then it has evolved into a modern equestrian center. Over the years we had many requests from visitors to provide a trail ride including accommodation. Thus in 1995, I established the Clew Bay Trail Ride to meet this demand and show travelers a taste of Western Ireland.
Equitrekking: What level of rider do you need to be to take your equestrian vacations?
Padraic Foy: In order for riders to get maximum enjoyment, we recommend that they are a minimum of intermediate level, which means being able to control a horse comfortably in canter. We have riding vacations ranging from three to six days, so there are good options for travelers who want to combine our trip with other Ireland adventures or make the Clew Bay Trail Ride their main holiday in Ireland.
Equitrekking: Do guests have a favorite activity either in or out of the saddle? If so, what?
Padraic Foy: Galloping on one of the beaches along the trail is a dream for many riders and is always a favorite. Meeting the locals on the trail or in the evening at an Irish music session in one of pubs is always looked forward to as well.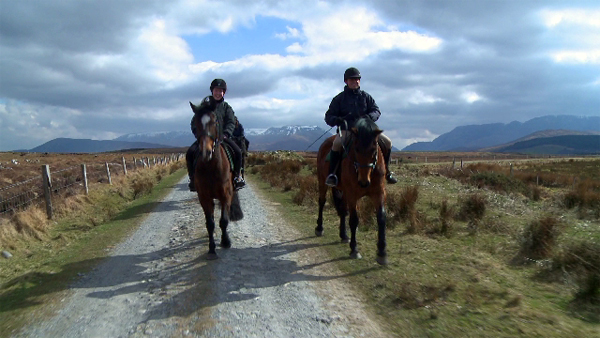 Equitrekking: What do travelers find most surprising when they visit you?
Padraic Foy: How relaxed we are around our horses and how adaptable they are. The fact that we know our horses and they know us so well makes this possible.
The stunning scenery... Having to stop so riders can take in the panoramic views on the trail is a daily occurrence. They are amazed by the Irish hospitality. How friendly the locals are and how willing they are to have the Irish Craic (slang for fun). The high standard of accommodation and food on offer is always a welcome surprise.
Learn more about The Clew Bay Trail Ride on Clew Bay's website or on their page in Equitrekking Vacation Guide, a searchable online guide to equestrian vacations around the world.