Meet Your Host-Circle Z Ranch in Arizona
Located in Patagonia, Arizona, Circle Z Ranch is the oldest continually operated guest ranch in the state. Family owned and operated by Diana and Rick Nash and managed by Jennie and George Lorta, Circle Z has an endless variety of trails through private, state, and federal lands. Guests ride horses bred and raised right on the ranch, and with over one hundred horses available, wranglers are able to match horses with all experience levels.
Learn about the Nash family's old-fashioned hospitality and special connection to this relaxing, all-inclusive destination.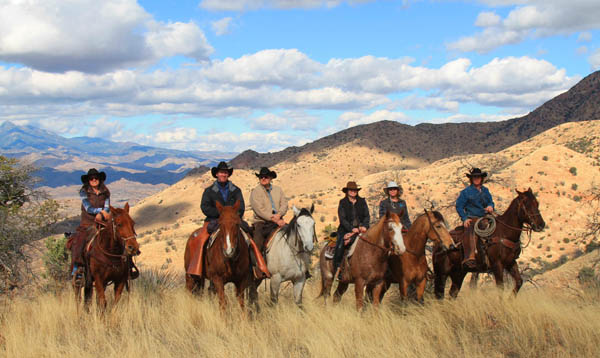 Equitrekking: What is most special about your location?
Diana and Rick Nash: Nestled in the heart of Southern Arizona's Sky Islands, we have thousands of acres of the most scenic horseback riding trails in Arizona. On our ranch and the surrounding properties, guests experience unspoiled landscapes rich in scenes of grasslands, canyons, and mountain ranges rising suddenly and dramatically out of the desert lowlands. Distinct to our ranch is the ever-flowing Sonoita Creek, creating a lush riparian oasis. We own over 6,000 acres of protected ranch land, as well as having access to thousands of acres of National Forest, State Lands, and private ranches. We are known for our excellent horses, our fantastic meals, and our family oriented, low-key style.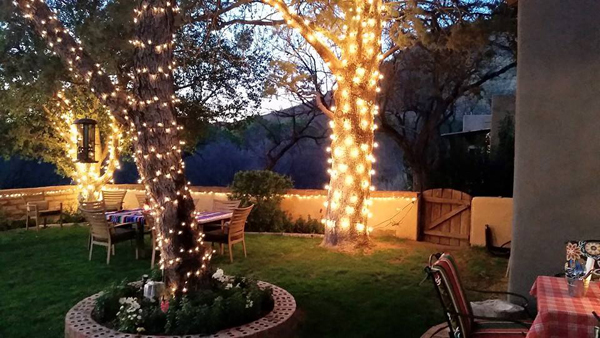 Equitrekking: What is the history of your ranch?
Diana and Rick Nash: The ranch was purchased by Mrs. Lucia Nash and her family in 1975. She visited the ranch as a young girl in the 30s and 40s with her parents and sister, and fell in love with the area. When the ranch went up for sell in the 70s, she purchased it in order to protect the ranch so others could enjoy and learn from this area, as she had as a child.
As a strong conservationist, protecting this fragile desert environment was her life's passion. Her son Rick, and his wife Diana have spent many years helping Lucia with the operations of the ranch, and today split their time between Montana in the summers and the winter guest season in Arizona. Diana and Rick have taken on the legacy to care for, protect, and provide outstanding experiences for guests from around the world. Preserving the history, the vistas, and the historic structures is a work of love, one they cherish and take pride.
The Lorta family has been helping to care for the ranch since the mid 70s, keeping the daily operations of the ranch running smoothly, welcoming guests with their genuine hospitality. Their son Miko and his wife Yesenia are also involved in the day-to-day operations, making this ranch a true family owned and operated venture.
Equitrekking: What level of rider do you need to be to visit your ranch?
Diana and Rick Nash: We cater to guests of all ages, all riding abilities, and are small enough to be able to offer individualized attention to each and every one of our guests. Over the years, we have worked with the young, the handicapped, and the expert equestrian. We treat everyone with a level of respect, meeting them where they are in their needs and desires.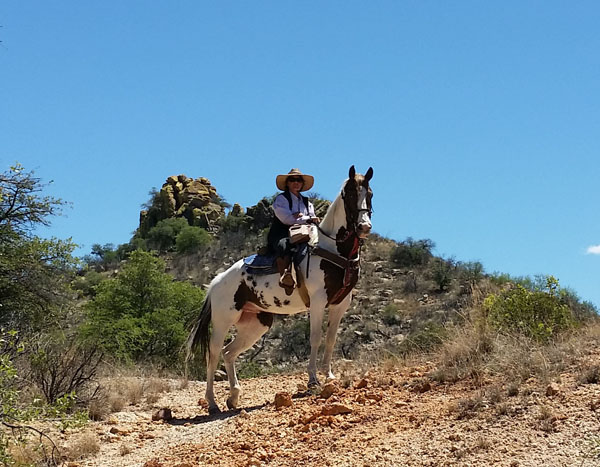 Equitrekking: Do guests have a favorite activity either in or out of the saddle? If so, what?
Diana and Rick Nash: Loping through Sonoita creek is always a highlight for our guests, and our variety of rides, from all-day rides to cook out rides, makes every day an adventure. With hundreds of miles of trails, one experiences a unique abundance of diversity and variety of terrain. Our Sonoita Creek location is the perfect setting for horse games, such as team penning and barrel racing. We take pride in training our horses to be well-suited and good friends to our guests. The social atmosphere of the ranch is also very appealing, and many guests make life-long friends during their visits.
Equitrekking: What do travelers find most surprising when they visit you?
Diana and Rick Nash: They are surprised to find that our ranch property is so lush and green, being that it is in the desert. Also, the wide-open vistas and hundred miles of trails through a variety of terrain makes each ride different from the one before. And although we have many repeat guests, the new hands are surprised and comforted to be welcomed so easily and seamlessly into the fabric of our ranch culture.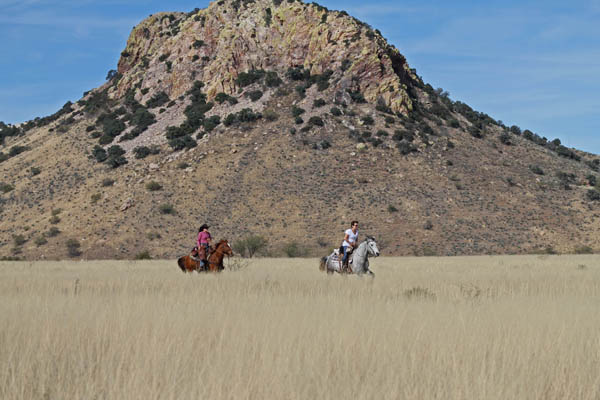 Learn more about Circle Z Ranch and check out their page in the Equitrekking Vacation Guide.