Meet Your Host- Cherokee Park Ranch, Colorado
Located in Livermore, Colorado and surrounded by the stunning Rocky Mountains, Cherokee Park Ranch brings together families of all ages for fun in the saddle and nature. Family owned and run, this is the type of ranch experience that may make your kids put down their electronics and do something completely different. New challenges for all ages await. We rounded up owner Christine Prince to find out how she got into the guest ranching business and further insight into ranch life.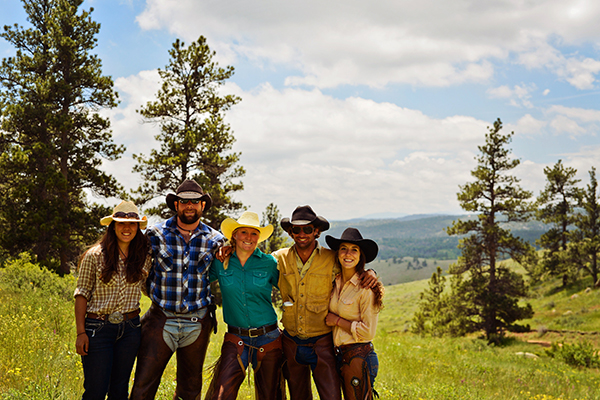 Equitrekking: What inspired you to own and run your Cherokee Park Ranch?
Christine Prince: In 1992, we brought our family to Cherokee Park Ranch and as we loaded up our van to depart, there wasn't a dry eye in the vehicle. It was a vacation that trumped Mickey Mouse and the ocean that we had routinely called our vacation. For the next four years, Cherokee Park Ranch was the highlight of our summer. We searched for five years for a ranch to purchase and jumped at the chance to own the ranch that we fallen in love with as guests.
Cherokee Park Ranch was an old stagecoach stop between Laramie, WY and Ft. Collins, CO. Often times I wonder if the logs could talk, the stories they would reveal about our ranch over the past 130 years. The ranch has gone from horse and buggy to cellular telephones! It began back in 1886 and some of the original antiques are still in our lodge living room.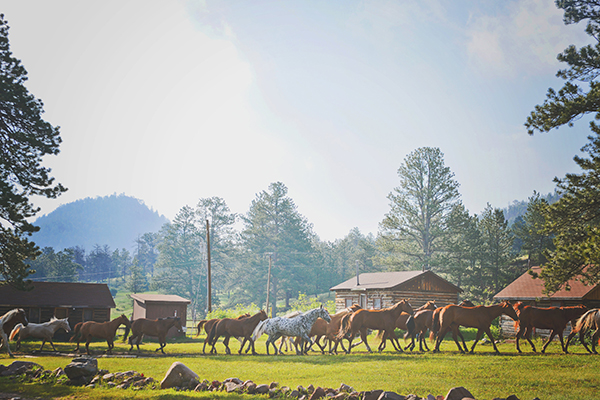 Equitrekking: What is most special about your location?
Christine Prince: Cherokee Park Ranch is nestled in the beautiful Colorado Rocky Mountains. We like to call it our 'little slice of heaven' right here on Earth. The cabins are tucked in next to the winding Northfork of the Cache La Poudre River with views of Bald Eagles, Mule deer and many other wildlife. Because of our mountain location, every day during the summer feels like a Spring or Fall day-- perfect for horseback riding, hiking or just a reprieve from the summer's heat that the rest of the country is experiencing.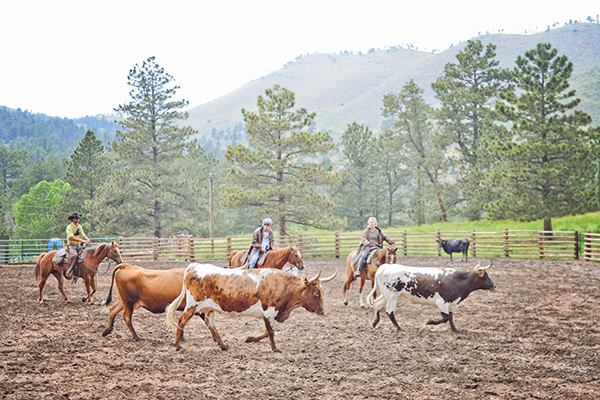 Equitrekking: What level of rider do you need to be to ride at your ranch?
Christine Prince: Cherokee Park Ranch caters to all riding abilities. If you have never touched a horse or ridden all your life, we have just the right steed for you.
Equitrekking: Do guest's have a favorite activity either in or out of the saddle? If so, what?
Christine Prince: While riding is the primary draw, more and more guests are getting involved in the incredible hiking and fishing available. Over a quarter-mile of unpressured trout fishing is just steps away from your cabin. There is always enough time to take a leisurely hike up Goat Mountain if for no other reason than the breathtaking views.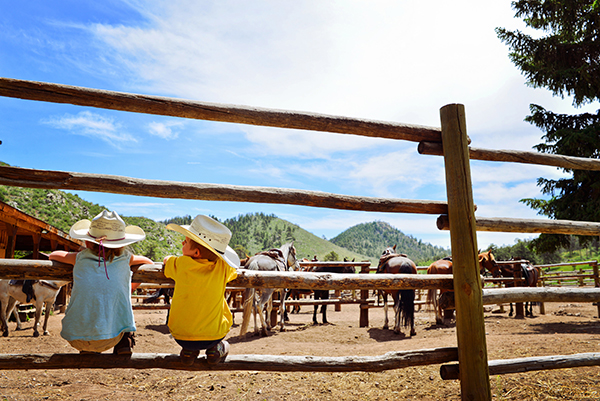 Equitrekking: What do travelers find most surprising when they visit you?
Christine Prince: While the horses are what bring them to us, our warm, engaging staff is what attracts over 86% of our guests back year after year. The majority of our staff are college students who make all of us remember what it was like to be filled with energy and enthusiasm 24/7. Unlike other recreational destinations, you are called by your first name upon arrival. Grandparents repeatedly tell us that even though they had outgrown their desire to horseback ride, they had plenty of other exciting activities in which to engage. We, also, convert a lot of Dads to horse-lovers who never dreamed that they would become addicted to team penning!
When it is time to leave Cherokee Park Ranch, the one thing that we hear over and over again is that our guests feel rested and re-energized and not at all ready to leave. Whether you are 2 or 92, Cherokee Park Ranch makes you feel like a kid!
Learn more about Cherokee Park Ranch in the Equitrekking Vacation Guide and on the Cherokee Park Ranch website.