Meet Your Host- Averill's Flathead Lake Lodge in Montana
The Averill Family has been guest ranching for three generations in Montana on the shores of Flathead Lake, the largest fresh water lake west of the Mississippi. Their ranch resort, Averill's Flathead Lake Lodge, specializes in upscale family ranch vacations, welcoming multiple generations to swim, sun, sail, ride horses and enjoy a classic American vacation in a stunning setting.
Equitrekking: What is the history of Averill's Flathead Lake Lodge?
Chase Averill: In 1945 my grandfather returned from WWII where he was a pilot. He purchased the Ranch and started the long uphill road of carving out a way of life in Western Montana. Over 70 years later, we're honored to be one of the top rated hospitality operations in the country, with strong roots in ranching, western values with many great friends and guests to show for it.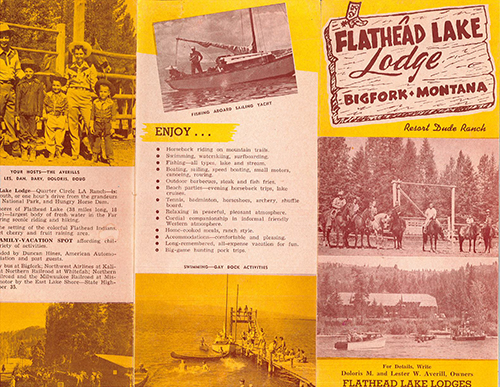 A Flathead Lake Lodge Brochure from 1956.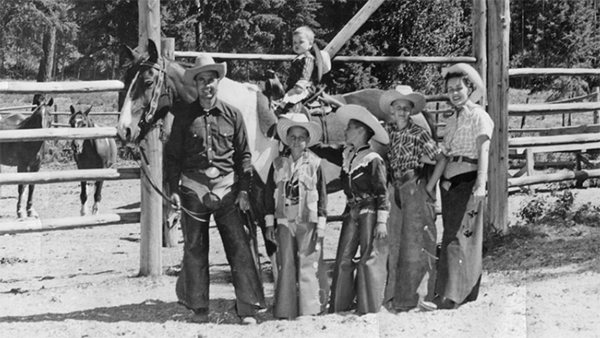 A historic dude ranch, this Montana vacation destination has welcomed guests since 1945.
Equitrekking: What level of rider do you need to be to visit your ranch?
Chase Averill: We love teaching and riding with all level of riders and welcome beginners to experts.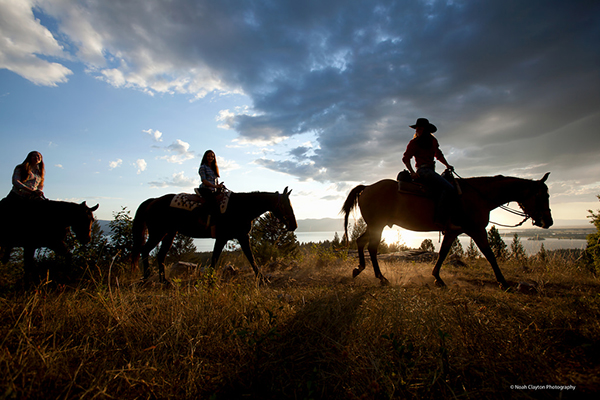 Riding horses is a top activity at this Montana guest ranch. Guests ride over 2,000 acres of private ranch lands and can explore on mountain wilderness and a private elk preserve.
Equitrekking: Do guest's have a favorite activity either in or out of the saddle? If so, what?
Chase Averill: The variety of activities offered at Flathead Lake Lodge is definitely one of our strengths. It's unprecedented. There is honestly too much to do in just one week. From all the horseback adventures, to mountain biking, sailing, boating and watersports. It's pretty special for guest to be able to hop off the horse and jump aboard a historic 51' 1928 Q Class sailboat and enjoy an afternoon on the lake.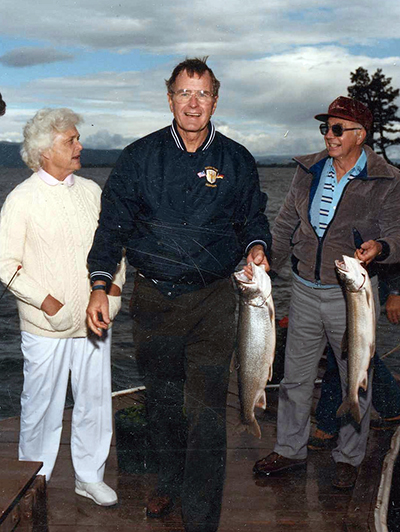 Former President George H.W. Bush fishing at Flathead Lake Lodge. Other famous guests have included Bing Crosby and Ben Bugsy Siegel.
Equitrekking: What do travelers find most surprising when they visit you?
Chase Averill: The personal-ness and attention of our service and staff. We're a fairly large ranch in the world of guest ranches. But this is our home, and we operate that way, and our staff is here to share this lifestyle with you. We're a little larger than most, but we're also more authentic, genuine and personal in our approach to hospitality.
Equitrekking: What is most special about your location?
Chase Averill: We're everything you dreamt about a ranch, on the shores of the largest freshwater lake in the West.
Learn more about Averill's Flathead Lake Lodge on their website, in the Equitrekking Vacation Guide and at Top20Ranches.com.