Maui Ranch Icons - Baldwin Family Legacy at Piiholo Ranch
The history of great ranches on the Hawaiian Island of Maui
by Darley Newman, originally published in her Trail Rider column in True West magazine
Sam Baldwin, who roamed this island of Hawaii in the early 20th century, wrote of a day-long ride to capture cattle that took him across 25 miles of more than 20,000 vertical feet!
Riding from the slopes of the Haleakala Crater and up and over down the Sliding Sands Trail, places I rode on separate days, must have been an amazing, but physically tough, adventure for him and his mount.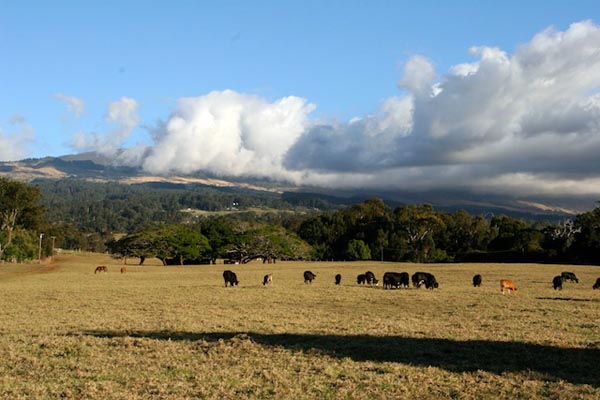 At Piiholo Ranch, outside of the cowboy town of Makawao on Maui, I saddled up with Tamalyn Baldwin, the seventh generation.

The line of Baldwins influencing life on Maui dates back to the missionary era of the 1830s. Today, Baldwin descendants share that history and culture with travelers through horseback rides at their Upcountry ranch.


What's nice about the horseback tours at Piiholo is that better riders don't have to suffer through a nose-to-tail experience. Small groups of up to six can ride according to their ability.
Piiholo's diverse tropical flowers and fauna, mixed with undulating grasslands and Pangola pastures, grant travelers a different view of Maui and of Western riding, far away from the beaches and very far from mainland American ranches.
The Upcountry is truly cowboy country, with Piiholo Ranch resting on the slopes of Mount Haleakala, the largest dormant volcano in the world.
My cowboy hat shielded my face from the misty rain, as I cantered with Tamalyn across a pasture to yet another view that almost knocked the wind out of me.
Corriente cattle were nestled amid the tall grass on rolling hills, which cascaded to the bright, blue Pacific Ocean. We stopped to give our horses a break and enjoy the scenery.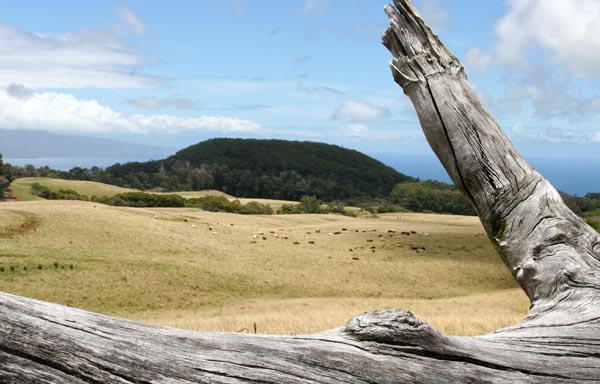 As we rested, I asked Tamalyn how life for horse people on Maui is different than on mainland ranches. She pointed to her saddle.
Paniolos had learned their way of working cattle from Mexican vaqueros, and they adapted vaquero saddles to fit the work and climate in Maui, calling the saddle noho lio.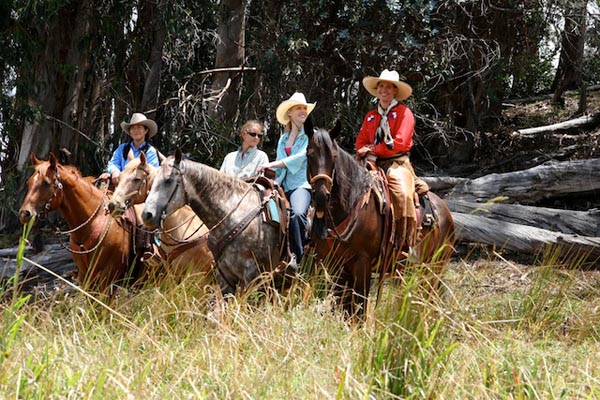 The Paniolo saddles kept the strong horn for dallying and capturing wild cattle, which were in abundance on the islands, but made it wider, so they could secure larger bulls. They used more rawhide than cured leather and added the awe awe, rawhide rigging. The rawhide held up longer in the tropical conditions and made the saddle lighter.
The saddle was traditionally made so that it could be deconstructed—stripped down to the tree!
This helped the cowboys, as they often had to swim cattle out to boats to transport them off the island. They needed to ensure their leather didn't get ruined in the salt water.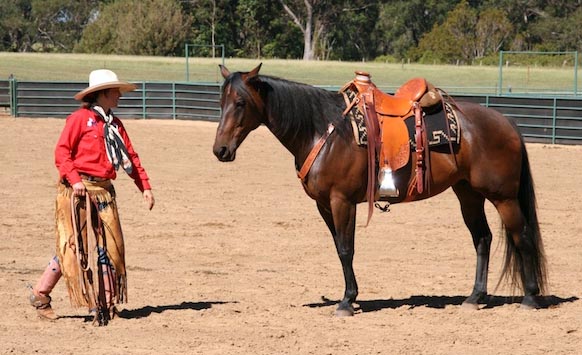 Being in this area with its fragrant yellow ginger, deep gulches and rapidly changing altitudes on the slopes of the volcano, I could understand why these tack changes made, and continue to make, such a difference for the paniolos. I was reminded of what cowboys of the past had to deal with while living on Maui.

The first Baldwin on Maui, Rev. Dwight, arrived in the mid-1830s and wrote about the whaling industry and the arrival of the vaqueros. Though not a cowboy, he did quarantine and vaccinate the Lahaina community from Smallpox in 1853, and set out on a mule to treat those in the far reaches of Maui.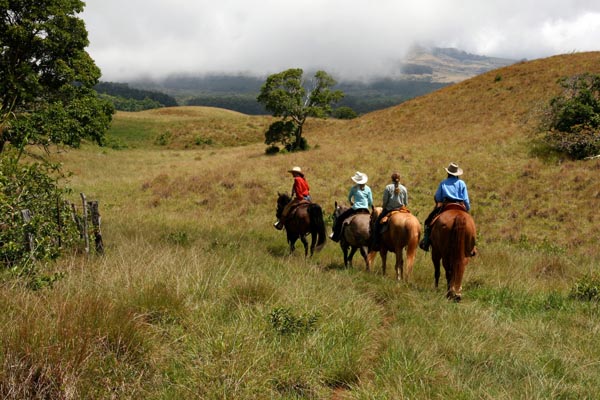 His successor, Henry Perrine Baldwin, went on to found Haleakala Ranch, Maui's oldest cattle ranch, which originally encompassed a vast 33,817 acres. Piiholo Ranch still rests on part of that acreage today. Back then, it was called Piiholo Plantation.
Sam's oldest son, Richard "Manduke" Baldwin, dubbed the "Cattleman of the Century," helped introduce new grass and clover species to Maui, so the cattle had better forage. Ever since, they have thrived in the Upcountry.
When I thought about traveling to Maui, I conjured up big waves and palm trees. What I ended up seeing were not only the amazing tropical landscapes that have delighted people for centuries but also the difficulties faced by Hawaii's original ranchers.


It just goes to show how much horseback riding with the locals can open your eyes to the true stories of the Old West.
Learn more about horseback riding in Maui, including a special Maui horse riding vacation created by the Equitrekking team based on their adventures on Maui, and other great ranch vacations in Equitrekking's Vacation Guide.