Maui Horseback Riding Tours- Best Horseback Riding
Taking a vacation on Maui? There are a few good choices for Maui horseback riding tours. You may consider adding one of these horseback adventures on to your itinerary. Feel like taking a true Maui horseback riding vacation? Schedule all four and create your own self-drive horse tour of Maui.
Here are some good picks for horseback riding in Hawaii on Maui.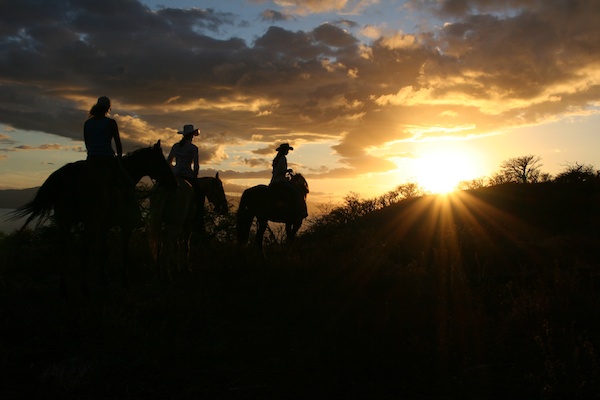 Piiholo Ranch- Working Ranch Experience and Horse Riding Tour

Piiholo Ranch is a working ranch located on the edge of a rainforest, 2,000 feet above the bright, beautiful blue Pacific Ocean in Maui's Upcountry. Riding at the ranch is diverse. There are lots of wide open ranges for faster riding and panoramic views of the open range where cows graze set against the bright blue Pacific. You may also ride through Eucalyptus Forest, Koa, and Ohi`a trees, and green Kikuyu and Pangola pastures.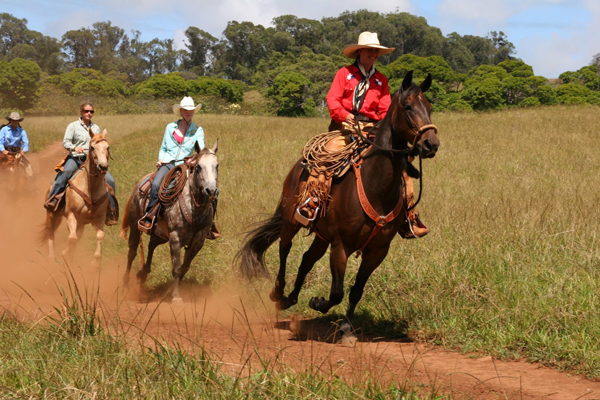 Piiholo Ranch works to preserve the environment, including serving as a safe haven for the endangered Nene, Hawaii's State Bird. This goose is named after the soft nay-nay sound that it makes when it eats. Riding here, you may hear about paniolo culture in the Upcountry. Paniolo's are Hawaiian Cowboys, who learned their ways of working cattle from the Mexican cowboys called Vaqueros. It's a culture unique to the Hawaiian Islands.

You may wish to pack rain gear for this ride, as the weather can change quickly in the Upcountry. You may ride along and have rain one minute and then the next, you'll be drying under bright sun and blue skies. Variable weather lends itself to incredible textures of the landscape with the ever-changing light, mist, shadows and usually brilliant blue skies.


You may wish to spend the afternoon exploring nearby Makawao, a cowboy town in the Upcountry where real Hawaiian cowboys still reside.

Learn more at Piiholo Ranch's website.


Ironwood Ranch- Maui Horse Riding in the West Maui Mountains

In the West Maui Mountains, enjoy the romance and beauty of a Maui sunset from on horseback. Ironwood Ranch offers evening sunset horse rides appropriate for all levels of riders. You may ride over lush pineapple fields, through tropical valleys and ironwood forests, and enjoy panoramic views of Maui, as guides recount the history of the Hawaiian valleys and ancient home sites.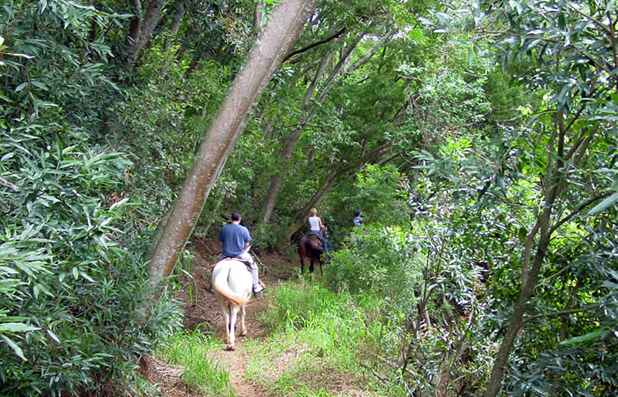 This ranch is located a short drive from Lahaina, Kaanapali, Kapalua, or Napili, above West Maui's resort areas. In addition to sunset horse rides, they also offer other special trail rides through lush mountains and exotic valleys.
Learn more at Ironwood Ranch's website.

Haleakala Crater Ride with Pony Express Tours
The Healeakala Crater Horse Ride is reason enough to travel to Maui. Where else can you ride a horse into the crater of a volcano? This horseback riding tour takes you into one of America's great National Parks-- Haleakala National Park.
This approximately four hour ride takes travelers on horseback down the Sliding Sands Trail to the Crater floor. You descend over 2500 ft., listening to volcanic cinders crunch beneath your horse's hooves as you pass by the rare Haleakala Silversword, dramatic cinder cones and awe-inspiring views of this colorful volcano.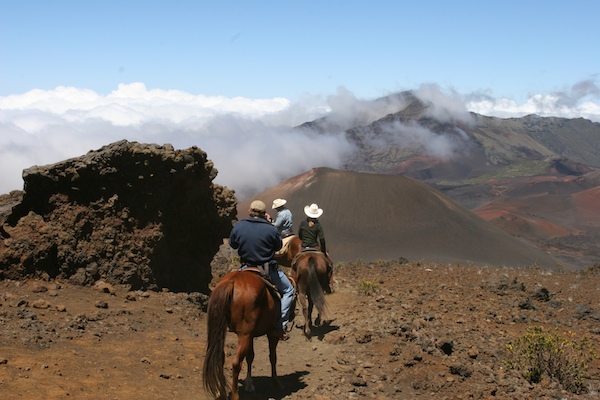 The round trip is 7.5 miles and prior riding experience is a must. You'll be traveling from over 9,000 feet to around 7,500 feet, so if you have issues with changes in elevations, this is not the ride for you.

If you are looking for a unique way to experience Haleakala, add this riding tour to your itinerary. It's a truly memorable horse riding adventure.
Learn more at ponyexpresstours.com. NOTE! As of 2014, this ride has been discontinued. Pony Express is still running ranch rides, so please check out those!
Check out more great places to horseback ride around the world in the Equitrekking Vacation Guide and Top20Ranches.com.