Horseback Riding in Maui with Hawaiian Cowboys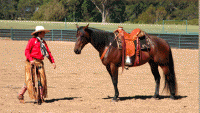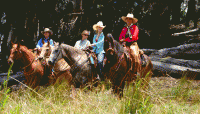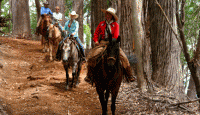 Explore Upcountry, Maui at Piiholo Ranch
Upcountry Maui is horse country, and just outside of the Western town of Makawao, I saddled up with Tamalyn Baldwin of Piiholo Ranch, a working cattle ranch that also serves as a sanctuary for the Hawaiian State Bird, the endangered Nene. The Baldwin family owns Piiholo, and they have a long legacy on the island, having lived there for six generations.

I rode a Quarter Horse named Stick. Though young, Stick was amazingly patient and well trained. Tamalyn said that he would probably be the best horse that I rode on Maui, and he was really good.
Piiholo Ranch is open to the public. Anyone can visit and ride Western style through areas of rainforest and lush rolling hills overlooking the sea. Out from the stables, we passed through a tall Eucalyptus Forest and by the deep chasm called Maliko Gulch. The air smelled of ginger and all around was abundant vegetation. The colorful, lush scenery looked like what I had imagined for parts of Hawaii.


We picked up the pace to find the cattle, riding through a sudden rainstorm-- what the locals call Maui mist. As we neared the cattle, Tamalyn talked about Maui's special paniolo culture. Paniolo's are Hawaiian Cowboys, who learned their way of working cattle and equestrian skills from the Vaqueros, Mexican cowboys who originally came to the islands in the 19th century to help round up the wild cattle population. As we meandered among the Corriente cattle in a field of tall grass that sloped down to the bright blue Pacific, I thought about the unique cowboy culture in Hawaii's spectacular Upcountry.
Learn more about exploring your world on an equestrian vacation through EquitrekkingTravel.com, which features horse riding vacations hand-picked by the Equitrekking team, and search for horse vacations in Equitrekking.com's Vacation Guide, a comprehensive resource for dude ranches, riding holidays, cattle drives and equestrian escapes.