Maui- Pi'iholo Ranch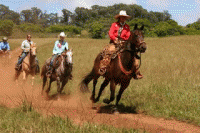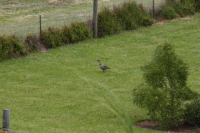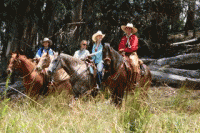 We're in Upcountry Maui, riding at Piiholo Ranch with Tamalyn Baldwin and other riders, a destination which is part of the Equitrekking Travel Maui Equestrian Vacation. The Upcountry is the lush ranch area and Piiholo Ranch is a working cattle ranch that also serves as a sanctuary for the Hawaiian State Bird, the endangered Nene. Seeing the Nene up close would be one of the highlights of my ride at Piiholo.

I rode a 4-year-old Quarter Horse named Stick. Though young, Stick was amazingly patient and well trained. Tamalyn said that he would probably be the best horse that I rode on Maui, and he was really good.

Piiholo Ranch is open to the public. Anyone can come and ride through areas of rain forest and lush rolling hills overlooking the sea.

Our group of four riders warmed up a bit by walking, trotting and cantering through a nearby field before venturing down to peer into a large and deep, nearby gulch. The lush surroundings held trees of papaya and flowers. It looked like what I had imagined parts of Hawaii to be.

We then cantered a bit on our way out to find the cattle. The ranch raises Coriente cattle that are used for roping. These cows and horses have quite a view on the ranch, looking out to the blue waters of the Pacific coastline.

The Baldwins, who own Piiholo, have a long legacy on the island, having been living there for six generations. We rode towards an area that has been set aside as a safe zone for the Nene, an endangered bird that is thought of by many as a lost Canadian goose.

There were a couple of Nene hanging out. It would be my only chance to see them on Maui.
Darley Newman is the host of the Emmy Award-winning Public Television series Equitrekking®, which takes viewers on horseback riding vacations around the world. Equitrekking is broadcast on PBS stations and on international networks in over 30 countries.

Watch the Equitrekking video promos and purchase Equitrekking DVDs in our Store. Learn about equestrian vacations and book an equestrian vacation on Maui or Hawaii's Big Island. Join Club Equitrekking and receive discounts on your next horseback riding vacation.