Maui- Lahaina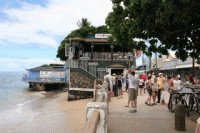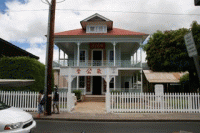 Lahaina is a busy shop and restaurant filled port town, which though touristy, has enough history to make it worth a stop on your trip, or at least a drive through. I wanted to see the big old Banyon Tree down by the water, so we headed to Lahaina to check it out.

Front Street is the main street in Lahaina. During the 1800's, when whaling was a major industry, Lahaina was a place that sailors would visit, after being isolated at sea for months at a time. Lahaina was, for a time, also the capital of the Kingdom of Hawaii. We spent half a day here, eating breakfast and lunch and just poking around in the various shops along the shore.

Tomorrow, I'm trying zip lining in the resort area of Ka'anapali.
Darley Newman is the host of the Emmy Award-winning Public Television series Equitrekking®, which takes viewers on horseback riding vacations around the world. Equitrekking is broadcast on PBS stations and on international networks in over 30 countries.

Watch the Equitrekking video promos and purchase Equitrekking DVDs in our Store. Learn about equestrian vacations and book an equestrian vacation on Maui or Hawaii's Big Island. Join Club Equitrekking and receive discounts on your next horseback riding vacation.