Massachusetts Trails Roundup: Top 10 Places to Ride in the Bay State
By Stacey Stearns
The Bay State has thousands of acres for equestrians to enjoy. From the Berkshires to the bay, there is something for everyone. Here are a few of my favorites to add to your trail riding bucket list.
1. Blue Hills Reservation, Milton
Twenty minutes outside of Boston is 7,000 acres and 125 miles of trails. Early European settlers were sailing the coastline and noticed the bluish hue, hence the name Blue Hills. This was one of the first public recreation areas in Massachusetts, and given its location, is incredibly popular with many trail users. Trails are marked and well maintained. In the fall you can enjoy the foliage in the forest, and the peaceful trails quickly make you forget the proximity of the city.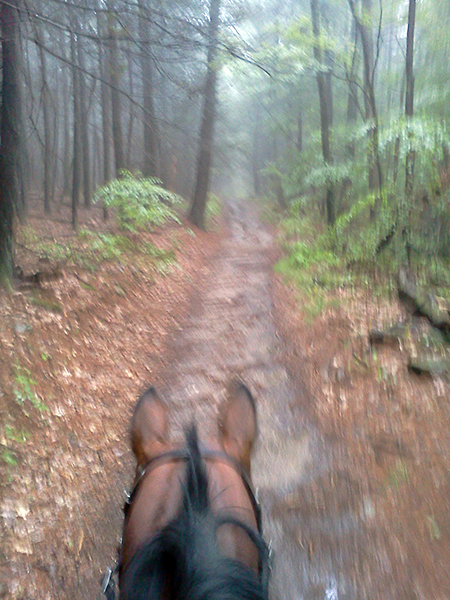 Moving quickly through the trails at Blue Hill Reservation. Photo by Stacey Stearns.
2. Robinson State Park, Feeding Hills
Driving through a residential area, I was a bit skeptical about what I would find when I arrived at Robinson State Park. Tucked in behind the houses is a picturesque park that follows the path of the Merrimac River. There are 20 miles of trails, and while we share them with many other trail users, the scenery, smooth footing, and options make Robinson a candidate for your repeat destination list.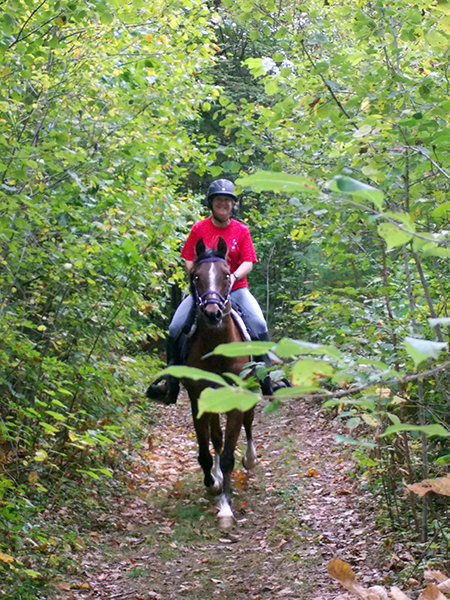 Riding with Cathie at Robinson State Park. Photo by Stacey Stearns.
3. Myles Standish State Forest, South Carver
Myles Standish is the largest publicly owned recreation area in southeastern Massachusetts at 15,000 acres. It also boasts an equestrian-only campground at Charge Pond and 35 miles of equestrian-friendly trails. Enjoy the northernmost section of the Pine Barrens, flat, sandy footing, and an abundance of wildlife.
4. Nickerson State Park, Brewster
This place has it all – beach, woods, and rail trail. Plan your visit for spring, fall, or winter. In the summer, Nickerson becomes a bustling campground and the beach fills with swimmers and is off limits to equestrians. You can ride the beach and enjoy the Massachusetts Bay from October through April. A wide, unpaved shoulder on the 22-mile Cape Cod Rail Trail is horse friendly and can be accessed from Nickerson, the halfway point. In the woods, there are eight freshwater kettle ponds and trails to enjoy.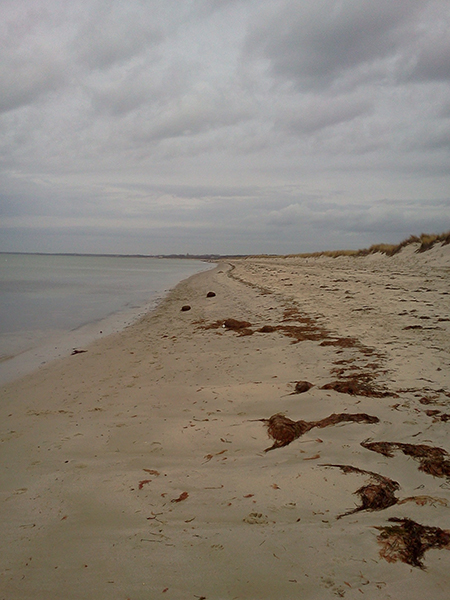 A moody winter's day on the beach at Nickerson State Park is perfect for riding. Photo by Stacey Stearns.
5. Douglas State Forest, Douglas
With 30 miles of marked trails and 4,600 acres, Douglas State Forest is a favorite among local trail riders. Ride past ponds, through streams, and along a reservoir. The babbling brooks, wildlife, and forest make this location idyllic. You can encounter some of the rocks that New England is known for on the woods trail, or use the forest roads to enjoy smoother footing.
6. Wompatuck State Park, Hingham
Known affectionately by trail users as Wompy, this park is 4,000 acres and just 35 minutes outside of Boston. Paved roads, bridle paths, and hiking trails abound, and you'll have plenty of company from other trail users out in the woods. Trails are well marked and maintained in Wompy. There is an 8.5 mile permanently marked bridle trail for equestrians that runs from the north end to the south end of the park. Wompy trails also connect to the trails in Whitney and Thayer Woods and Turkey Hill, offering more areas to explore.
7. Pittsfield State Forest, Pittsfield
No trip to the Bay State is complete without a stop in the Berkshires. Pittsfield State Forest offers views of the Taconic Mountain range that separates Massachusetts and New York. Berry Mountain is a popular local destination. Equestrians can enjoy 30 miles of trails, where you'll encounter waterfalls, streams, flora, and wildlife.
8. Great Brook Farm State Park, Carlisle
With cross-country jumps built into the trails, you know this one was meant for equestrians! The park is only 1,000 acres but is home to a working dairy farm, and an ice cream store. The 20 miles of trails are through open fields, woods, and around ponds and streams.
9. Chester-Blandford State Forest, Chester
The 60-foot Sanderson Brook Falls is one of the highlights of Chester-Blandford State Forest. The 2,308 acres were originally built by the Civilian Conservation Corps (CCC) and have approximately 1,000 feet in elevation change while out on the trail. Although the area doesn't have extensive trails for equestrians, Sanderson Brook and the waterfall make this one worth the visit. Ride in the fall for spectacular foliage. There are a couple of technical bridge crossings on the way up to the falls.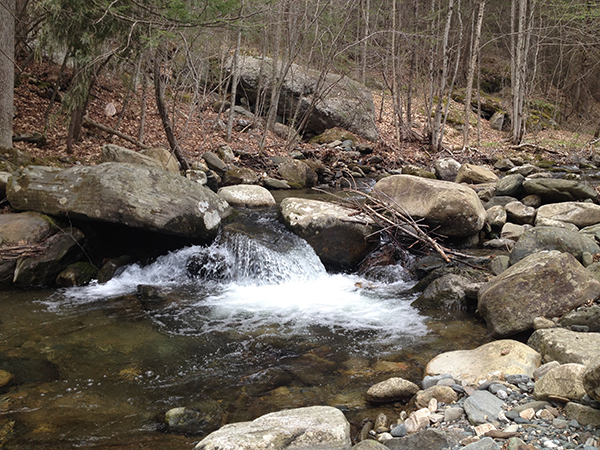 Sanderson Brook at Chester-Blandford State Forest. Photo by Stacey Stearns.
10. Crane Beach, Ipswich
Crane Beach is the location that every equestrian dreams of when they think about galloping a horse along the beach. Each fall, the Horses Helping Horses Trail Ride is held here, and equestrians rave about the ride. Play in the surf, smell the salt air, and gallop down an empty stretch of sand on the North Shore. Horses are allowed on the beach between October 1st and March 30th. If you come on your own, you'll need to be a member ($47) and purchase a trailer permit fee ($100), which is expensive. But, it supports the Trustees of Reservations, who manage this and numerous other properties in Massachusetts that equestrians can enjoy. Your permit is good for the entire season, you can come back regularly and enjoy the Ipswich Bay.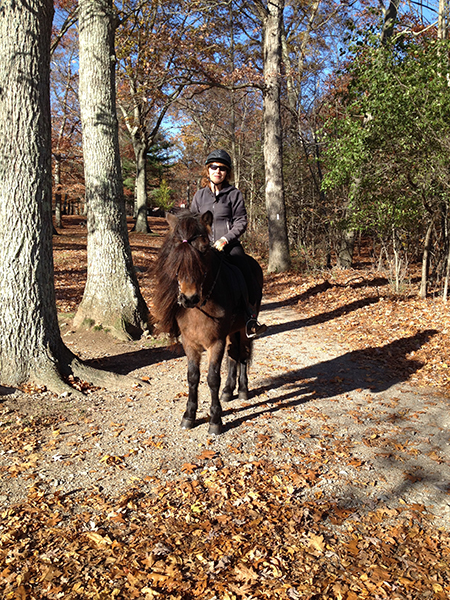 Lovely ride on this Icelandic horse at Borderland. Photo by Stacey Stearns.
Not finding what you're looking for? I left out a bunch of great destinations; it was hard to only pick ten. Weston Trails have their own horse show rings adjacent to their trail system. Riding the grounds of an estate complete with a huge stone house at Borderland. Brimfield State Forest offers miles of trails and an area where you can still see tornado damage. Harold Parker State Forest in North Andover has long been a favorite for equestrians. Savoy Mountain State Forest in Florida, MA offers the rugged beauty of the Berkshires with stunning views and technical trails.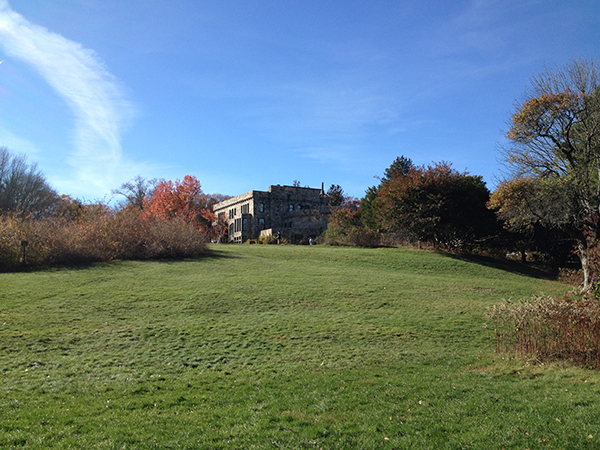 The stone house and estate at Borderland. Photo by Stacey Stearns.
The Trustees of Reservations and Massachusetts Department of Conservation and Recreation both have a search feature by activity. Explore all of the equestrian trails the Bay State has to offer. Come ride with us! There is a trail to challenge every horse and rider, or take you back in time and let you enjoy the woods. See you on the trail!
About the Author: Stacey Stearns is a lifelong equestrian from Connecticut. She lives on Mountain Dairy in Mansfield, her family's dairy farm, and enjoys trail riding and endurance with her Morgan horses