Making the Time to Get in the Saddle
An entrepreneur and mom shares how she makes time to ride, including on recent trips to Ireland, Bermuda and California.
by Gretchen Learman Burrier
If you are reading this article on equitrekking.com you likely already agree with me – there's nothing better than being at the barn. Growing up, my friends and I were there as soon as we were released from school for the day, all weekend, and in the summer – from dusk to dawn. We existed just to be around horses and our world revolved around horse shows, cute new show pants, and colorful polo wraps and saddle pads.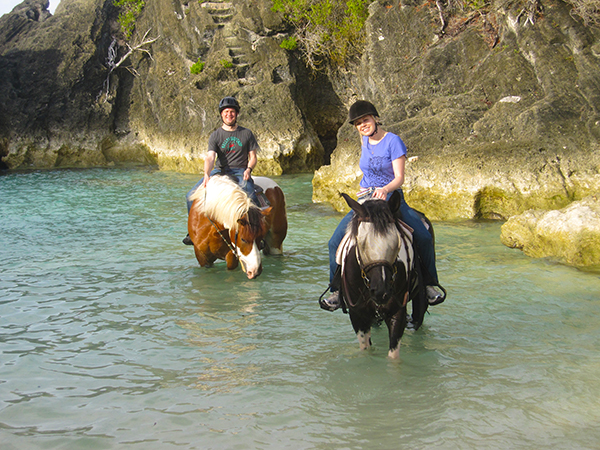 The author saddled up in Bermuda
Then we graduated from high school, went off to college, and then entered the working world. Things definitely changed, but I have continually tried to keep up my riding through the years by finding a local barn to ride at and take lessons, or by leasing a horse. I have tried to make the time because riding is my personal yoga, and as crazy as everything else can be in our lives it's the one thing that never seems to change. The horses in the barn are always happy to see you and your carrots, and there is always work to be done on one's equitation.
But lately, it's been even harder to find the time. In the last several years I started my own company and I became a mom. But, even with these added responsibilities I won't give up, and I want to encourage all of the other busy equestrians out there who miss riding, but aren't currently making time for it, to find a way to get in the saddle – even if it is only once a month or once every two months. Every time you walk into the barn you will be glad you did.
One great way to keep horses in your life if you can't seem to be able to fit riding into your regular routine is to try an equestrian vacation. Everywhere I travel I have a couple must-dos, and looking for a local barn to ride at is on the list. I have ridden in several countries and in many locations around the United States, but here are my top three favorite places to ride at while on vacation:
Riding in Adare, Ireland, has to be at the top. I spent an equestrian holiday there riding at Clonshire Equestrian Centre and stayed at the amazing Dunraven Arms Hotel. The hotel proprietors know their horses and make your experience top notch. Equitrekking.com actually has a lot of information about the Clonshire Equestrian Centre that you can read by clicking here. Adare is also a great base for day trips so after your morning ride and tea you can head to Bunratty Castle, the Cliffs of Moher, or Killarney, among other popular destinations.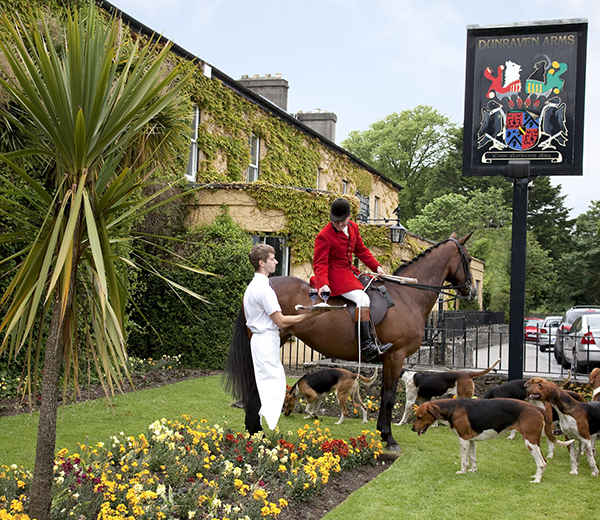 The luxurious Dunraven Arms Hotel in Ireland
The second destination on my list is the Fess Parker Winery in the Santa Ynez Valley near Santa Barbara, California, which allows you to go riding through the Fess Parker vineyard. The vineyard is situated in the mountains, so not only will you enjoy riding through the vineyard; you have the added bonus of a great scenic view. Our guide even encouraged us to pick off some of the grapes and eat them as we went by the vines. Upon your return, enjoy a wonderful glass of wine.
Finally, imagine riding through brush and trees and emerging several hundred feet later onto a beautiful beach with pristine blue water. Spicelands Equestrian Centre in Bermuda allows you to do just that and it's only a short flight away from the U.S. East Coast. And not only did we ride alongside the water, we actually had the opportunity to take our horses into the ocean. In full disclosure, you aren't likely to stay dry.
2016 is just around the corner. I hope this article has motivated you to make the resolution to take more time for yourself to do the things that you love and to make time to ride – whether it's on vacation, or at the barn not far from your home.
About the author: Gretchen Learman Burrier is the founder of Blue Ribbon Events Washington, D.C. LLC. Originally from Los Angeles, she currently lives in Washington, D.C., with her family. Her professional background includes time working for the U.S. Congress and several Federal agencies as a communications director, legislative assistant, director of congressional relations, and an international protocol advisor, among other positions. The name Blue Ribbon Events is based on her passion for all things equestrian.