Mackinac Island Carriage Tour
My tour of Mackinac Island, Michigan in a horse drawn carriage with island local Don Eckhardt and his Friesian horses while filming for Equitrekking.
Don Eckhardt and his wife Lisa, teach riding and driving skills to many of the Mackinac Island cottage owners. Being that Mackinac Island banned automobiles over 100 years ago, this instruction is helpful for those wanting to "drive" themselves around the island.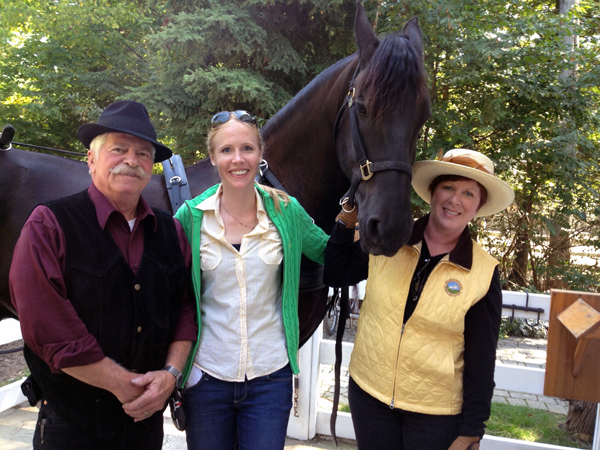 Don Eckhardt, Darley Newman and Lisa Eckhardt and one of the Friesian horses that they train.
If you visit Mackinac Island, you'll see that this is truly a place where horses rule. During the summer, there are over 500 horses on this 3.8 square mile island. There are even dedicated horse poop scoopers, who walk the streets to keep the island roads clean. Bikes, horses or your own two feet are the ways to get around the island. It's hilly, so horses are probably your best bet.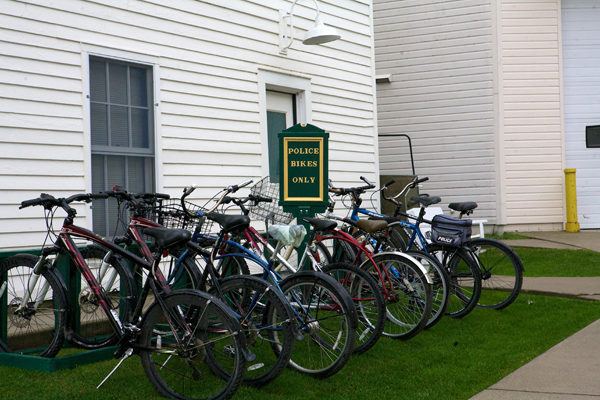 Love this sign–– Police BIKES Only!
Don and Lisa hitched up a two-seat surrey carriage and a wagonette so we could experience and film a carriage tour of the island. Don and Lisa are Friesian horse lovers. Friesian horses are the horses that knights used to ride into battle and they are striking, with shiny black coats, long, thick manes and a graceful trot. This trot makes them great carriage horses, but Friesians excel at a variety of equestrian disciplines.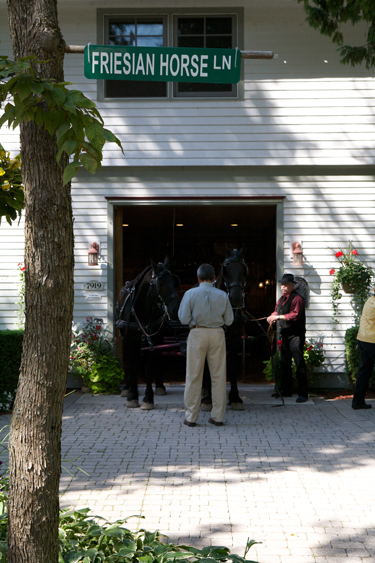 One stables where the Friesian horses live on Mackinac Island.
Hercules and Gysbert led our carriage, and we trotted off down the road through one of the island's residential areas. We had taken off from the beautiful barn at the cottage where Don and Lisa train these Friesian horses.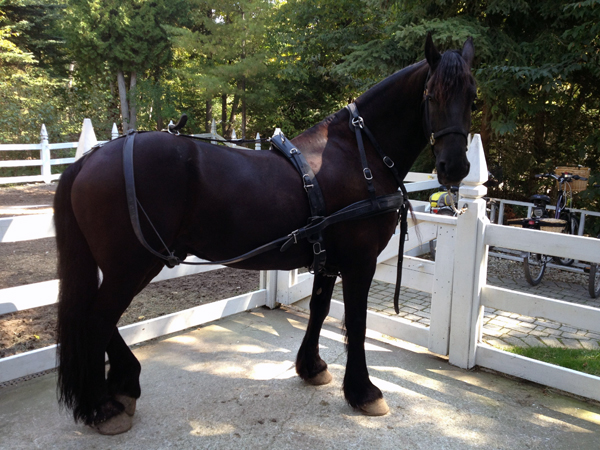 Getting the Friesians ready.
Mackinac Island is known for its historic, Victorian cottages, which line the bluffs, giving owners a view of Lake Huron and perhaps Mackinac Bridge. Mackinac Island is located on Lake Huron between the Michigan's Upper Peninsula, known as the UP, and Lower Peninsula. We had passed under the gigantic suspension bridge, called "Mighty Mac", a feat of engineering, in a Shepler's Ferry en route to the island.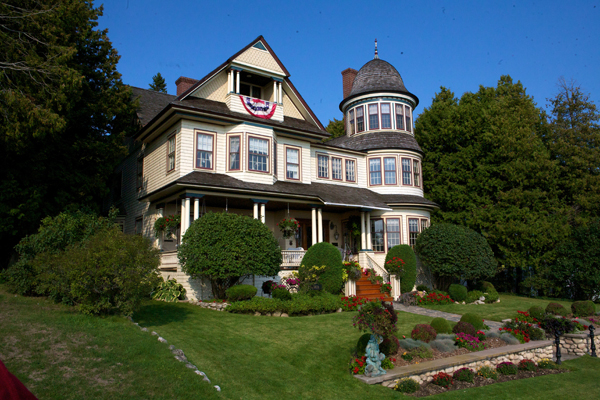 One of the beautiful Victorian cottages on Mackinac Island.
Trotting along in our carriage, we passed by other horse riders and cyclists and onto forested driving trails. Over 80 percent of Mackinac Island is within Mackinac Island State Park and there are over 70 miles of natural and paved trails inside the Park to explore. It was really pretty to ride along listening to the clip clop of hooves and see the leaves just starting to change and the sun streaming through the trees.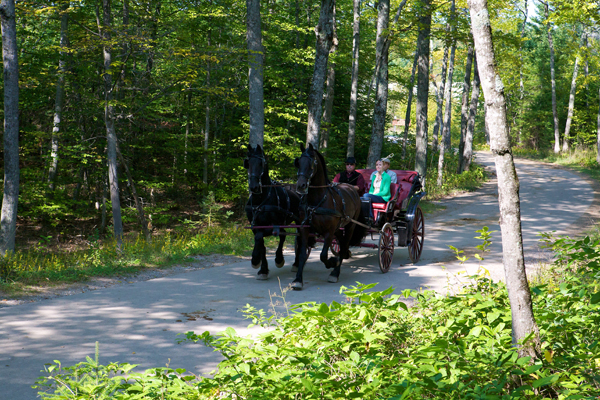 Trotting along the island's wooded trails in a surrey carriage.
Don talked about the island's horse culture. Almost everything is moved around with horse power, including garbage pick ups and UPS. Lots of things that we might take for granted as folks who don't live on an island where there are no vehicles, people on Mackinac Island think about frequently–– everything from how to get the materials to put an addition on their home or barn to groceries to shopping.
Up until a few years ago, there weren't even proper addresses on the island. Cottages were found by their name and didn't have a street address. This was changed when an emergency system was implemented on the island and today, there are addresses for the homes.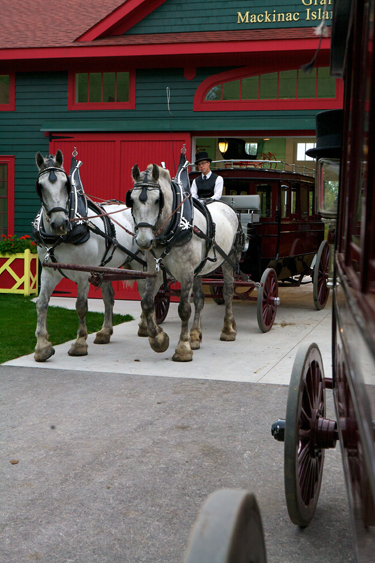 The horses at the Grand Hotel Stables and Museum.
Our carriage ride took us to Grand Hotel's carriage barn and stables and then through more wooded trails to the island's new Community Stables. At the Mackinac Community Equestrian Center, I met with Steve Rilenge, who gave me a tour of this new facility, which serves the Mackinac Horsemen's Association, the 4-H horse program, and the general public.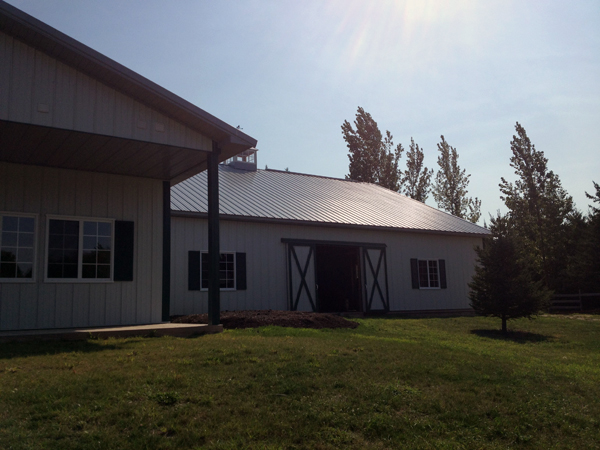 Mackinac Island's new Community Stables.
Just to break ground on the stables has required a lot of planning and fundraising. You can only do construction on the island during a short season, as in the winter, most people leave the island and things shut down. Plus, it's just too cold. In the winter, materials have to be hauled to the island over an ice bridge via snowmobile or other costly and time-consuming means.
The stables are nice with new stalls and outdoor paddocks and arenas. What's most unique about the stables is that they are open to the general public and meant to be accessible to kids and youth, so the strong horse traditions on the island can be carried on for future generations.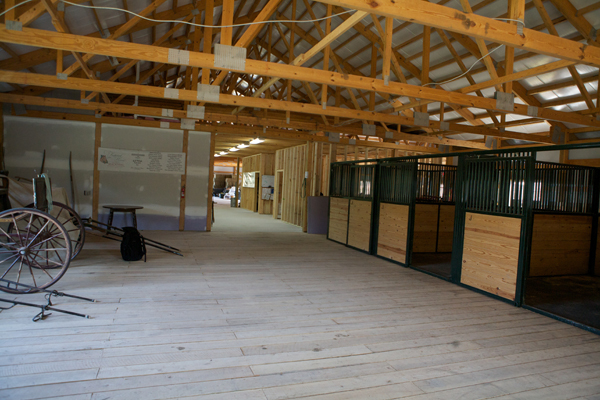 It's a work in progress, which is looking great–– the inside of the Mackinac Island Community Stables.
The Mackinac Island Horsemen's Association really lucked out because they also built on an area of the island where there's great sandy footing—actually the only area of the island that is not rocky, but sandy. Steve conveyed his passion for the project and what needs to be done to complete the lesson room and final stalls. I was impressed.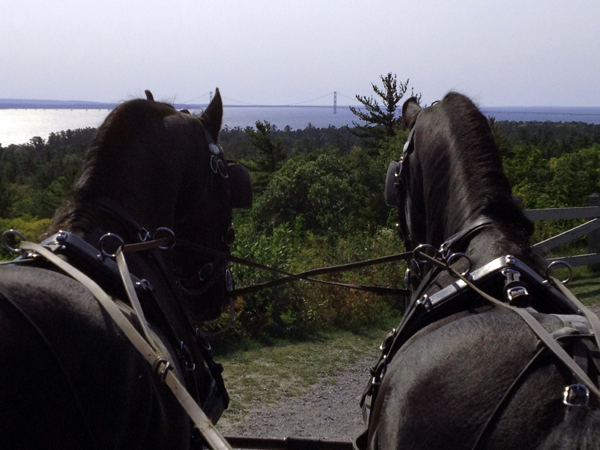 A view of Mackinac Bridge from Fort Holmes.
We ventured on further with our Friesians leading the way to Fort Holmes, the highest spot on the island. There, we took in views of the town below, Fort Mackinac, Mackinac Bridge, Round Island and Round Island Lighthouse, and the Straits of Mackinac. With blue skies and water, the views were awesome.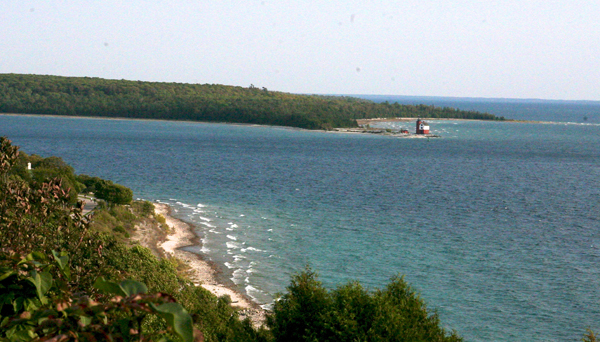 Pretty Round Island Lighthouse in the distance from Fort Holmes.
We also visited Arch Rock, a natural limestone arch that is a major island attraction, and saw another limestone formation called Sugar Loaf from Point Lookout.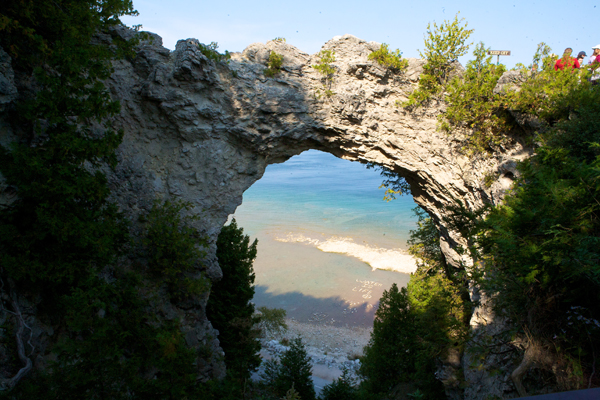 Arch Rock is a popular natural site on the island.
My favorite part of the ride was hearing from Don and his friend Pete about life on the island and horse culture today. It's refreshing to go to a place where you really have to slow down to take it all in and a place where horses still play such an integral role in modern life.

Learn more about The Driving Training Center, where Don and Lisa Eckhardt train all types and sizes of horses, specializing in driven dressage and combined driving.