Louisiana's Best Horse Trails
by Neely Walker & Howard Cormier
Louisiana's best horse trails are in the Kisatchie National Forest, near the 37,500 acre Red Dirt Wildlife Management Preserve. Two of the most impressive trails are Caroline Dorman and the Backbone trials which is also called Longleaf Trail, located northwest of Alexandria. These two trails are a part of an 8,700 acre wilderness area. This a beautiful place to ride with a variety of terrains. This is an amazing place to explore, especially if you are willing to get off the beaten path.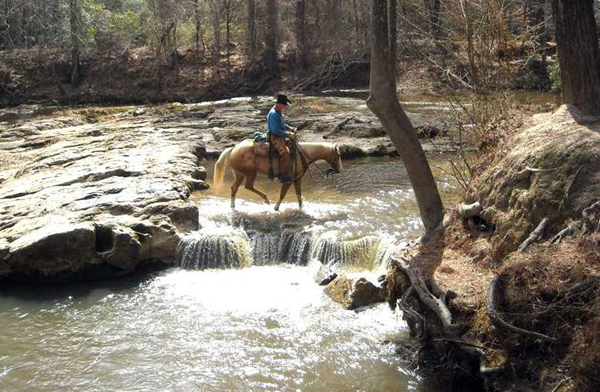 Howard Cormier riding along of the creek crossings found in Kisatchie National Forest.
The nine mile Backbone trail is circular and well-marked. This trail offers a variety of rocky trails, hills, hardwood bottoms, a few creek crossings, and Longleaf pine stands. You can travel through an area affectionately known as "The Little Grand Canyon of Louisiana", which is probably the most rugged area of the state. The Longleaf Vista area along this trail has a developed area where horses are not allowed, however they can be tied just adjacent to the area which offers picnicking, hiking trails, and rocky outcroppings that are uncharacteristic of Louisiana.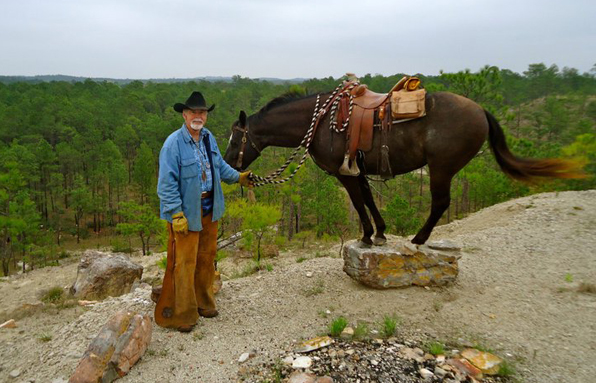 Uncharacteristic rocky outcroppings in Louisiana.
Caroline Dorman Trail is a 12 mile marked trail that travels through wooded areas ending at the Kisatchie Bayou. You can usually find a nice sandy beach to picnic or take a swim. Unfortunately, this is not a looped trail, and riders must return on the same trail they entered on.
The Red Dirt Wildlife Management Preserve offers two horse camps that provide access to trails throughout the preserve. Cane Camp is a beautiful shaded camp site that has flush toilets, running water and horse pickets. This camp has easy access to park trailers as well as picnic tables and fire rings. Oak Camp is a shaded area with multiple parking spots. It has vaulted toilets and horse pickets however this camp lacks running water.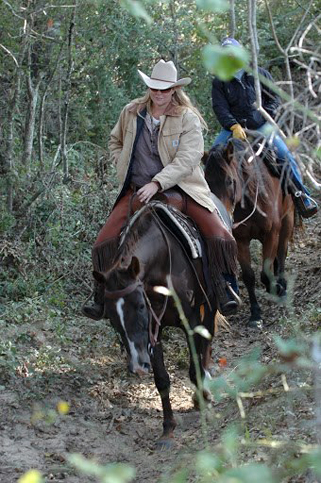 California native, Neely Walker enjoying the scenery of Louisiana's trails.
To reach these trails or camps travel north of Alexandria on I-49, take the Cloutiereville Exit (119), and go south five miles on La 119. That will bring you to the Longleaf Trail rd (830). This scenic highway winds 17 miles through the Kisatchie National Forest and provides access to the Red Dirt Wildlife Management Preserve. Cane Camp is approximately 12 miles along the Longleaf Vista Hwy and Oak camp is approximately 8 miles.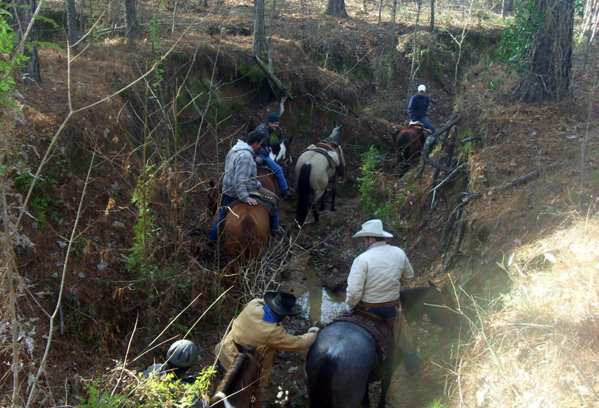 Riders will experience a variety of terrains in Kisatchie, like this ravine.
Another Louisiana favorite is Ahtus Melder Camp in the Calcasieu Ranger District south of Alexandria off of Hwy 112, approximately 4 miles west of US 165. This area has a variety of sandy forest trails for beginners and thrill seekers. There are fewer elevation changes than noted in the Red Dirt Wildlife Management Preserve, but ample trails with hills to challenge any level rider and horse. The Ahtus Melder Camp offers access to a maze of trails that lead into and out of main camp. This camp is primitive and offers no amenities; riders and trailers must be self-contained.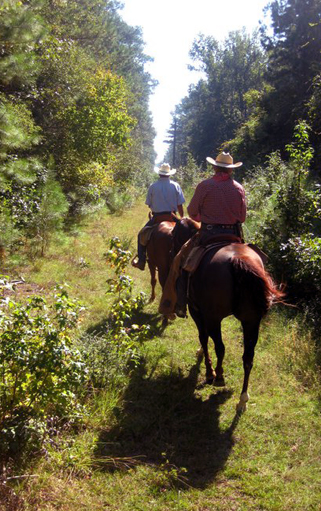 Riders exploring trails based out of Ahtus Melder Camp.
For more information and maps about these trails please visit the Kisatchie National Forest website or contact the Kisatchie Ranger District at 318-472-1840

About the authors: Neely Walker is the Equine Extension Specialist for the LSU AgCenter and Secretary for the Louisiana Equine Council. She grew up in the Mojave Desert of Southern California and enjoys the contrast of scenery found along the Louisiana Trails.
Howard Cormier is the Southwest Regional Equine Extension Agent for the LSU AgCenter and advisor for the Louisiana Equine Council. Howard has spent a lifetime enjoying the trails that Kisatchie National Forest has to offer and regularly shares his love of this area with his family and friends.