Living Life Through the Ears in Windsor, UK
Guest contributor and photographer Claire Harker writes about her favorite places to go horseback riding in Windsor, UK.
Never has the old adage, 'the world is best viewed through the ears of a horse,' been truer than when you happen to live in one of the most beautiful royal landscapes in the UK. "The Ears", a retired Military Horse, and I, spend our spare time exploring the park and sharing photographs of our adventures in the place that we call home. Here are some of our favorites.
Windsor Great Park
In the shadow of Windsor Castle, which has been on this site since the 11th Century, lies 5,000 acres of equestrian heaven. Not only are there miles upon miles of sand tracks specifically designed for horses, but riders have free rein (excuse the pun) to explore. Riding through open parkland, beautiful ancient forests, and hobnobbing with statues of past and present kings and queens--Windsor Great Park has it all. Here's why: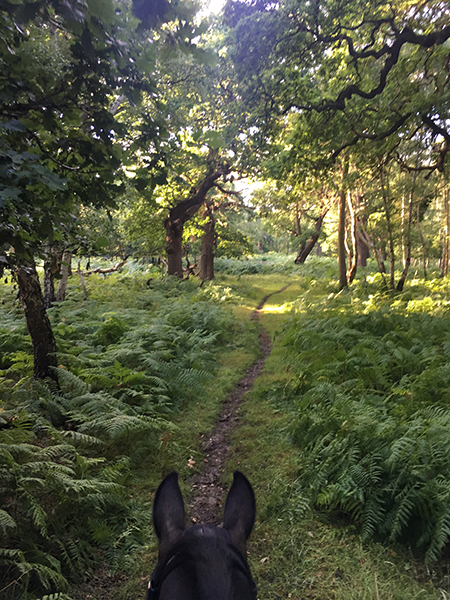 Riding through Fairy Glen in Windsor Great Park with Rock. Photo by Claire Harker
Living History
You can't get away from the history that surrounds you in the Great Park, and I have to admit, I love it. Where else can you ride beneath beautiful oak trees that are more than 900 years old while on your way to take a look at the incredible King George III statue (dating back to 1829), which commands amazing views across most of Berkshire from the top of Snow Hill? Or canter beneath the rows of trees lining the 3 miles of magnificent Long Walk, dating back to 1680? It's very easy to imagine yourself being in a Jane Austen novel, cantering your noble steed across the park.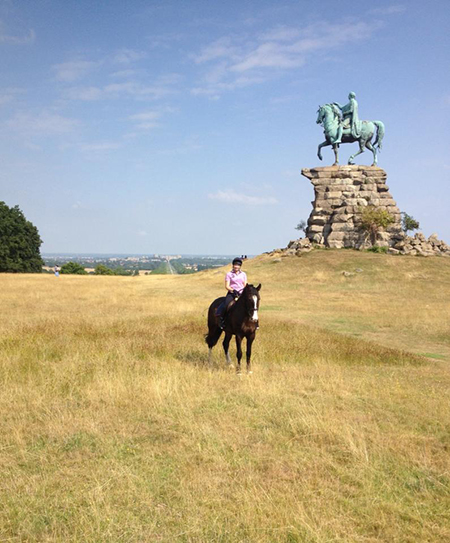 Riding beneath the King George III statue on Snow Hill at Windsor Great Park. Photo by Claire Harker.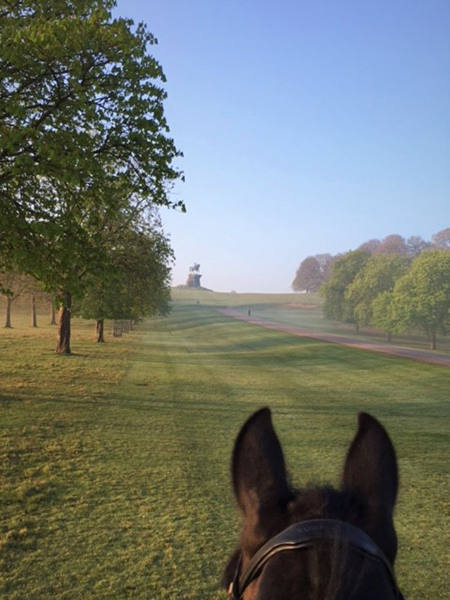 Gorgeous misty morning ride at Windsor Great Park. Photo by Claire Harker.
The Deer Park
As you might expect, the Deer Park contains deer. Real, live, red deer. The Great Park used to be part of a much larger hunting ground, so deer have been kept here for centuries. After a short hiatus between 1940 and 1979, the current Chief Ranger (the Duke of Edinburgh) returned the deer to the park. There are around 500 deer roaming the park and they are almost completely unworried by horses and their riders. Often, if you pass them early in the morning, they don't even bother getting to their feet unless they have to move out of your way. There is something so magical about being amongst these beasts at dawn or dusk.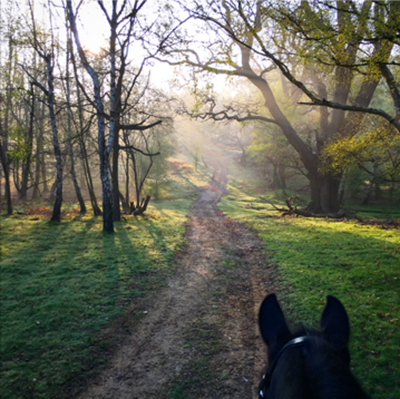 Fairytale trail ride through Cinderella Fields in Windsor Great Park. Photo by Claire Harker.
Equestrian Sports in the Park
Windsor Great Park is home to Guards Polo Club, and throughout the summer, you can often catch a game whilst riding by. If polo isn't your thing though, then how about British Eventing's Smiths Lawn Horse Trials, or one of British Driving Society's many events held here throughout the year? Not to mention the sponsored rides held here, where novice and intermediate cross country jumps are part of a 9-mile course. We even have our own riding club (Windsor Park Equestrian Club), which holds dressage competitions at Smiths Lawn throughout the summer. Whatever your equestrian interests are, Windsor Great Park is the kind of place that you never need to leave.
My Favorite Ride in the Park
My favorite rides all begin at dawn--before the tourists wake up and whilst the deer are quietly grazing in the misty sunlight. The Ears and I ride out towards the Long Walk, and canter beneath the trees and up towards the statue on Snow Hill to watch the sunrise. Sitting quietly as The Ears munches grass and taking in the views of the castle with most of Berkshire stretched out beneath you is still so special to this day--even after all these years! Then we head down into the forest on the way home, where ancient oaks mingle with silver birches and chestnut trees, and a little deer track meanders through the bracken in the magical old woodland. It's so peaceful; we often don't see a single soul. It's as if we have the entire park to ourselves. In the busy world that we live in today, it really is a sanctuary. Just me, my best friend, and the Queen's back garden…..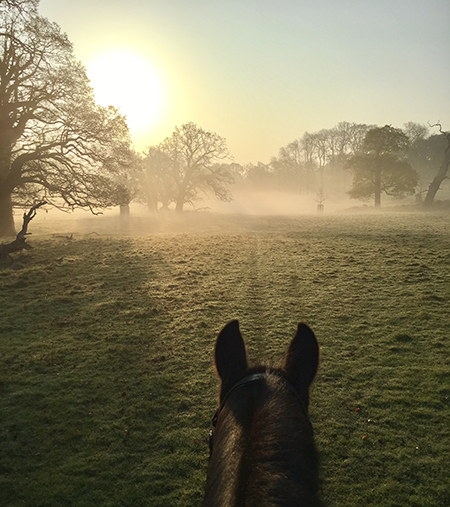 A sunrise hack through the beautiful scenery of Windsor Great Park. Photo by Claire Harker.
An important note for visitors: You must have a permit to ride in the park privately. If you are visiting as a tourist and would like to book an escorted ride, contact Tally Ho Stables or Wayside Stables.
How I started photographing horses
6 Years ago I bought Rock (AKA The Ears), specifically to become a part of The Light Cavalry HAC. As a civilian supporting rider, I was offered a stable on their yard on the understanding that the horse I bought had to be bay or black, and also had to be suitable for use in parades and events with the Light Cavalry. After a nationwide search for a horse that was laid back enough to cope with life as a military horse, but also with enough get-up and go to keep me occupied, I found Rock.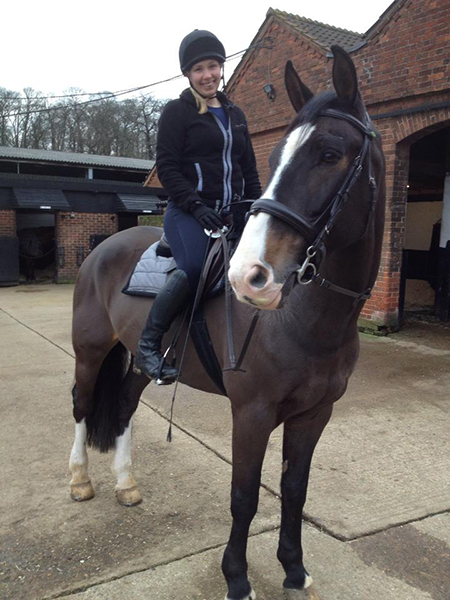 The author, Claire Harker, and her loyal companion, Rock (aka 'The Ears'). Photo courtesy of Claire Harker.
We spent 4 years with the Light Cavalry HAC and during that time he was regularly on parade as an officer's horse. He was so handsome in his uniform! We managed to get involved in all sorts of military events together that I would never have had the chance to do otherwise. We even went away to events together, tent pegging, and riding in shows at the British Military Tournament. It was so much fun!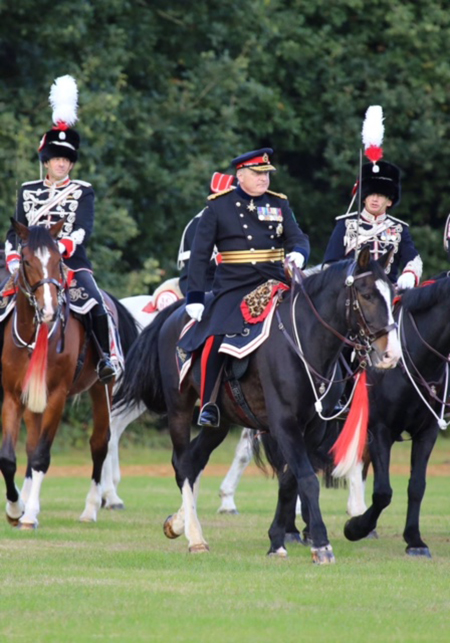 Rock all dressed up in his cavalry uniform. Photo by Claire Harker.
Sadly, when Rock was diagnosed with a degenerative joint disease in his hocks, I had to gradually decrease his workload. 2 years ago he was semi-retired. Now he is unable to cope with being schooled, so we spend all of our time hacking. As much as I dearly love the park, becoming a happy hacker did not come naturally to me, so we needed a project!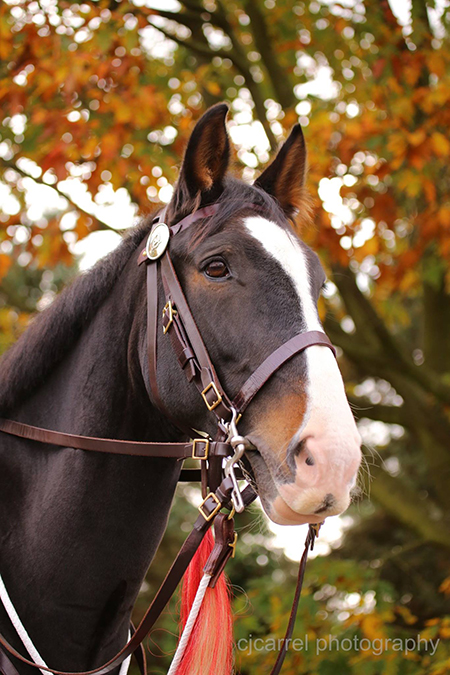 Faithful Rock. Such a handsome boy! Photo courtesy of Claire Harker/CJ Carrel Photography.
A year ago, I started an Instagram page @life_through_the _ears. A place to put all of my beautiful photos, taken through Rock's ears. He was soon to become 'The Ears' and is now Insta-famous for his gorgeous, fuzzy ears, which frame each of my photos. I'm no longer able to take normal landscape photos…they just feel so empty!
About the Author: Claire Harker is a photographer who has always believed that life is always better when viewed through the ears of a horse. Check out her adventures (and her trusty assistant, 'The Ears') on Instagram.