Lexington, Michigan's Old Fashioned Christmas Horse Parade
Greet the holiday season with costumed horses and festive spirit at the Old Fashioned Christmas Horse Parade in Lexington, Michigan.
By Karen Braschayko
Jingle bells welcomed me once again as I watched riders and their helpers prepare for the 2016 Lexington Old Fashioned Christmas Horse Parade. Though Lexington is but a small town situated on Michigan's eastern Thumb coast, once a year hundreds of horses and spectators gather from all over the region to kick off the holiday season in equine style.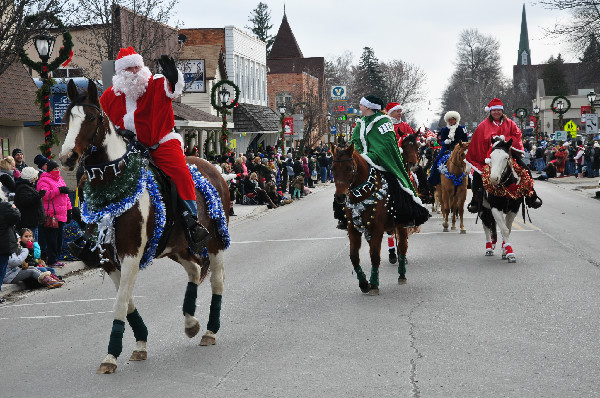 Jolly Santa rode a pinto this year, with Mrs. Claus and helpers right behind.
The sixth annual event gathered scores of miniature horses, mules, donkeys, draft horses and light breeds alike decked out in their holiday finest. Amongst the charming downtown stores and blue Lake Huron backdrop, this new tradition celebrates the caring relationship between these horses and their people all year long. It also reminds us of the horses who did the work in developing the surrounding Thumb farmland and transporting residents in the equine mode relied on for most of history.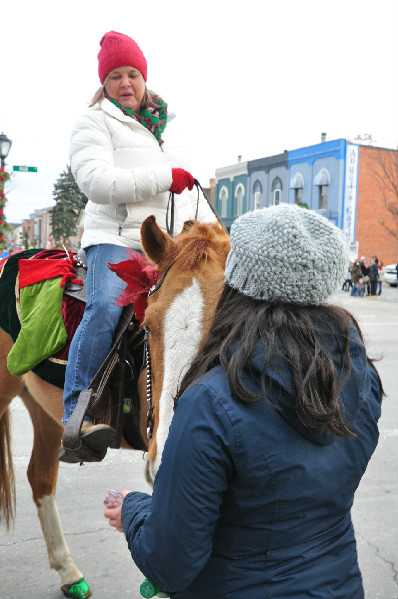 A horse picked out a spectator and walked right over for some petting. "That was all him!" his rider laughed.
I enjoyed browsing the local shops featuring Christmas sales and unique gifts made by local artisans. Shop windows on the main streets were festively and uniquely decorated, some with equine themes. The lampposts had freshly-cut garlands, crafted with care from neighborhood trees.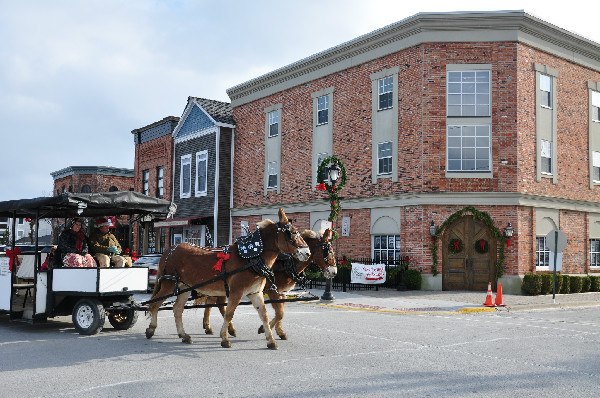 Early arrivals rode around Lexington in a wagon headed by mules who later tailed the parade.
Mules gave spectators wagon rides around town as friends and families surrounded trailers, grooming and decorating their horses. Having spent months preparing costumes and training their mounts for the parade experience, the reward of their work was bringing holiday cheer and smiles to the crowds.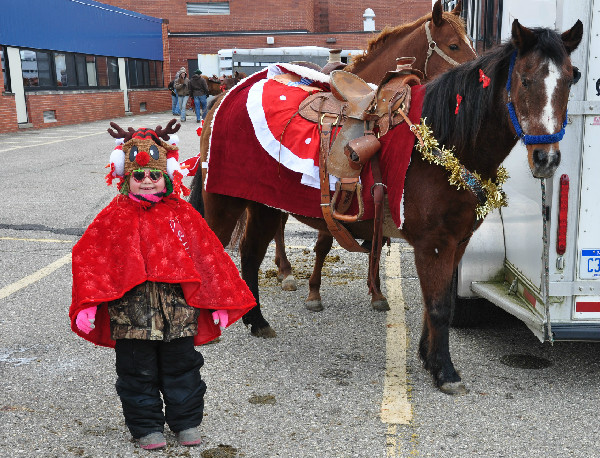 Riders spent hours decorating themselves and their mounts in holiday splendor, including this young Rudolph.
A well-rounded representation of the equine community, participants rode past the crowds wishing "Merry Christmas." A mounted sheriff unit, equestrian teams, horse rescues, performance barns, boarding stables, ranches and charities highlighted their organizations with bold signs. Parade proceeds go to the Michigan Hay Bank, helping horses in need have a warm winter.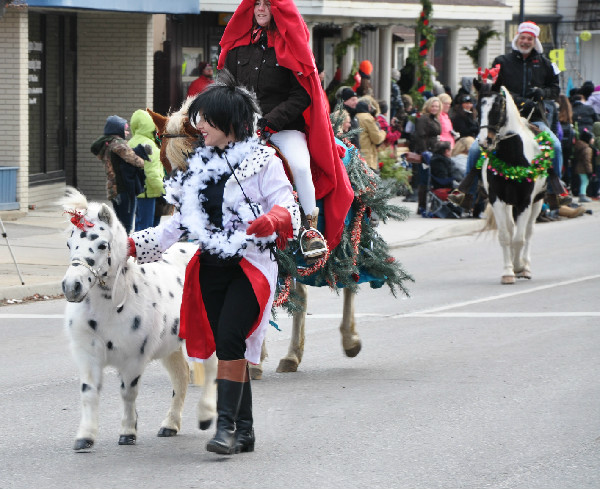 Miniature horses are beloved part of the Christmas Horse Parade.
Students sold treats as school fundraisers, and volunteers handed out candy canes to the crowd. Excited children rode with their parents on the lead, while others waved and shouted compliments from the sidewalks. Christmas music came from carriages as they rolled by. All manner of costumes, from Christmas pajamas to historic reproductions to superheroes and sparkles, moved down the streets with joy.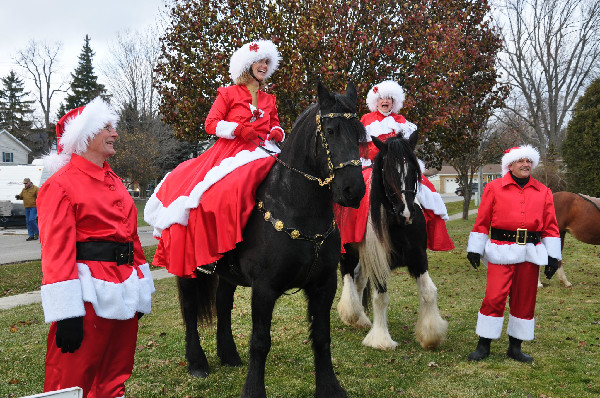 Don Bonem, Sandy Bonem on Trienke, Nan Spadacene on Latcho, and Rick Heineman made a brilliant "White Christmas" quartet in handmade costumes.
I always look for Sandy Bonem and Nan Spadacene, parade regulars and crowd favorites. With Sandy on a regal black Friesian and Nan on a flashy Gypsy Vanner named Earl of Latcho, they make an impressive pair.
Once more the crowd was not disappointed. They stood out in brilliant red satin against the gray winter sky, identical to the scarlet dresses with furry white trim from the 1954 movie "White Christmas."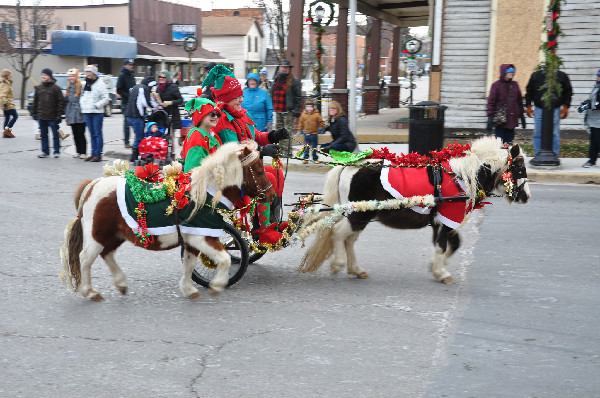 A cart of miniature horses and elves tailed the parade, trotting and jingling to keep the pace.
"This was all the hard work of Sandy," Nan said. She explained that Sandy researched the costumes, and when she found there were no patterns available she did not let that stop her. She sewed custom costumes for the riders and the accompanying Santas.
Nan and Sandy tested out their costumes a few weeks ago when the State Theatre of Bay City, Michigan, showed "White Christmas." They couldn't miss the chance to watch the film in full matching regalia, Nan said, and their appearance was a hit.
Each year Sandy Bonem creates a new costume for herself and her Friesian mare Trienke. You may be familiar with Trienke's famous daughter, Mariska the "Houdini Horse." Mariska is a master escape artist, and a video of her breaking out of her stall and freeing all of her barn friends too was a worldwide viral sensation in 2013.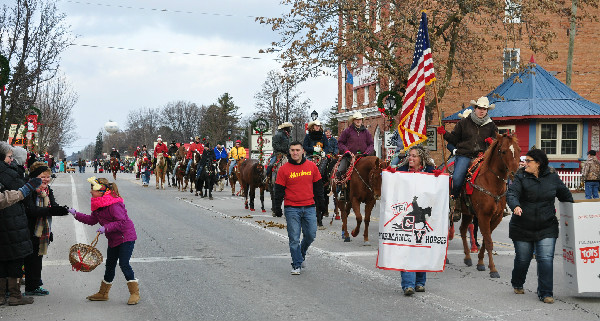 Joyful parade walkers handed out candy to those watching.
Soon after Nan and Sandy passed by, the parade ended the route. The cleanup crew also harkened back to olden days when horse manure lined the streets. It was quickly gone, and cars possessed the town again.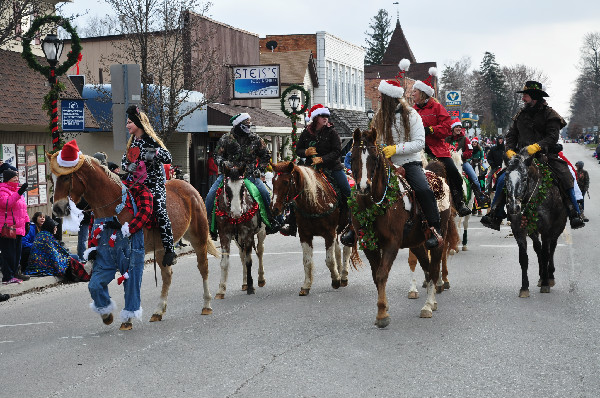 A very patient horse wearing overalls drew laughter from the crowd.
We all knew that the bitter wind was blowing in a major snowstorm that afternoon, but the experience had been worth the chill. All ages of spectators, all styles of riders and drivers, and all types of equines had combined to warmly welcome the holiday season.
Learn more about Lexington, Michigan, and the Old Fashioned Christmas Horse Parade at lexingtonmichigan.org or lexingtonhorseparade.weebly.com.
Karen Braschayko is a freelance writer and horse lover who lives in Michigan.