The Story of Lester The Rescue Horse
Imagine you are visiting somewhere on business and you find something unexpected. This story is about a horse that was abandoned, plagued by illness and had an unknown history. Despite all the negatives surrounding this horse, he is brought home and rehabilited by a loving family and friends. Alicia Callanan Mandigo shares her story about "Lester, the rescue horse."
With so many unwanted and neglected horses around, there are several things to consider before you take on the responsibility of adoption. This is a story filled with doubt, uncertaintly and ultimately love. This abandoned horse found a family who opened their hearts, pushed through the hard times and kept their focus on making him feel alive again. Lester at last found a safe place in the world.
by Raina Paucar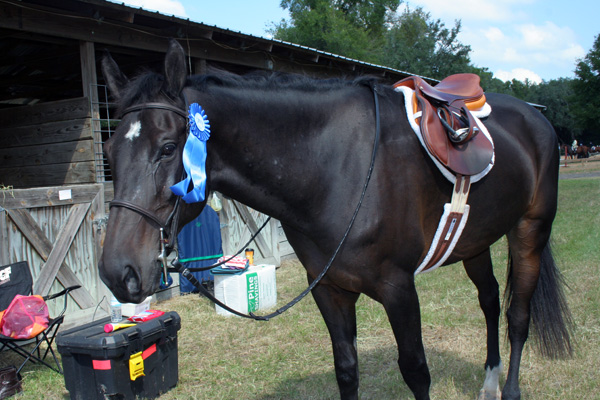 "Lester, True Milelage Unknown"
Raina Paucar for Equitrekking: What is your background with horses?
Alicia Callanan Mandigo: I began riding when I was roughly 9 years old. I took lessons at a local hunter/jumper barn and did lots of trail riding with friends. I rode through college, and was able to participate in the University of Florida's intercollegiate team. However, upon graduating, I found my career as a TV reporter too intensive to continue riding. Years later my daughter, who was six at the time, came across one of my old ribbons and asked if she could ride horses too. I enrolled her in lessons and then returned to riding so we could ride together. That was five years ago. Heather, our partner in this, is an accomplished saddle seat rider who had owned several horses in younger years.
Equitrekking: How did you find out about Lester?
Alicia Callanan Mandigo: Lester was an accident. My friend Heather and I were visiting Lake County, Florida's Animal Control with someone who was there on other business. I had no plans for horse ownership, but, I spotted Lester in a corral, a complete wreck of a horse, and I kept thinking, "there's a real horse under there somewhere." He'd been found wandering the side of the road, so Animal Control had to hold him for 60 days. We returned repeatedly to check on him. Whenever anyone saw me visiting him, they advised me that I was out of my mind and that he'd be nothing but trouble.
Equitrekking: What condition was he in when you found him?
Alicia Callanan Mandigo: Lester, quite simply, looked wretched. His feet were frighteningly overgrown, his hide was scarred by what looked like rain rot, and he was 350-400 pounds underweight. In spite of that, his eye was bright. He was curious.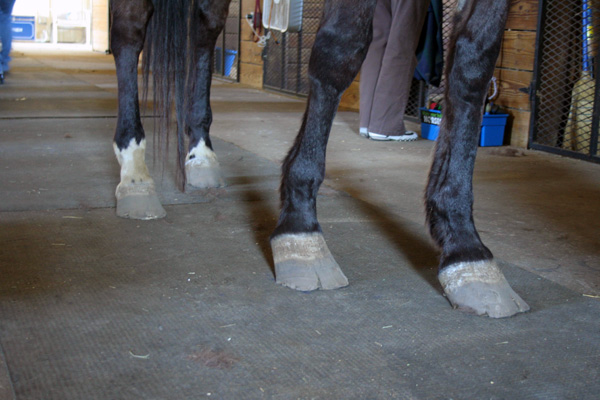 Lester's hooves on his first day of adoption
Equitrekking: What did you discover about Lester's background?
Alicia Callanan Mandigo: We've tried very hard to learn something about his background. He has no tattoes, brands, or identifying marks. Roughly a year after we adopted him, we heard of a breeder in the area who went broke and her starving horses had pushed down the fence to get free. Lester bares striking resemblance to one of the Trakehner stallions she used, but we've not yet pursued a DNA test.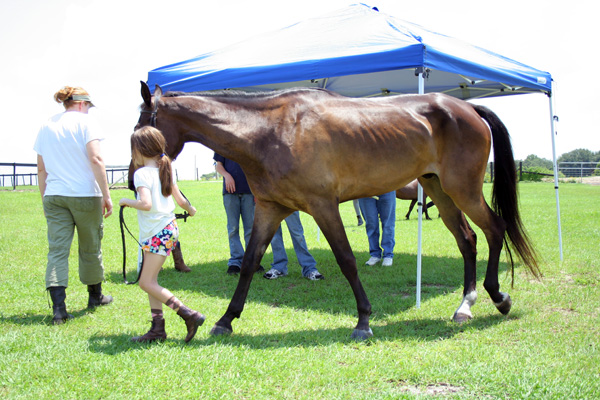 Lester in the beginning
Equitrekking: What was the deciding factor in your adopting Lester?
Alicia Callanan Mandigo: I will never be able to adequately explain why I thought this broken down horse would amount to anything, or why I thought I was in a position to help him. Two intangibles drove me to make sure we brought him home when he finally went up for auction. One was the look in his eye. The other was the fact that he'd been found wandering the side of the road and nobody came to claim him.
Ironically, as a young reporter, I'd been sent to cover a starving horse story. As I waited for my interview, I spotted a really sorry looking dog and was told he had been found wandering the side of the road. I brought that dog home and he was the BEST DOG THAT EVER LIVED EVER. So those words–– We found him wandering down the side of the road––really resounded in my head.

By the time Lester went up for auction, Heather and her husband, my husband and daughter and I were committed to rescuing him. The five of us had been volunteering at a local rescue, but that rescue was bringing in a lot of horses from out of state that it said were slated for the kill pen, and here was a horse right in our backyard that needed rescuing. It made sense that if we were going to rescue horses, we should rescue local horses first, and of the five horses that were at Animal Control at that time, Lester was the one that grabbed us.
Equitrekking: What had to be done to restore Lester's health?
Alicia Callanan Mandigo: The first two weeks with Lester were frightening. We couldn't keep him on his feet and there was an evening when I found him laid out flat on his side with his eyes rolled back in his head. I thought we'd lost him. He was put on antibiotics and red cell. We had to hand feed him for a couple of weeks as our starving horse seemed initially to have no appetite.
Once he was finally eating on his own, we fed him three times a day to ease stomach distress. He was treated repeatedly for ulcers, but eventually we put him on a diet of straight oats and alfalfa and that treated his stomach better. He had severe white line, and we spent months treating his foot twice a day, along with liming his stall and paddock.
We spent the first six months doing nothing but ground work, and once we started working him under saddle, we spent a few weeks working only at the walk before moving to trot work. He was initially extremely uncoordinated, leading one vet to declare him an EPM case, but that has proven to be a misdiagnosis. Very slow, patient, steady work at just the walk and the trot enabled him to gain enough strength to start moving like a normal horse. His trot work is now magnificent.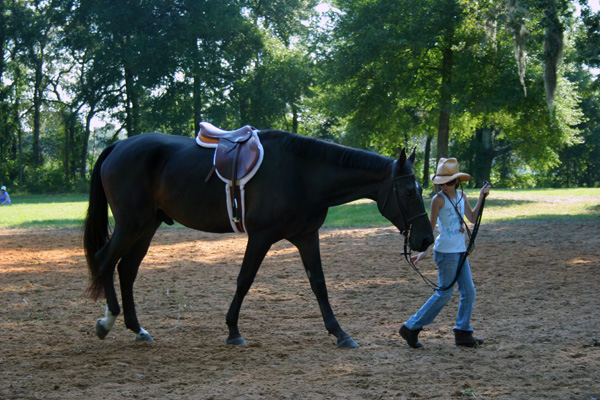 Lester as he is now, being handled by Caelan.
Equitrekking: Do you have any regrets and what can you share with someone who is considering adopting a horse?
Alicia Callanan Mandigo: I truly regret that I didn't have more knowledge or more resources going into this. Lester has an absolute heart of gold and tries very hard and I feel that my lack of knowledge has shortchanged him.
Quite frankly, I think only the very experienced should rescue horses. We got dumb lucky with Lester and there are no two ways about it. A rescue horse is ten times the work of a normal horse and you have to wait a long time for the reward if it comes at all. In the beginning, when Lester was at his worst, there were four of us adults taking care of him, and it was still exhausting. Plus, even with the knowledge and experience Heather and I had, there was still a lot of confusion and guess work. A rescue horse brings in so many unknowns. It's a lot different from caring for a healthy horse with a known background.
It was my hope that I would be able to rehab Lester into a horse that anybody would want. I thought that if I could do that, he'd never have to worry about being homeless and hungry again. I don't know if I've succeeded in doing that for him and that scares me.
Equitrekking: What is Lester up to now?
Alicia Callanan Mandigo: When we first rescued Lester, our thought was to rehabilitate and rehome him. However, Lester really got the better of our hearts, so Brian and Caelan and I decided to take on ownership. He is quiet enough and level headed enough to trust with my daughter Caelan and my husband Brian, who had no riding experience prior to Lester. Currently we are working on hunt seat and dressage. We were doing some work over fences, but because he has been so unbalanced at the canter, we stopped jumping and devoted ourselves to flat work.
He still struggles with hind end weakness, so we do lots of transitions, poles and such. He likes free jumping, so we try to do that on a somewhat regular basis. We only do arena work. He doesn't seem to like trails too much, and gets particularly anxious when near roads. It seemed so stressful for him that I finally stopped taking him out on trails.
Equitrekking: What type of training has Lester had since being adopted?
Alicia Callanan Mandigo: Unfortunately for Lester, he has had to put up with me as his trainer. However, the two of us have been taking both hunt seat and dressage lessons from reputable area trainers and they have all contributed to his progress.
Considering adopting your own horse? Here are some great rescue organizations with horses looking for their new home:
---
About the Author: Raina Paucar is an adventure loving equestrian and female jockey. She likes to ride and compete in many disciplines, explore new places, read great books, gadget hoard, play games, take pictures and write. She currently exercises racehorses and works with her own off-the-track-Thoroughbred (OTTB). Her career in media focuses on equestrian lifestyle. You can add her to your Google+ circles, subscribe on Facebook and follow on Twitter.