Leonardo's Horse - An Amazing Horse Sculpture in Grand Rapids
Leonardo da Vinci's vision on display in Grand Rapids, Michigan
by Karen Braschayko
"How'd you like to ride a horse THAT big?" said a visitor as I walked up. Many people come to marvel at the 24-foot tall sculpture The American Horse. This immense bronze stallion, created by American artist Nina Akamu, was the first piece that drew me, and likely many others, into Frederik Meijer Gardens & Sculpture Park in Grand Rapids, Michigan. Standing on only two hooves, this massive sculpture is an exquisite reminder of equine power and elegance, from the lift of the enormous leg to the haughtiness of the flaring nostrils.
Once you start to learn about the history of this magnificent sculpture, it becomes even more interesting. A tale of more than 500 years, of creativity, war, artistic vision, homage and philanthropy, The American Horse is "one of the great legends in the history of art," as the plaque nearby declares. The dynamic energy of the equine that we see today was an idea conceived more than five centuries ago and would have been lost without each member on the journey.
"It's really a story of four characters," Chief Curator Joseph Becherer told me. "Nina's work is an original, and The American Horse was inspired by Leonardo, but it's her ability as an animal sculptor that we are enjoying."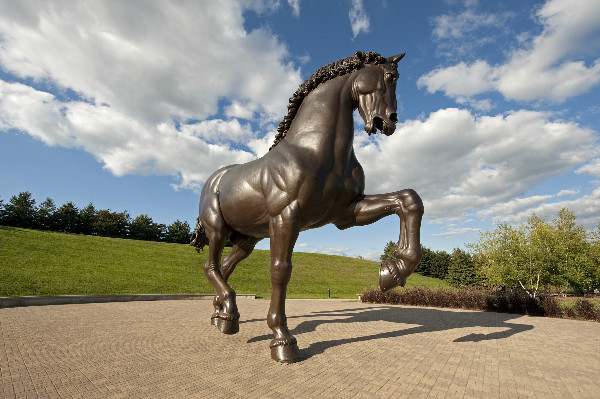 The massive sculpture The American Horse stands imposingly in the plaza.
Nina Akamu. The American Horse, 1999. Bronze, 288 x 91 x 339 inches. Frederik Meijer Gardens & Sculpture Park, Grand Rapids, Michigan. Gift of Fred and Lena Meijer. Photo by William J. Hebert.
Leonardo's Horse
The story began in 1482 with a 30-year-old Leonardo da Vinci, the artist, scientist, engineer and genius of the Italian Renaissance. His major patron was the Duke of Milan, Ludovico il Moro, who commissioned Leonardo to build the largest bronze horse in the world, Il Cavallo.
The duke had many prized horses, status symbols which were "like a Mercedes or Cadillac of the day," said Becherer, and a strong military base. The monument was to be a symbol of his power, but as an equine sculpture, not a war sculpture. Bronze is an impermeable metal which symbolizes immortality and unconquerable power, and horses are symbols of abundance in rural life.
Leonardo envisioned a colossal horse taller than a two-story building, one that was "visible from afar, gleaming in the sun." He wanted it to be utterly imposing. He began sketching horses and studying equine anatomy, and the horse Leonardo drew was fit to bear an equestrian of high rank such as the duke. He made intricate plans for a bronze casting.
Leonardo worked on Il Cavallo for 17 years. He completed a full-scale model in clay by 1493, but in 1499 French troops invaded Milan and destroyed the model by using it for target practice. Leonardo had gathered many tons of metal to cast Il Cavallo, but instead of using it to create art, the duke used it to make weapons for fighting the French.
Leonardo returned to Florence, by some accounts heartbroken at the loss of the project. Other than in romantic tales, Becherer said, which can't be substantiated, there's no evidence that Leonardo ever took up the project again.

Leonardo was plagued by the same thing that, "plagues many great artists dependent on patrons," said Becherer. He had so many projects in progress that his mind went non-stop and he found it difficult to commit. "A lot of the power was in the idea," Becherer said.
Charles Dent Has Passion
In 1977, retired commercial airline pilot and arts patron Charles C. Dent of Allentown, Pennsylvania, saw an article in National Geographic about "The Horse That Never Was." He valued the work of historical figures, and the story of Leonardo's unfinished horse ignited his imagination.
An art collector, Dent was "something of a Romantic, and he wanted to bring back something that was lost," Becherer said.
Leonardo's horse became Dent's passion, and he dedicated the rest of his days to bringing Il Cavallo to life. For more than 15 years, Dent raised funds, consulted with scholars and worked on the project with his own hands. He began making a clay model in 1977. Dent was financially successful but not an artist, Becherer said, and when his model was enlarged in 1996, it showed major structural problems.
Charlie Dent was a charismatic leader, and he formed Leonardo da Vinci's Horse, Inc. (LDVHI) with his friends and fellow patrons of the arts. After Dent died of Lou Gehrig's disease in 1994, the organization continued his mission. Once The American Horse was complete, LDVHI merged with Discovery Center of Science and Technology to create the Da Vinci Science Center in Allentown, Pennsylvania. The American Horse is used there as a model of science and the arts, an example of how curiosity, creativity, imagination and the arts connect.
Nina Akamu Creates The American Horse
"You can't make artwork by committee—it takes one artist's hand," Becherer said, and so Dent's foundation began searching for an artist to take over the project. American sculptor Nina Akamu, widely considered one of the most talented animal sculptors of her time, was their choice. Akamu was asked to come in and "fix the horse," but she soon determined that she needed to begin work from scratch, and started in 1997.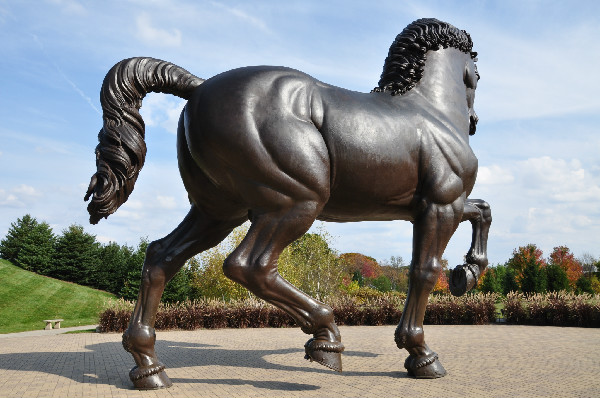 The horse sculpture stands on only two hooves.
Akamu was the perfect sculptor for the project on two levels, Becherer explained. "She had not only artistic knowledge but a humanely-accurate understanding of what could happen."
First, Akamu's intimate knowledge of horses came from many years of riding. "She was with them as creatures, so she had a firsthand knowledge and firsthand appreciation," Becherer said. Akamu began riding as a child. She knew the jargon, Becherer told me, the elements and the breeds. She knew what a war horse from the 15th century would look like, verses a work horse or a dress horse, or horses from other parts of Europe.
Second, Akamu also understands the history of equine art and equine war art. She grasps the horse as a major element in Western art going way back.
"She knew what was real, and she knew what was made up or imagined," said Becherer. "Nina is a classically trained sculptor. She learned drawing, anatomy and physiology. She knows the anatomy of living creatures from the inside out."
Akamu did extensive research. She studied Leonardo's plans as well as his other projects from the Il Cavallo period. The stallion's final positioning was not found in the sketches. Akamu could tell from Leonardo's drawings that he modeled his sculpture on a Spanish horse, an Iberian type such as the Andalusian, which were prized in Leonardo's time and raised at the duke's stables. The American Horse has a neck that is two vertebrae longer than an actual equine, but Akamu found it necessary to take this artistic license and make the sculpture resemble Leonardo's sketches.
It took three years and 60 artisans to complete the sculpture at Tallix Fine Art Foundry in Beacon, New York. The American Horse contains an aluminum frame designed to support the 13 tons of bronze, and the sculpture is meant to withstand earthquakes, endure high winds and last for centuries.
Frederik Meijer Gardens & Sculpture Park
Retailer and philanthropist Frederik Meijer learned of Leonardo's horse and the foundation's efforts in 1996. Meijer was attracted to cultural projects that inspire the imagination, and he liked the striking magnitude of the project. His financial support allowed Nina Akamu to create the sculpture and for Leonardo's vision to finally be realized.
"Without Mr. Meijer, it would have been a lost level of creativity going way back—we'd never have seen it today," said Becherer.
The American Horse is a central highlight of Frederik Meijer Gardens & Sculpture Park in Grand Rapids, Michigan. Meijer donated his sculpture collection to create the 30-acre park in 1995, and it is the most popular tourist destination in West Michigan.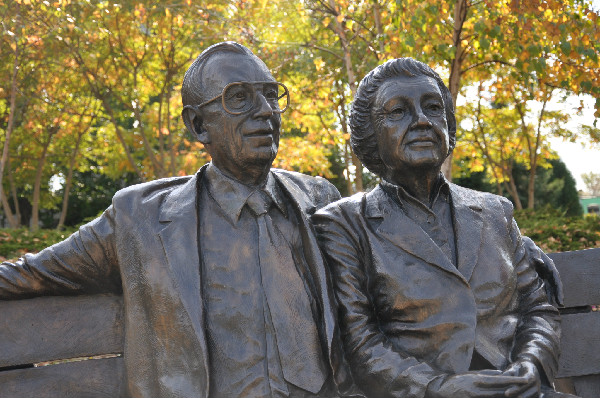 Fred and Lena Meijer gaze across the plaza at The American Horse.
Joseph Kinkel. Fred and Lena Meijer, 2004. Bronze, 48 x 90 x 35 inches. Frederik Meijer Gardens & Sculpture Park, Grand Rapids, Michigan. Gift of The Meijer Foundation.
"Monument to Creativity"
Becherer summed up the journey of five centuries and four characters who created this ambitious work: Leonardo da Vinci was one of the greatest creative forces who has ever lived. Charles Dent was inspired by his creativity. Nina Akamu is a fine artist in her own right. Frederik Meijer was not an artist, but he realized the creative genius of all who came before him. Each individual contributed vitally to the work that stands today.
"We really see it as a monument to creativity, much as the Statue of Liberty is a monument to freedom, or as the new MLK statue is a monument to Dr. Martin Luther King, Jr.'s work," Becherer said.
Becherer thinks there are three aspects of this sculpture that affect people. First, the pure scale of The American Horse is striking. Standing under the belly of an enormous bronze creature and noticing the detail of the enlarged features inspires awe and reverence.

Looking up at one huge hoof raised in the air.
Second, the work is realistic and recognizable. Anyone can see Leonardo's straightforward vision of an imposing, colossal horse, and Akamu's fulfillment of that dream. "The American Horse is such a bold, strong statement," Becherer said.
The third aspect of The American Horse that captures interest is the extraordinary story behind it, the journey of four people who created the sculpture through hard work and perseverance. Two artists, one person who recognized creativity and another who saw the value of that creative genius to society came together to produce this massive monument to creativity.
A Gift to Others
The American Horse, Leonardo's horse as realized by Nina Akamu, stands with impulsive power in four places today. Besides Grand Rapids, Michigan, one is situated in Pennsylvania and two reside in Italy.
An identical 24-foot sculpture was created as a gift to Milan. It was dedicated on September 10, 1999, 500 years precisely to the date French invaders destroyed Leonardo's original clay model. The sculpture in Grand Rapids was dedicated one month later, and both honored the achievement of centuries of creativity with gala celebrations.
This gift had been part of Charles Dent's dream for the project, to place a colossal horse in Milan as Leonardo da Vinci had intended. He meant it to symbolize America's appreciation for Italy's cultural heritage and as a symbol of goodwill. His sponsors and Frederik Meijer made the gift to the people of Milan possible. An eight-foot sculpture was also placed in Vinci, Italy, Leonardo's hometown, at the Piazza della Libertà.
A 12-foot sculpture stands at the Baum School of Art in Allentown, Pennsylvania, in the Charles C. Dent Sculpture Garden. This marks the site "where Charlie Dent lived and where the rejuvenation of this idea began," Becherer said.
Frederik Meijer Gardens & Sculpture Park has three versions of the sculpture. Besides the 24-foot centerpiece, there is an eight-foot Homage to Leonardo and a 15-inch model meant to be touched, so that visually impaired guests can feel the aspects of the horse. There is also an audio guide created in honor of the of the Milan dedication to help people experience the work of art.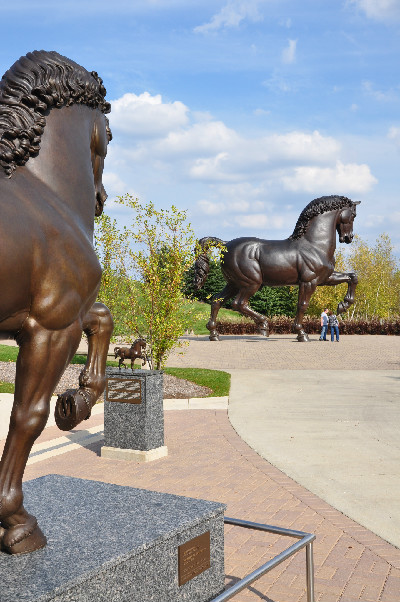 The three versions at Frederik Meijer Gardens & Sculpture Park.
"Although people do marvel at the 24-foot horse, it's the eight-foot scale that is her master model, something she could move around," Becherer said. All work was based on that eight-foot model, which is "beautiful in its own way."

When the 24-foot model was created, many characteristics had to be translated to the larger scale. Akamu needed helpers, and these assistants on scaffolding "became her hands," Becherer said, helping her adjust the turn of the head, the curl of the mane, the lift of the tail. "Some things had to be finessed as they went from one scale to the next."
As I stood by the sculpture, I heard the tram operator telling a story about how the Pennsylvania group creating the model for Milan wanted their piece to be the tallest, as a bragging right, and asked the artisans to shave off a couple inches. Becherer assured me that this was never going to happen. The process was to cast a head, then cast a head, cast a leg, cast a leg, so the casting for both sculptures is identical. Most of the molds for the 24-foot horses were destroyed, though a few were saved for educational purposes. The two colossal horses will be the only ones created.
Before I left Meijer Gardens, I walked back for a final experience of The American Horse. "I want a picture of you guys by that horse!" one man said, gathering his family together.
Children rolled down the steep hill showcasing the lustrous bronze animal. Hearing children play under the sculpture, talking about "the horsey," I looked up in awe from between the massive hooves. Visitors get quiet taking it in, and then the reverence turns to excitement as they realize they are in the presence of such artistic energy. Leonardo's vision lives today.
How you can go: Frederik Meijer Gardens & Sculpture Park
,
located in Grand Rapids, Michigan, is open 362 days a year -
Monday, Wednesday, Thursday, Friday and Saturday 9 am-5 pm,
Tuesday 9 am-9 pm and
Sunday from 11 am-5 pm.
(888) 957-1580
Karen Braschayko is a freelance writer and horse lover who lives in Michigan.