Kentucky's Shaker Village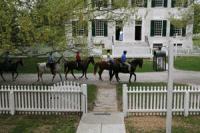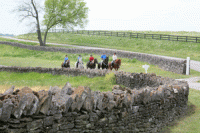 I had heard about the trails at Shaker Village of Pleasant Hill, a restored Shaker community in Kentucky, long before I set out for a ride with Don Pelly, a naturalist, and a group of local riders.
The Shakers were a religious group who lived in a communal society, which peaked during the 1800's. Well known today for their crafts and design, the Shakers believed that God is within us all. They were called "Shakers" because of the fervent manner in which they danced, sang and shouted during prayer.
I rode Big Red, a large Rocky Mountain Horse, owned by a local resident who frequents the trails here. Shaker Village has over 3,000 acres and 33 miles of trails, which wind riders through idyllic landscapes and historic sites. Riding along a historic road from the stables to the village, we passed between two old stone walls built by Irish masons. These walls, set against rolling green hills, reminded me of riding in Ireland.
As we rode, Don described the pioneers, Native Americans, Shakers and Civil War cavalry who passed down this road before us. Down by the old mill site through the Shawnee River, we passed wildflowers, including delicate clusters of purple phlox, and a small waterfall. I spent the night in a restored Shaker house and feasted on crisp herb chicken, fluffy rolls and tangy lemon pie, a Shaker recipe, on a trip back in time in Kentucky.
Learn more about Equitrekking on PBS. Learn more about equestrian vacations.