Kentucky Horse Trails at Shaker Village of Pleasant Hill
Something for Everyone in the Heart of the Bluegrass from Janet Eaton of the Fort Harrod Back Country Horsemen for Equitrekking's 50 State Trail Riding Project.
by Janet Eaton
Shaker Village of Pleasant Hill near Harrodsburg in the central region of Kentucky offers more than 3000 acres of wild area filled with wildlife and beautiful vistas. Shakertown, as the locals refer to it, offers a restored Shaker village complete with period dressed portrayers who offer demonstrations of the skills that the Shakers needed to survive including weaving, broom making and more. There is a wonderful restaurant and meeting rooms as well as overnight rooms where visitors can share the simple gifts reminiscent of these simple people who are no longer with us.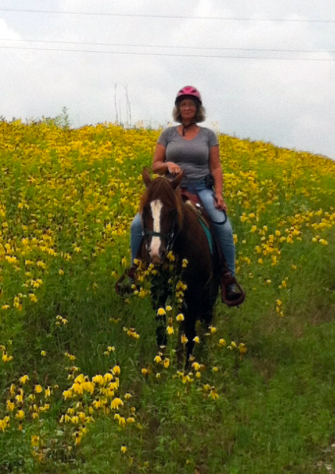 Shaker Village planted their meadows with native wildflowers.
Sandy McCart aboard LeRoi pose for a lovely picture. Photo by Janet Eaton.
But for the horseback rider the treasure is the trails. The nature preserve around the village offers more than 30 miles of trails open to riders. Divided into nine trails that run from short 1-hour rides (West Lot trail) to Shawnee Run a 6-mile trail, Shaker Village offers something for everyone. All the trails connect offering options for longer or shorter rides, as you may desire.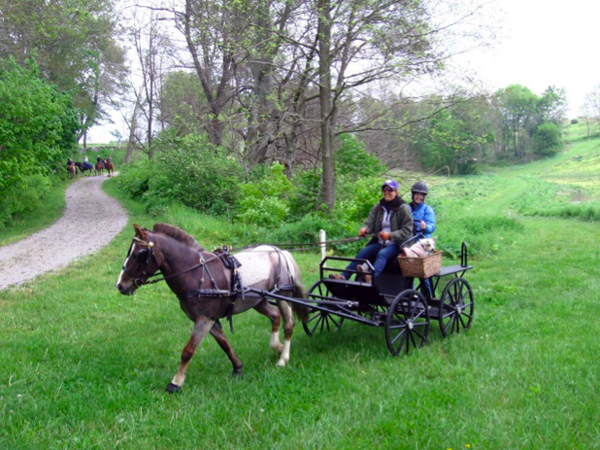 Carriages are welcome on some of the wider trails at Shaker Village. Photo Janet Eaton.
Shawnee Run Trail parallels the Shawnee Creek along much of its route and travels through woods and wildflower meadows. There are several creek crossings as well as open areas for a good canter. Along the trail you pass dramatic rock walls and an old fulling mill site, which is known simply as "the waterfall." Shawnee Run offers some tricky areas that test you and your horse. You will climb down to the creek and along overlook areas and then climb out to enjoy a picnic area with tie lines and a table for a rest. By Kentucky standards, these are not our versions of mountains but you and your horse will be happily tired by the end.

From Shawnee Run, I love to take the Chinn-Poe trail down along a deep gorge that fills with rare wildflowers in the spring. You ride to a deep pool and then return the same way along the gorge and pick up Shawnee Run again or make the cut over to West Lot.

The Quail Hollow Trail can be accessed from the Anderson Trail and leads to a tunnel under US Hwy 68. When you first see the tunnel you wonder if you will ever get your horse through it, but the footing is good and the traffic noise disappears when you get in the tunnel. The tunnel is bright and very wide and tall so your claustrophobic horse will have no trouble with it. You pop out on the other side to enjoy five miles of trails mostly in open areas. Here the wildlife is plentiful.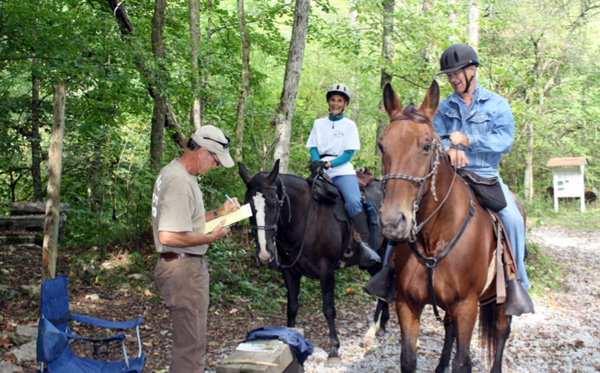 Linda and Al Mueller check in with Mike Eaton at the waterfall during a poker run at Shaker Village.
Photo by Janet Eaton.
The Tanyard Trail passes near the Woodford Hounds kennels. On any day you may see the hounds working and, in the winter, may get to see a full fox hunt. Tanyard is a 6-mile loop in open country and offers sure footing even in the muddiest season. Tanyard winds through the back of the Village in one area.

For you and your horse, the accommodations could not be finer. Shaker Village does not offer camping areas but does have spacious rooms for you and your choice of stalls or four-board plank fenced paddocks for your horse. For day users, the West Lot parking area includes a wash rack, port-a-let and picnic tables. You will need to pay a $10 per day trail fee but once you are on the trails you will see that the fees are used on the trails. The staff is helpful and knowledgeable and work hard to maintain the trails to be safe and fun. You may find a tree down but you never find rutted, washed out trails or anything dangerous for your horse. For more information or reservations visit their website at www.shakervillageky.org.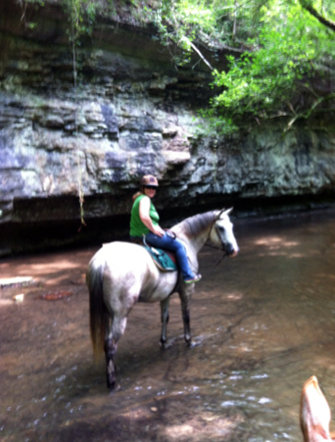 Katie Dehner enjoys one of the Shawnee Run Trail's many water crossings on Lincoln.
Photo by Janet Eaton.
If you stay at Shaker Village and wish to ride elsewhere there are numerous riding venues within a short trailer ride. Green River State Park (camping available), Taylorsville Lake State Park (camping available), Scott County Reservoir Park, Logan-Hubble Park (camping available) and Masterson Station Park (cross country courses, indoor arena and outside rings).

Fort Harrod Back Country Horsemen maintains a Facebook page "Central Kentucky Horse Trails" that helps visitors to the area as well as locals connect to find riding partners and information about local trails. We welcome everyone and have riders who ride gaited horses as well as walk-trot horses. We are glad to help you with a visit to our area. So come on down, over or up to see us and we will make you welcome and show you some of our great country.

About the Author: Janet Eaton is a member of Fort Harrod Back Country Horsemen and is the trail boss for Shaker Village. Retired from government service, she enjoys riding every day she possibly can.