Kentucky- Shaker Village Trail Riding
Saddle up for a spring ride through the pretty trails at Shaker Village of Pleasant Hill in Kentucky.
Shaker Village is certainly one of the most beautiful places to trail ride in Kentucky. Don Pelly, the naturalist at Shaker Village, took me and a group of local ladies, who frequently ride the trails here, on a trail ride to some beautiful and historic sites and on a special ride through the village.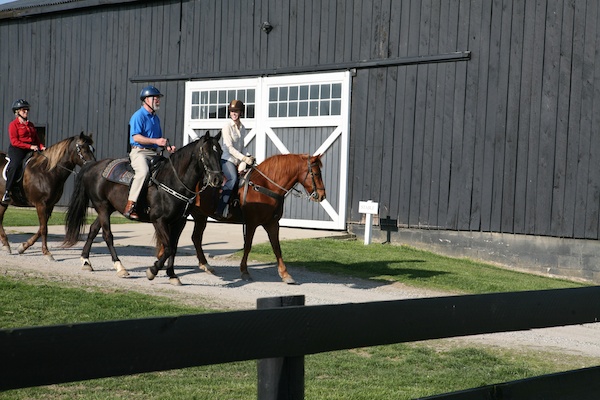 Carol, a local rider, provided the horses to Don and me. I rode Big Red, a Rocky Mountain Horse, who was a smooth ride and a real sweetheart. We started at the big black barn, where riders can bring their horses and board them during their time at the village. We rode down to the Shawnee River to an old mill site by a waterfall.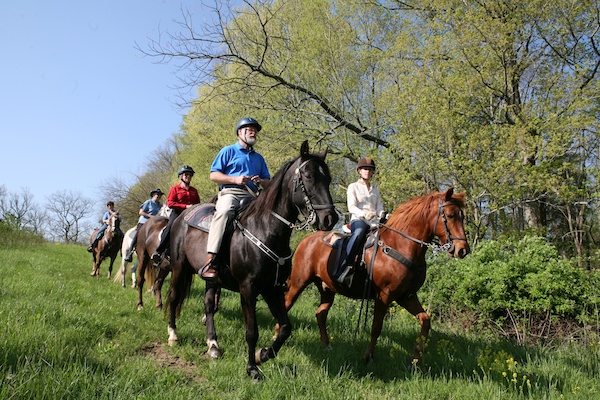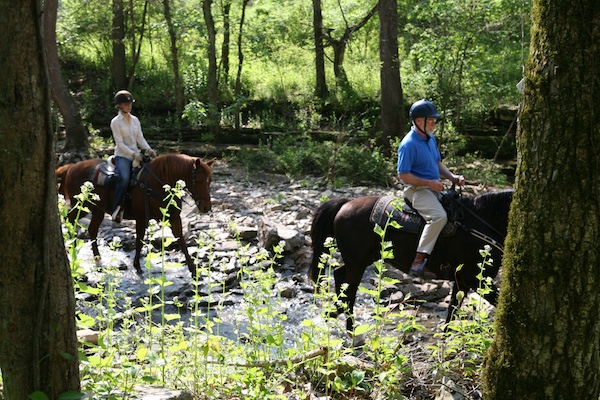 Spring is a beautful time to ride the trails here, because pretty wildflowers, including blue phlox. You might also breathe in and observe Trillium, Fire Pink, Bloodroot and Blue-Eyed Mary's. The spring wildflower blooming season usually runs from February through early June, with peak blooms in mid-April, depending on the weather.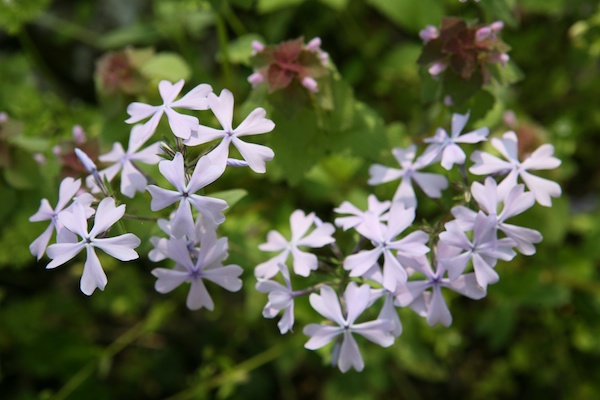 The Shakers were a Christian religious group who believed by getting back to the simpler things in life and trying not to sin you could get closer to God. The Shakers were celibate and separated men and women. They began their settlement in Kentucky in the 1800's and at their height had about 400 people living there. They got new members by converting people to their religion and adopting children.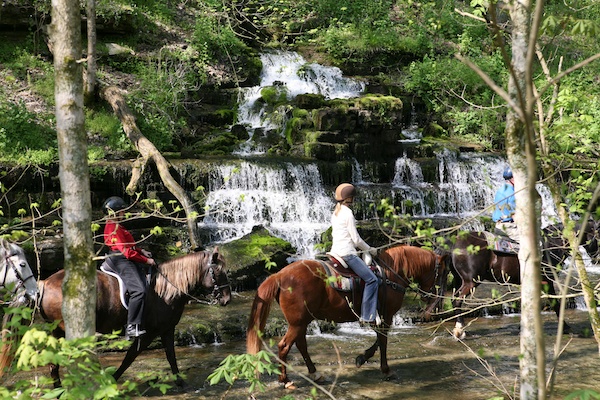 When whole families would decide to become Shakers, they were split up in the village. Many of the buildings have separate entrances, one for men and one for the women. The Shakers are well known for the crafts that they made as well as for their influence during the Civil War and the practical inventions, such as the safety pin, for which they are credited.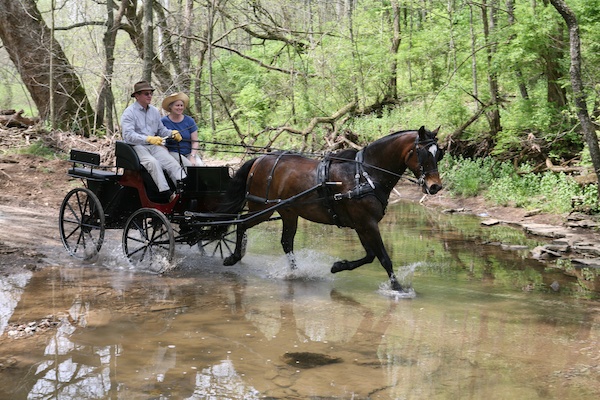 There are miles of trails to ride here or drive a carriage. We had a picnic lunch before riding into the village in the afternoon. On the way there, we passed between beautiful old stone walls that were built by laborers from Ireland, making this area of rolling green hills feel even more like a little bit of Ireland.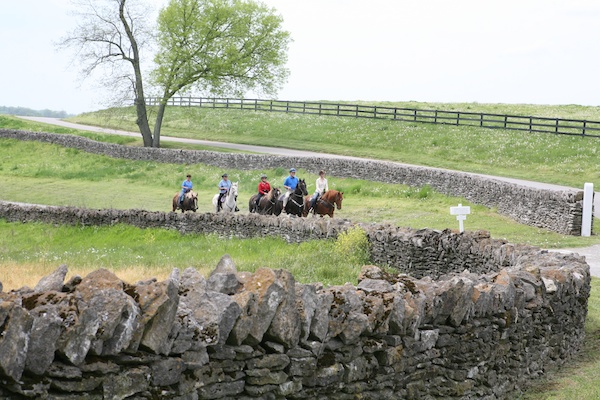 The village is beautifully restored and is a living museum with a man who sang in the church, women dressed and talking to visitors about Shaker life. It was neat to be able to ride by the graveyard and down the main road of the village, where horses are not normally allowed and hear Don talk about Shakers of the past and present. Don told me that there are only three Shakers left, which is unbelievable to me. They are elderly and live in Maine.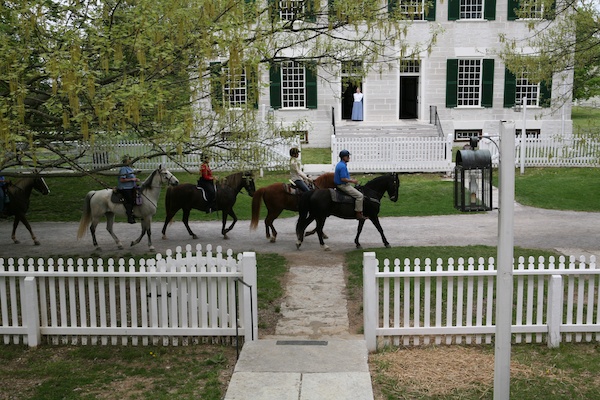 We spent the night in the village in an old Shaker house on a temperpedic bed. The rooms are clean and simple, in typical Shaker style. The highlight of the night was dinner at Trustees' Office Dining Room, where I chowed down on fresh, warm rolls, vegetables grown on the property, salad with a homemade raspberry vinaigrette, herb chicken, broccoli casserole, southern style green beans (just like I used to eat as a kid) and of course, a lemon pie made from an original Shaker recipe. It was tasty and very satisfying after a day spent riding in Shaker Village.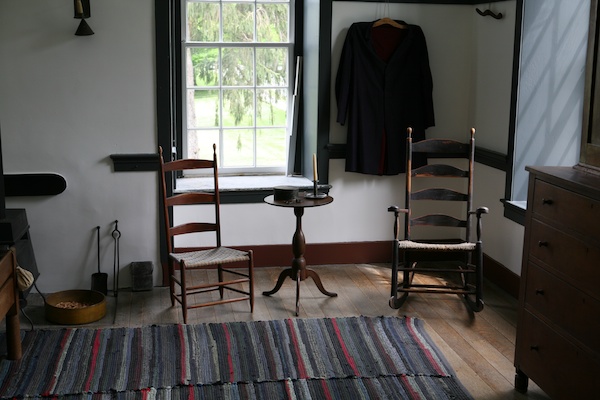 How you can go: Learn about visiting Shaker Village of Pleasant Hill, located in Harrodsburg about 25 miles from Lexington.
Shaker Village of Pleasant Hill
3501 Lexington Road
Harrodsburg, Kentucky 40330
For trail riding at Shaker Village, you can bring your horses and explore 33 miles of horseback riding trails and 15 miles of carriage-friendly trails. There's a Stable that currently has 20 stalls, stall shavings, five large paddocks, trailer parking and a heated tack room with hot & cold running water. Learn more about bringing your horse to Shaker Village.
If you aren't bringing your own horse, but still want to ride, the Big Red Stables leads travelers on horse riding tours of Shaker Village.