Kentucky- Big Red Stables
Traveling to Kentucky and looking to horse ride? Check out the Big Red Stables, a family-run farm that's truly special.
by Equitrekking host Darley Newman

The Big Red Stables, a farm in Harrodsburg, Kentucky, has been in Emily Dennis' family for generations. Located not too far from Shaker Village in an area of beautiful meadows, forests and rolling hills, Emily welcomes riders of all ages and experience levels to experience a day on the farm on her smooth Tennessee Walking horses. I rode a beautiful, seven-year-old, bay Tennessee Walking horse named Shadow along with Emily and her husband Drew and 9-year-old niece.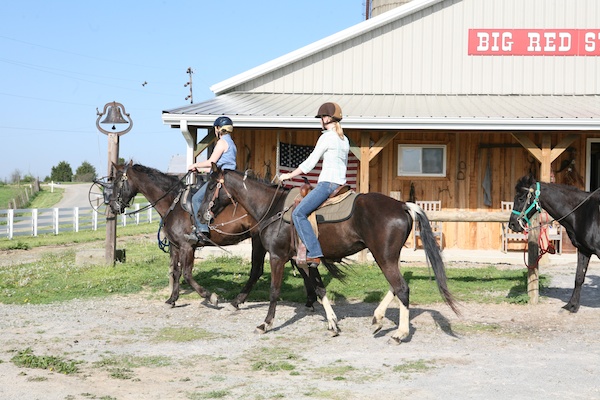 Emily Dennis is lucky to still have this beautiful farm, where she grew up riding, in the family, and she knows it. Over 20 years ago, Emily's mother started the Big Red Stables, a business on the farm through which they board horses and guide trail rides. The extra income that they earn from the stables helps to keep the horses they love so much on the property. Since it is hard work to run a farm and can be expensive to own and maintain large amounts of land, many families have parceled off and sold their land and ranches in years past. Emily is determined not to do this to their family farm.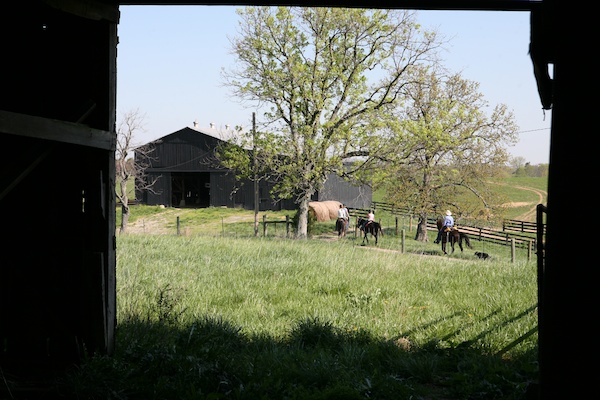 Emily talked about her childhood, as we rode past the stables and up to a high point, where we could look out over the farm. It sounded like a really great place to grow up. Emily had a childhood that doesn't seem to exist in a lot of places today.

"We would ride bareback back here and get down in the creeks and we'd do things that today they'd say are bad for your health," Emily laughed.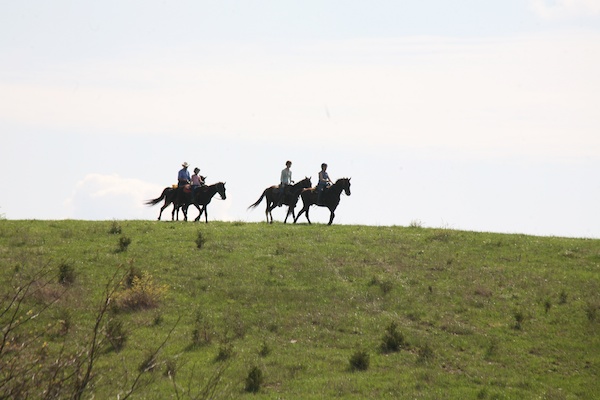 After passing through one of the many stone fences which dot the countryside, our group came to a spot where Emily used to play a game that she called Kentucky Derby with her friends. You can probably guess what this game, which took place in a wide field, involved.

It was in the Derby field under a big blue sky that Emily, Drew, Little Emily and I ran our own version of this race complete with Emily saying, "and they're off!" My Tennessee Walking horse Shadow was fast and smooth, with his rocking chair canter. Though we all had our chance to be in the lead at one point during our race, Drew's horse did win.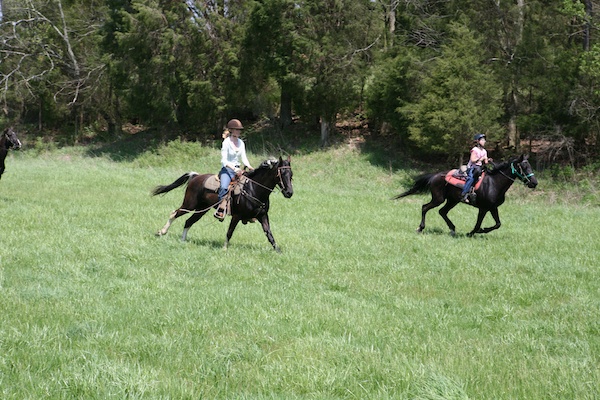 Lunch on the farm was served out of the back of a red pick up truck that Emily's mom drove out to us. Ham and cheese has never tasted better than after you have been riding for several hours. I could have very easily lain down in the spongy, emerald grass and taken a nap, had it not been for the fact that there was so much more to explore.

After lunch, we got our horses into a nice running walk in the shade of some trees beside a slow, stream that led to another old stone wall. The running walk is a four beat gait that allows you to move at a good pace without bouncing up and down in the saddle. Emily explained that Southern plantation owners used the Tennessee Walking horses when they needed to check their crops because this smooth gait allowed them to comfortably ride long distances.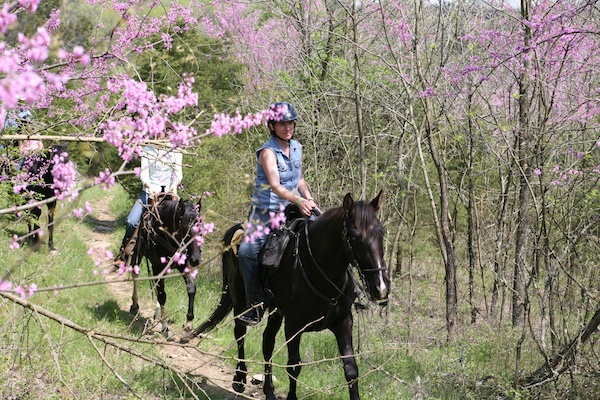 As we entered a rockier field, Emily pointed to the limestone-laden soil. This rich soil is one reason why the horses bred in Kentucky grow so strong. It also helps nurture central Kentucky's bluegrass, called so because of the bluish purple tint that it has in the spring and summer. The grass is not literally blue, but can appear so from afar if it is allowed to grow to its natural height.

The rocky soil can also be quite a nuisance to farmers. As a child, Emily's dad used to ask them to rock concerts. This game involved Emily having to pick up rocks from the backyard, a never-ending process, as once you pick up one rock, another will soon rise to the surface. Listening to Emily's stories, I could tell that growing up on the farm was hard work, but also a lot of fun.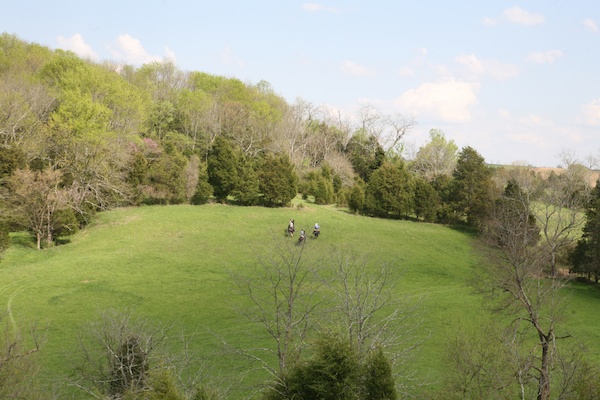 We ventured through trails shaded by cherry blossom trees en route to the old barn, which has been standing on the property for over 150 years. It was here, in front of this historic structure that Emily conveyed her hope of passing the family farm down to her son.

"Harrodsburg, the county seat of Mercer County, is the oldest permanent English settlement west of the Alleghenies. So, people have been living in these hills a long time," said Emily. "There are places like this where the woods are growing back up in and around the settlement areas, because, you know, at one time a family lived up here on this hill and farmed this land and raised children, and yet there's a hay field in the bottom where my mom harvests hay for our cattle and our horses and it's special because it's a mixture of the old and the new."
How you can go: Learn about trail rides with The Big Red Stables on their farm in Harrodsburg, which run year-round by appointment and at Shaker Village.
Riding style: Western for Advanced Beginner - Intermediate - Advanced