Kansas Trails for Horseback Riding- Kanopolis and Beyond
Learn about great horse trails and equestrian campsites in Kansas, including Kanopolis State Park, the Gant-Larson Ranch and more–– part of Equitrekking's 50 State Trail Riding Project!
By Cheryl Thomas
Kansas trail riders have a secret! Or several secrets, as a matter of fact: wide open prairie with swaying grasses under endless blue sky, hardwood forests with trails that wind up and down for miles, towering sandstone canyons, hilltop views of crystal blue, and multi-thousand acre lakes. Contrary to popular belief, Kansas is not flat, treeless, and barren. Instead, the state of Kansas offers a wide and diverse variety of terrain for prime trail riding and camping.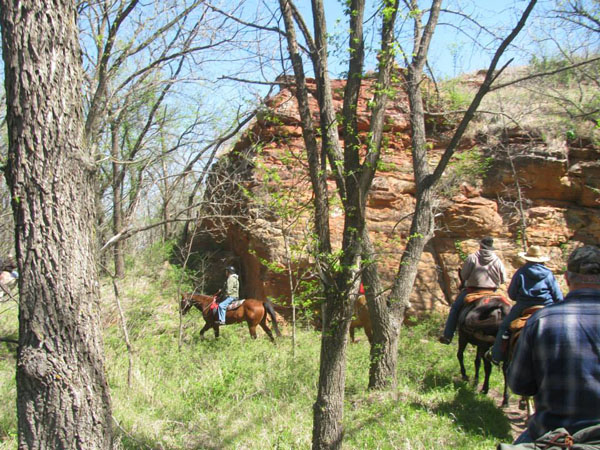 The Kansas Horse Council has developed the "Equestrian Trails in Kansas" guidebook to help riders navigate the state's horse trails.
Photo from Kansas Horse Council Member Kathy Triebel.
According to Jim Thomas, Trails Director of the Kansas Horse Council, the U.S. Army Corps of Engineers developed many large lakes throughout the state back in the 1960s and 70s as a form of flood control. Both the federal government and Kansas state parks have created recreational areas around these lakes, and many include multi-use and single-use trails and campgrounds for trail riders.
Riders can get a weekend's worth of riding or a week's worth and can stay at equestrian campgrounds complete with corrals, shower houses, and full utility hookups. And for those traveling through Kansas on their way to other destinations, many of these lakes are located near interstate and state highways and are becoming popular stopovers with equestrian travelers.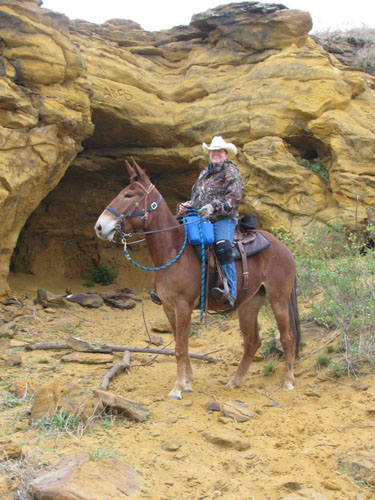 Kanopolis State Park has drawn visitors to eastern Ellsworth County since 1955.
Photo from Kansas Horse Council Member Kathy Triebel.
Riding at Kanopolis State Park

Kansas's first state park is also one of the most popular among equestrian trail users and campers. Situated in the rolling hills, bluffs and woods of the scenic Smoky Hills region of Kansas, Kanopolis State Park is located 33 miles southwest of Salina. Over 27 miles of multi-use trails wind through towering sandstone bluffs, the breathtaking Horsethief Canyon, and beautiful open prairie that overlooks Kanopolis Lake. The Rockin' K Horse Campground offers electric and water hookups, corrals, wash bays, tie posts, a shower house, and a group shelter house.
Park Ranger Wendy Bowles adds, "a central location makes Kanopolis State Park a great place to meet family from all over the USA. The area was home to many Indian tribes and was visited by cowboys like William F. Cody during settling of the west. If you take a quiet moment in the saddle, you will feel like you are possibly the first person to see all that lies before you."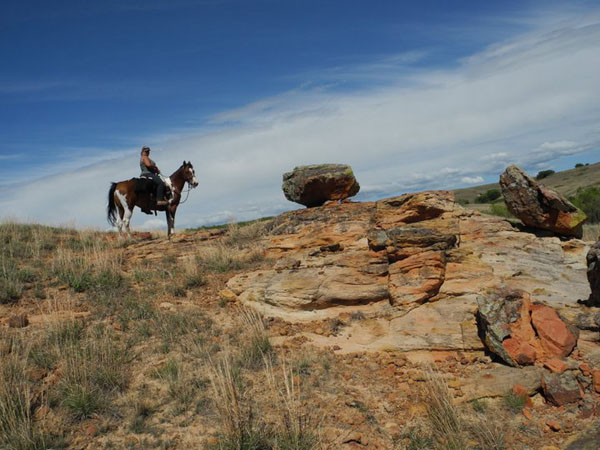 Kanopolis showcases the diversity of the Smoky Hills region of Kansas.
Photo from Kansas Horse Council Member Windy Cummings.
Kanopolis and kids go hand in hand; nature trails, a wildlife viewing area, the reservoir, kids' fishing pond, and beginner's mountain bike trail make this a place for kids to discover everything nature has to offer. Kanopolis State Park also features a full-service marina, beaches, picnic areas and cabins, as well as trails for mountain biking and hiking. More than 200 primitive campsites and 133 utility sites are located through the 14 campgrounds.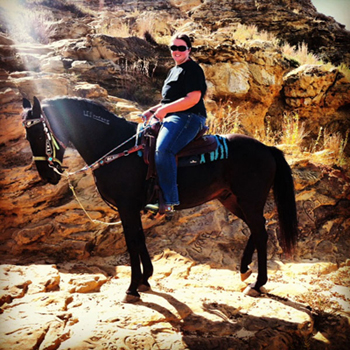 A beautiful day horseback riding in Kanopolis. Photo from Kansas Horse Council Member Rosasharen Shelton.

Cattle Ranches and Cowboy Experiences

Several privately owned cattle ranches throughout the state of Kansas are inviting horseback riders to share their slices of heaven-bring your own horse or rent one of theirs. The Flying W Ranch, a 7,000 acre cattle ranch located in the heart of the Flint Hills, America's last tall grass prairie, allows guests an authentic cowboy experience with several cattle drives throughout the year. The Gant-Larson Ranch in south-central Kansas near Medicine Lodge offers both organized and private trail rides through the red bluffs and buttes of the Gypsum Hills and has access to over 10,000 acres!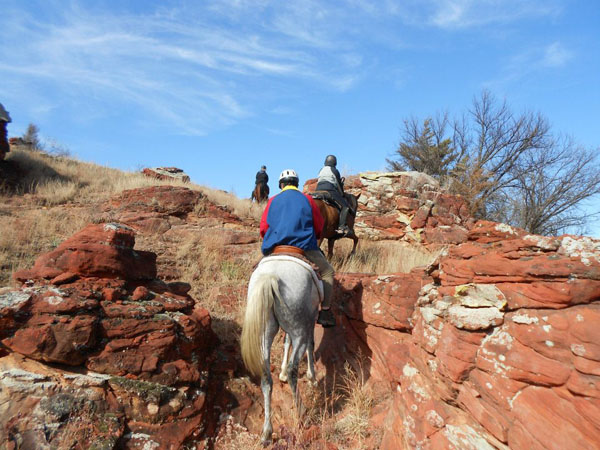 There are a variety of public Equestrian Trails in Kansas.
Photo from Kansas Horse Council Member Steve Lindsey.
Developing New Trails for Horseback Riders

Another project popular with trail riders is the conversion of old rail beds to a trail system that has resulted in over 100 miles of usable trails throughout the state and 100 more miles still in either the concept or project stage. The longest trail in the state will be the 117 mile Flint Hills Nature Trail, which will eventually connect to the Prairie Spirit Trail. It also links up with the 300+ mile Katy Trail in Missouri via trails in the Kansas City area. Check out The Kanza Rail-Trails Conservancy for maps and access points.
The Kansas Horse Council promotes a variety of events throughout the year to unite trail riders, including State Park Benefit Rides, Horsemanship Clinics and more.
Photo from Kansas Horse Council Member Kathy Triebel.
How you can go: The diversity of Kansas terrain allows for trails as easy or as difficult as a trail rider wishes. Jim Thomas would be happy to help visitors to Kansas pick the riding area that would be best suited for them. He can be contacted at 785-633-4761 or by email.
The Kansas Horse Council has published a guidebook, Equestrian Trails in Kansas, which is available for $3 from the KHC at 785-776-0662. Information on each of these parks and aerial view trail maps can also be found on the Kansas Horse Council website.