Israel- Horses in the Holy Land
Learn about horseback riding and other adventures in Israel from Susan Seligman, who experienced the below destinations first-hand.

By Susan Seligman

I'm pulling on my boots, zipping up my chaps, adjusting my hat, off to cowboy up in Israel. Israel? You mean as in THE HOLY LAND?

Yes ma'am, mounting up to ride in the land of the bible, and the view from the back of a horse is mighty fine.

Horses have been part of the Holy Land's history since ancient times. Yet recreational riding in modern-day Israel is a relatively new industry, and by all reports, it's a sport that is booming. Riding clubs are popping up all over the country. Cowboy competitions are drawing crowds and people are paying attention to the importance of breeding for major competitive disciplines. Reining, roping and cutting are becoming more and more popular and prices of horses are going up. At last count there were nearly 12,000 horses in this tiny land, and Israelis can't get enough of them.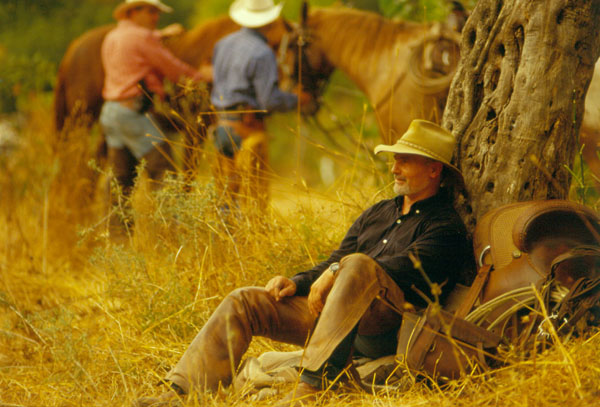 Small wonder. Israel is an undiscovered equestrian paradise offering unlimited riding and gorgeous terrain. One can ride near the desert where Moses wandered for forty years, the hills where Jesus delivered the Sermon on the Mount, or in craters that rival the Grand Canyon. Mix in relaxing spas, boutique wineries and gourmet food and you'll find that Israel offers an exciting and unforgettable destination for a riding vacation.

While most ranches and riding clubs in Israel offer one hour to full day trail rides, we scouted unique experiences on horseback, from the lush landscapes of the Carmel Mountains and the Golan Heights, the shimmering Sea of the Galilee, to the quiet windswept beauty of the Negev desert. You can mix a little bible with your buckarooing, trace layers of ancient civilizations and geology, experience Bedouin or Druze hospitality, or dare to consume the mother of all meals, the famous, endless, Israeli breakfast.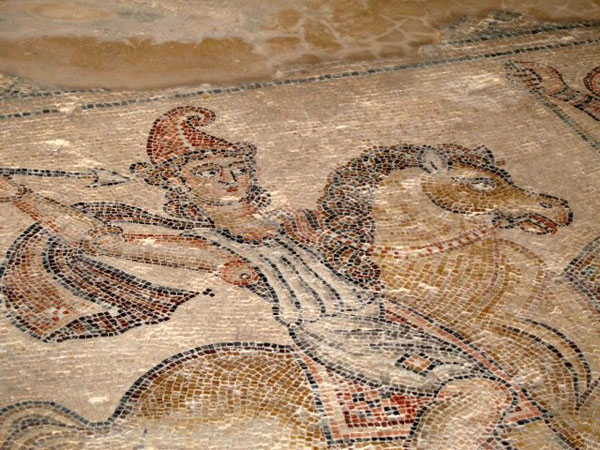 Israel: Sea to Sea Ride

Israeli native Eli Goren built his dream, the Mechora Ranch (meaning "Homeland"in Hebrew) after traveling throughout South America by horseback. "Horseback is the best place to see the world and be in nature," he says. Goren offers the best way to see northern Israel from the back of a beautifully bred quarter horse.
Mechora Ranch's "Sea to Sea" ride begins on the shores of the Mediterranean and traverses the mountains and valley for five days to the Sea of Galilee. Each night's accommodations is unique. One night guests spend on a Kibbutz, another in a Bedouin tent, a third night offers a campout in the mountains with a bar-b-que, and the final night is spent in an Indian Teepee outside of Tiberias. In the springtime, Goren offers rides into the desert, hosted by the Bedouin people offering their warm hospitality.

Galloping in the Golan

Appaloosa horses are the favorite at the Ramot Ranch, high in the mountains of the Golan Heights. Ramot's owner Uri Peleg imported the first Appaloosa to Israel. Peleg and his wife Justine, in addition to trail rides in the breathtaking Golan overlooking the Sea of Galilee, specialize in working with small groups to create custom Israel riding holidays. Would you like to ride to archeological or religious sites? Stay in five star hotels? Visit wineries? View wildlife? How about rafting down the Jordan River? From the north to the south, the Pelegs will work with your group to arrange an unforgettable private equestrian adventure.


Vered Hagalil (Rose of Galilee) is Israel's only inclusive guest ranch and has the distinction of being listed in the popular travel book "One hundred places to see before you die." Vered Hagalil's owner Yehuda Avni pioneered the Galilee with a string of horses and is revered as the father of modern Israeli riding. Although the leisurely rides at Vered Hagalil are mostly geared for beginners, experienced riders can arrange for longer private rides of 2-3 days through the hills of the Galilee and the Jordan River Delta. The popular "Bonanza" ride takes guests down to the Sea of Galilee on horseback for a bar-b-que and overnight camping experience before riding back to the farm. Or reserve a horse for the romantic "full moon ride" with views of the twinkling lights of Tiberias.

Vered Hagalil offers gourmet cuisine in its rustic fieldstone and pinewood restaurant with specialties like fresh trout from the nearby Dan River smoked over carob wood or an amazing entrecote steak. Don't miss the chef's famous pecan pie, chock full of local hand-gathered pecans.

Multi-sport Riding

At Beit Oren Adventure Ranch outside of Haifa, try multi-sport riding; horses, mountain bikes and all terrain vehicles. Driving up to this unique property perched high in the Carmel Mountains outside of Haifa one would think you were in Colorado or New Mexico instead of Israel. Ranch headquarters have the rustic feel of a high mountain lodge and offer a great restaurant called "Cat Ballou"serving sizzling steaks and chicken grilled at your table on hibachi type stoves decorated with horse shoes. An all day package includes horse back-riding, Tonga riding, mountain biking or hiking and a great lunch.

Riding in the Desert

If you've ever had fantasies of galloping through the desert a la "Lawrence of Arabia," then head south to the Negev and the Ramon Crater, a natural phenomenon that rivals the beauty of the Grand Canyon. The Alpaca Farm is owned by Ilan Divar, a lanky competitive endurance rider who, with his wife Na'am owns 26 horses, 400 head of Alpaca, 30 llamas, and are raising 6 children, spinning wool and teaching yoga in this far-reaching spot in the Negev.

The Alpaca Farm's excellent horses and access to the Crater offer unlimited riding in a landscape of awesome dimensions. Reserve a horse for a day or ride for a few days, learn endurance riding, camp overnight in the crater or stay for a week renting one of the farm's bungalows for a real get-away-from-it-all vacation. The hammock on each bungalow's porch is perfectly set to catch the desert breezes. Pour a class of Israeli wine paired with local cheeses, olives and fruits and watch the sunset over the desert. Sound like heaven?

Horse back riding through Israel truly offers a unique way to connect to this ancient yet modern country, its people, its geography, its culture. There are always bus tours of Israel's famous landmarks, but getting off the bus and feeling this special land in such a close and personal way is an experience of a lifetime.

For more information on Horse Riding in Israel, Contact:
Ramot Ranch- Custom equestrian vacations-Golan Heights: Uri and Justine Peleg. Check out the Ramot Ranch website and Ramot Ranch in the Equitrekking Vacation Guide.
Vered Hagalil- Inclusive guest ranch-Galilee
Beit Oren Adventure Ranch
The Alpaca Farm- Ilan and Na'am Divar
Negev, Mitzpe Ramon
All of the above also offer day rides.

About the Author: Susan Seligman is an adventure travel writer and equestrian who rides and writes from her home in New Mexico.

Purchase Equitrekking DVDs, the Equitrekking Travel Adventures on Horseback book and more in our online Store. Learn about equestrian vacations and book a trip at EquitrekkingTravel.com.